St Maarten/St Martin
1 February 2015 Newsletter

ISLAND NEWS



---
| | |
| --- | --- |
| Weather: Last Sunday was warm with marine haze obscuring the sunset. Monday was also warm and although the morning provided the photo on the right with Saba clearly visible, the haze built up during the day and obscured Saba (below left, Saba is on the right hand side of the photo, look hard). The evening sunset had some nice clouds and orange sky (below center), but no green flash. On Tuesday the wind picked up, coming from the south, producing bigger waves on Cupecoy, but no breaking rollers. Wednesday was very warm and it sprinkled a bit just before I got up at 6AM. By 7AM when I went down to swim, it was barely moist. That afternoon there was quite a bit of commotion as two boatloads of soldiers appeared off Cupecoy and fired their machine guns for a while (below right). Enlarge the photo and the bow-mounted machine gun is quite visible. On Thursday Saba and Statia were visible and medium-size roller were thundering on Cupecoy. Friday things tapered off a bit and Saturday was absolutely spectacular. We could see houses on Saba. Statia, St Kitts, and a bit of Nevis were visible. We drove to Orient and had a very pleasant lunch at Kakao. Sunday morning had some sprinkles as I went out to swim, at 7AM and a heavy shower as I finished at 7:30 AM. It's now 7:50 and cloudy, but not raining. | |
The forecast for the next ten days shows 82 or 83 for the high, and 75 for the low. There is a chance of rain today (already happened) and cloudy tomorrow, followed by five glorious sunny days, and then three days with the usual chance of zero inches of rain, ie widely scattered, short-lived showers. The pano below showing the two cruise ships and Saba was taken on the morning of 28 Jan (Wednesday - note the chop). I believe Statia is between the two ships, but lost in the marine haze and clouds.
The box shows the current local conditions and here's the detailed forecast from
Weather Underground and here's one from the Weather Channel. Sunset tonight will be at 6:06 PM providing eleven hours and 21 minutes of sunshine, five minutes more than last Sunday. For 2015, the full moons will be 3 Feb (this week - plan a dinner with a nice view), 5 Mar, 4 Apr, 3 May, 2 Jun, 1 Jul, 31 Jul (a blue moon), 29 Aug, 27 Sep, 27 Oct, 25 Nov, and 25 Dec.

This sunset pano was taken from the Caribbean balcony of our condo on Wednesday night.

| | | |
| --- | --- | --- |
| | SXM-Beaches: These are views of Simpson Bay looking east (left) and west (right) taken from the Horny Toad Guesthouse near the middle of the three kilometer (about two miles) beach. It gets a bit thin in spots and I am counting Kim Sha Beach which is on Simpson Bay, but on the eastern side of the Dutch draw bridge. It's a lovely beach with almost no commercial activity in the central portion. There are beach bars and restaurants at the western end Mary's Boon, Karakter, and a newcomer where Tahoma was) the eastern end on Kim Sha Beach, closest to all the action in Simpson Bay. | |
Wendy K, our senior Cupecoy Beach reporter, reports: "As of Thursday (29 Jan), the owner of the land next to the Ocean Club and above the Cupecoy beaches, has moved the boulders in the lot next to the Ocean Club. There will be no free parking there, only an access to the parking above the three beaches. There is now a gate separating this area from the three beaches and the gentleman in the golf cart collects $5 per car for parking. Dany is leasing the land from the owner so that his customers will have a place to park for the beach. There is a $5 daily charge for parking. There is also still limited parking along the wall, further on toward Shore Pointe. This was not Dany's decision, but he is doing his best to make the beaches accessible for those who wish to use them. The small corner lot next to Shore Pointe is now fenced in and there is construction beginning to erect what we believe will be a real estate office based on a sign advertising Elite Properties."

This then is the beginning of the end of free public access to Cupecoy. You can still park on the street and walk in, but the parking area and beach access available for the public for over 20 years is now gone. There is no public access from the beginning of Cupecoy Beach in the southeast under Cupecoy Beach Club, across The Cliff and Rainbow properties and a private villa. It's still possible to walk into Sapphire and get to the water, but there is little to no beach. Ocean Club is gated and allows no one to enter and that brings us to this parcel where we have lost access at the northwestern end and lost free parking next to Ocean Club.
Beach reading: Twelve Sharp Janet Evanovich - (about $22 paperback, $9 Kindle) - From Booklist: *Starred Review* In a manner almost elegant in its offhandedness, Stephanie Plum gets us up to speed on her life as a bounty hunter in Trenton, NJ; her ever-eccentric family; and her fellows in her cousin's bail-bond office. It doesn't take more than a few pages. Then someone who is mistaken for Ranger--one of the two men in and out of Stephanie's life (the other is Morelli the cop)--is accused of kidnapping his daughter. Evanovich uses all of her considerable arsenal here: wisecracking humor and set pieces about cars, neighborhoods, family matters, and the funeral parlor (now with new directors straight out of Queer Eye for the Burg Guy). Then, at one point, both Morelli and Ranger are living out of Stephanie's apartment (she flees to her childhood bedroom). Evanovich also deftly uses celebrity stalking and identity theft to sketch a quite scary bad guy, and she creates in Ranger's daughter, Julie, a spirited 10-year-old version of her mesmerizing father. The ending is downright terrifying, but the coda is soothing and features a cake with icing roses. Kids? Cupcakes? What could possibly be next?

Most of the time we listen to these audio books in the car or Martha listens as she cooks. I think they are hilarious. I'm actually reading a paperback from our library in the condo. It's my car book, the thing I read when I'm trapped in traffic, caught at the bridge, etc. However, I bring it back in the condo to read because I'm hooked.
| | |
| --- | --- |
| | Sapphire Beach Club: The big news is that RCI dumped Sapphire. I suspect that RCI was taking a lot of Sapphire weeks as trades from owners who were less than gruntled and finding that they couldn't flog too many of them given the vitriol on TTOL, TripAdvisor, etc. I just got an offer of $270,000 for my unit and turned it down. As I have been saying, we are in our condo (Unit 255) at this time. The pool is clean and full, although a section of the bottom is failing, allowing some water loss. The alternative is to drain it in high season and fix it at all deliberate Caribbean speed. Building 2 has only one working elevator. Other than that, we have A/C, hot and cold water, beach towels, and maid service. The pool bar/restaurant is open. The condo will be available in early April at $1000 per week or less until 15 December 2015 when the rate rises to $1500 per week. You'll get a 10% discount from Unity Car Rental, one of the longest running and most trusted agencies on the island, and several more coupons as well. Check the calendar on our website for available dates. Below is a shot of the sunset taken from our balcony on Saturday evening. On the left is a cruise ship heading into a pretty big rain cloud just. On the right, the sun is setting into the Caribbean and you can see roofs and palm trees at Ocean Club. |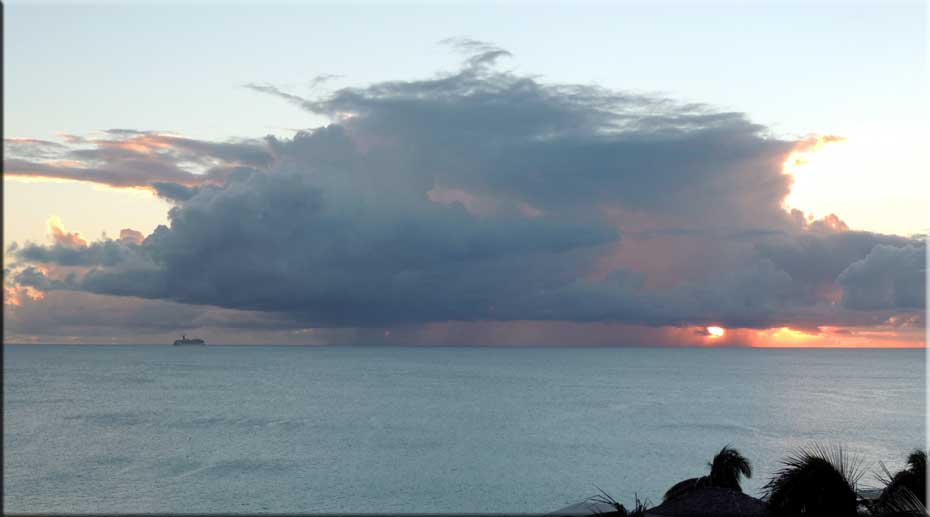 A visitor in early April said:
Erich,
The vacation was GREAT. Your suite is very nice, the plants, books and cd's made it home-like. We especially liked tooling around the Island listening to Dexter Gordon and Miles Davis on the cd player in Unity's car; which was by the way, a great deal. He upgraded us one level and charged us low season rates. The Pub Crawl was a success. Neil has a knack of getting a group to interact and have fun and we always go out with him at least once. Select Wine Cellar was a highlight. Sylvain steered us to some bottles that were very good. All in all it was a great vacation. Thanks for the coupons they made our stay even better than usual.
Best regards,
Nick & Sharon
For those of you who wish to sell or rent their week or unit, we have opened up the Sapphire Beach Club website for that purpose. We charge $25 per year. If you wish to rent or sell your unit, send us some text (and $25 to esk@sxm-info.com via Paypal). If you wish to rent or buy a unit without high middleman fees, check out the website. At present, there are several sales and/or rentals available directly from owners. Given a 25 to 35% standard rental commission, there should be some bargains in eliminating the middleman and dealing direct.
SXM-Activities: Last Sunday we headed over to La Bamba on Kim Sha Beach in Cole Bay to hear Categoty Five doing their weekly gig. They cover hits from 30 to 50 years ago. They've got Nacio on bass (left), one of the best on the island. King Bob croons out the vocals while Eric keeps time (right). In the center below is a long shot with a guest on the left and Badass Branko wailing away on lead guitar on the right. It's a pretty good time with a great mix of people. Some of them remember the songs of my youth (although some say that if you remember the 60s, you really didn't participate.)
Groceries: We had an excellent bit of mahi with a pineapple salsa. The frozen mahi and the fresh pineapple came from Super U, which has a sign showing comparison prices with Grand Marché and Simply. They claim to be cheaper and I believe them. They are also newer, cleaner, and brighter. They do not have a deli counter and I think their selection is a bit smaller, eg I could not replace my Morbiere on Monday. The pineapple salsa was reverse engineered from Skipjack's very tasty version by my chef.

We also picked up a barbecue selection of pork belly and three different sausages complete with a package of spices for under $10 at Super U. This made another wonderful dinner and two nights later we added a couple sausages to some rice, onions, peppers, and peas to make a fine Créole dinner. The next night Martha sliced some eggplant, added the usual peppers and onions with sausage and cheese for a great Italian dinner. With the euro almost at par we shop with abandon on the French side. The dinner wine was Pierre Usseglio's 2012 Cotes du Rhone. It's a cut above the average Cotes du Rhone. I'd say better than MonRedon, Guigal, and Jaboulet.
Alcohol: Sylvain at Select Wine Cellar imports the Pierre Usseglio Cotes du Rhone and sells it for $23 (far right). It's worth it. We just went through six bottles this week. It was perfect with our barbecue (spicy) but still refined enough for the Italian dinner with eggplant.

We stopped in on Friday for a lunch at Champagne Bistro and picked up a magnum of Domaine Gardiès rosé (left) to start the annual Superbowl party at the Horny Toad Guesthouse. We also tasted two white wines before having Usseglio's Cotes du Rhone with moules en vin blanc. The first white was crisp and after guessing chardonnay, but not big and round, more like a crisp Chablis, we found it to be a Marsannay ($46.50) at the northern end of the Cote D'Or, the main Burgundy region. Chablis is about 90 km further north west. The St Romain ($40) is from the southern end of the Cote D'Or and has more of the luscious, round chardonnay taste. Use the coupon on Sylvain's website to get 10% off on his list prices.
Nature: On the are the two chicks, about three weeks old, waiting for mom and dad to return and feed them.

Our office is well over 100% solar-powered and our hosting company servers are about 130% wind-powered.

Small Island story: Wendy K sends us this week's story: "In early October (2014), I emailed Pawan, the manager of the Gourmet Marché at Porto Cupecoy, asking him to order a case of Bran Buds for us, as no one stocks them any more. Friday (23 Jan 2015) I received an email from him saying 2 cases have finally arrived; a mere 3 1/2 months later!" We are at the far end of a very long and very slow supply chain.
---
---
As you can request five prizes on one entry form, you could win a bargain on lodging, car rental, entertainment, dinner, and a gym to work it off! That would be five prizes to one person.

Current Contest: now to 8 February
Caribbean View Condo - half price summer rental (May-October)
Lagoon Pub Crawl - two for one ticket
Skipjack's - $50 off a dinner for two
Marci's Mega Gym - Two for One week with a shake
Random Wind - $40 gift certificate
Select Wine Cellar - Wine tasting and a bottle of wine
Piazza Pascal - $50 off dinner for two
Pizza Galley - $25 off on a dinner for two

Read our rules, visit the websites of these sponsors, find their contest codes, and enter them on our entry form.

One of the rules is that you should enter each contest only once. You can enter five of the drawings on one entry. Thus, you could win a rather nice vacation at a considerable savings by combining accommodations with dinners and activities. I really check and while ago Sulay entered 33 times for one contest, instead of increasing her chance of winning, she decreased it to zero as I deleted all of them. She did account for about a third of the entries for that contest.

Here's some comments from a past winner:

Erich,
We met with Sylvain at Select Wine Cellar, enjoyed the tasting, and opted for the Belin Champagne for the free bottle. It was very good. I will try and find this at home to drink again. He was a very nice host. ... I enjoyed entering the contest and look forward to future entries. Over 16 days we only had only one 4 minute rain shower; otherwise the weather was beautiful. We tried the Hideaway Restaurant at La Vista. It was very good as were the other places we dined.

Future Contests:
8 February to 5 April | 5 April to 31 May
31 May to 30 August | 30 August to 6 December
same cast of characters as current contest
---
---
On 25 January the Euro was at 1.121 and today it is at 1.129. With the euro being so weak against the dollar it behooves those of us with dollars to check the exchange rate offered by restaurants again. For several years French side restaurants have been offering better exchange rates, especially for cash. The real rate is under 1.2 and I find many French side restaurants have lowered their rates to 1.2 and are sticking with it. Ask for your credit card to be charged in euros, assuming you followed my advice below and got a card that has no charge for foreign transactions and gives you the wholesale rate on the exchange.

Piazza Pascal and La Villa, in Grand Case are offering 1 to 1 for cash. Nearby Ti Bouchon offers 1 to 1 also.
You should not be paying a currency transaction charge as there are many credit cards that don't have this onerous charge. My United Mileage Plus Explorer/Chase card no longer charges it and gets my first bag checked free for all United tickets purchased on the card. My Capital One Signature Visa Venture card gets a good exchange rate with no fee. The frequent flier benefits can be used on any airline and there are no blackouts. Basically you get to spend 1 cent on air travel for every dollar you charge to your card. However, we can usually get a round trip from Albany to SXM for 35,000 miles on United. They would sell me that ticket for about $700. Do the math and you see you would have to spend $70,000 on Cap One to get enough "miles" to buy the ticket. Consequently, we rarely use the Cap One card. As there is no yearly charge, it is a handy spare card. We found it best to take the rewards in merchandise. We picked up an 18 bottle wine refrigerator with half of our points from a previous year, but we couldn't even fly one of us to SXM. Recently, they essentially gave us 1% cash back, but it could only be applied to travel expenses charged on the card which makes it essentially the same as getting a ticket through their system. Moreover, spending several thousand dollars at restaurants in Burgundy and Paris did not qualify as traveling expenses and neither did the gite rental in Beaune nor the apartment rental in Paris.

Cap One just offered Martha a Quicksilver Visa Signature Card that gives us 1.5% back - no fooling around with miles. They do not charge an exchange fee on foreign transactions and they do provide rental car insurance. This will be our primary card as airline miles are not as valuable or as easy to use as they used to be.

We always notify our card companies of our travel. Chase actually accepts this info on-line, making it much easier.

There are discussions on Credit card Forum and Daily Markets that may help you decide what card is best for you.
---
---
Little Jerusalem

On Monday night we drove to Simpson Bay for schawarma at Little Jerusalem, across the street from Rancho. There was parking out front and they seem to have a bit of parking in the back. It's quite a place, basically a shipping container, but well painted, brand new, and well-lit. There was a shed roof covering the entrance to the dining room which was a bit above grade and covered with another shed roof. We ordered from a young lady who turned out to be the daughter of the chef and the dishwasher/prep cook - a family operation, always the best. We asked the chef what we should have and he said the variety plate. We added two glasses of Merlot which Amy (the daughter) delivered promptly. It's all cooked to order so we had to wait a bit, but eventually we got the lovely plate shown below. It was quite tasty in a way that we rarely get in American or French cuisine. The plate was $15 and each Merlot was $5 for a total of $35. We added a tip as service was good.
Belle Epoque

On Wednesday evening we headed over to Marigot's Marina Royale for lunch. For 25 years, Belle Epoque has been on the marina, serving good food at reasonable prices. George sold it a couple years ago and is now a bartender at Dreams. I'm happy to report the place looks great and the food is still reasonably priced and very good. Some of the most reasonable prices can be found on the specials board, from which Martha choose duck confit (below left, 15€). I had a pizza of my choosing (chorizo, peppers, onions, and mushrooms, below center, 13€). It was quite colorful with red yellow and green peppers and quite cheap given all the toppings I requested. We had a 2012 Cotes du Rhone from Ortas (22€). The total cost was 52€ with a 4% tax, less than $60 at the current exchange rate and more than enough food for us. We took home three slices of pizza for a later lunch.
On Friday we stopped in at Select Wine Cellar and ordered lunch from Champagne Bistro. On the right are small French mussels in white wine, shallots, and leeks ($19.50). Very tasty little guys. This is a special every Friday and five of the six of us had these. Below left is Martha's shrimp ravioli, homemade raviolis with a shrimp in each in a cream sauce ($16). Sylvain brought out a white wine, Fournier's 2012 Marsannay from the northern end of Burgundy, quite close to Dijon. It's a crisp and austere wine that would be great with salmon. We went a bit fuller and rounder taste when we switched to a St Romain from the southern end of Burgundy near Meursault. With the cheese plate (reblochon, mariolles, and two chevres) we had the same lovely Cotes du Rhone that Martha and I have been enjoying repeatedly.
On Saturday we had lunch on Orient Beach with a view of a colorful parachute boat and a bit of Pinel island. Martha had the salmon and scallop plate with a spinach salad (below left) and I had a Pizza Supreme with added onions and peppers. We had the usual Cotes du Rhone from Guigal. Her salmon was cooked perfectly and the seafood and salad were fresh as could be. They make a good thin crust pizza and will allow you to build whatever pleases you. On the right below are some desserts we passed on. With sparkling water and a poor exchange rate, we spent $82. At the bottom is a panoramic shot of the of the boat and all of Pinel.
| | |
| --- | --- |
| News and Changes: We frequently post some dining photos to Facebook. Less frequently we post activities and other things related to SXM or food. If you're interested, I trust you know what to do. | |
If you are looking to purchase gift certificates for island restaurants, check out Antoine Restaurant, Piazza Pascal, La Villa, and L'Escargot Restaurant. Treat your friends at your favorite restaurant!

Dino Jagtiani from Temptation Restaurant has produced a cookbook with art work by Sir Roland Richardson, St Martin's treasured artist, and poetry by Laura Richardson, Roland's wife. Together they have poured their shared passion, creativity, and talent to the best of their ability into this magical archive of St Martin's flavors. For further information, please contact Chef Dino Jagiani dinojagtiani@aol.com or Sir Roland and Laura Richardson roland.laura@wanadoo.fr

Mardis de Grand Case (The Tuesday Night Party in Grand Case) runs from 20 January until 10 March 2015, a total of eight nights rather than the usual 12 because of budget cuts.
Here is the current list of the ARCHA members contributing to the security and clean-up of Grand Case. They would appreciate your continued support of their efforts. The sticker is displayed at businesses that participating in this much-needed endeavor.
---
BARGAINS AND HAPPENINGS
---
Coupons: Below are links to the SXM-Info clients who have coupons on their websites. I have removed the SXM Privilege Card which used to charge a small amount for a card that got 10% (or thereabouts) discounts on many things. It then became free and now the website is under construction.
| | | |
| --- | --- | --- |
| | | Our condo: The condo is available for rent $1000 per week or less for the summer. The rental includes about $500 in coupons from several of our website clients including one for 10% off a weekly car rental from Unity Car Rental, one of the longest running and most trusted car rental agencies on the island. Other notable coupons are $50 from Skipjack's restaurant, a tasting and a bottle of wine from Select Wine Cellar, a two for one ride on Celine's famous Lagoon Pub Crawl, and $50 off a daysail on Random Wind. The Christmas and New Year's holiday weeks will be available at $2000 per week and the balance of the high season is available at $1500 per week. As always any days within the next month are available for $100 each. Check the calendar on our website for available dates. |
| | | | | |
| --- | --- | --- | --- | --- |
| | | SXM-Info has chosen SkyMed and MedjetAssist to arrange medical transportation services. We hope you never need it, but when air evacuation flights cost $30,000 or more, it's good to have. Check out both and see which one offers the best prices for your timeframe and traveling group. | | |
Kindle: We now have now have two Kindle devices, as Martha just bought a Kindle Fire, She paid about $200 for the device without the 3G option. It connects to WiFi which we have here in NY and at the condo in SXM, and nowadays, at almost all restaurants, hotels, etc. The Fire is essentially a tablet computer with Kindle capabilities and a camera. If you add Amazon Prime to the package you get free 2 day shipping on Amazon, access to a lending library of Kindle books with no expiration, and access to over 40,000 movies via Netflix. The Kindle Paperwhite e-book from Amazon is a great thing to take on a beach vacation. It is glare-free, weighs less than a half pound, and is one-third of an inch thin. It's only $119. Newsletter subscriber Contessa says: "I loaded it up with more books than I needed and it was a very convenient way to read without lugging books to the beach." Paul M wrote: "My wife and I spent a lovely week at La Samanna in late March and I loaded my Kindle with several books and read them on the beach. The Kindle was fabulous. I had a case and was careful not to get in contact with sand, but the device was excellent to use for beach or poolside reading." Wendy K reports that her friend Jerri is quite happy with hers and now Wendy reports she bought her own. If you've already got one, you can get books here. They are cheaper than any other version of the book (except used!)
Even though Martha has a Kindle and is quite happy with it, she still downloads audio books from our local library to her Zune or Sansa player (iPod knockoffs) and that has been working rather well. Obviously, these are audio books and it's not the same as "reading" the text, but it works quite well and keeps us amused as we drive. I just got a newsletter from a reader who reports that "Regarding downloading - several of my friends have the Nook and they can download books on it from their library in the states...but they do expire after 2 weeks."
Regards,
Erich S. Kranz
www.SXM-Info.com
Click here to subscribe or unsubscribe
Our privacy policy