St Maarten/St Martin
7 December 2014 Newsletter

ISLAND NEWS



---
Weather: I skipped the 16 November newsletter as we were circumnavigating the Iberian peninsula. Internet access was spotty and I really did drive about 3600 kilometers over 13 days. Add in sightseeing and dining in restaurants for almost all meals, and there just wasn't time to keep up with events and write about them. So, the last newsletter was 12 October, the very day that Hurricane Gonzalo appeared southeast of the island. It intensified into a hurricane the following day and caused some damage on the island, eventually becoming the first category four storm since Ophelia in 2011. Shortly after that a huge rainstorm dropped as much as ten inches on the island causing more damage and disruption. Orient Beach was hit hard, but many restaurants opened with minimal amenities and by now, most restaurants are back to normal. The weather over the next ten days is predicted to be either 81 or 82 for the high temperature and 77 for the low with seven clear days followed by some clouds and maybe even a quarter inch of rain.

The box shows the current local conditions and here's the detailed forecast from
Weather Underground and here's one from the Weather Channel. Sunset tonight will be at 5:36 PM providing eleven hours and 5 minutes of sunshine. On the solstice there will be 11 hours and 3 minutes of sunshine The last full moon of 2014 was on 6 Dec (yesterday) so this would be a good week for dining with a nice view of the water. For 2015, the full moons will be 4 Jan, 3 Feb, 5 Mar, 4 Apr, 3 May, 2 Jun, 1 Jul, 31 Jul (a blue moon), 29 Aug, 27 Sep, 27 Oct, 25 Nov, and 25 Dec.
This sunset pano was taken from the Caribbean balcony of our condo in mid February.

Hurricane Predictions
I'm going to keep the hurricane predictions from Colorado State University in the newsletter and compare them to actuality. They predicted only 9 named storms (compared to 12 in the average year from 1981 to 2010), 35 named storm days (60.1), 3 hurricanes (6.5), 12 hurricane days (21.3), one major hurricane (2.0), and 2 major hurricane days (3.9).

Earlier we had had three hurricanes: Arthur, a minor happening making no major landfall in the Caribbean or US. Hurricane Bertha, a category 1 storm, came from Africa, crossed over Martinique to the south, and circled over the Dominican Republic and Puerto Rico. It also dropped some rain in the Bahamas before running parallel with the US east coast. It continued westward eventually causing a lot of flooding in the United Kingdom. Cristobal passed to the north of SXM in late August and became a Hurricane near Hispanola. It turned north and west, never making major landfall as a hurricane. In September Hurricane Edouard wandered out of Africa, turned north and then east, petering out in the middle of nowhere.

As mentioned above Gonzalo came out of nowhere and became a hurricane causing a bit of trouble in the northeastern Caribbean before turning toward Bermuda and Newfoundland, finally being downgraded to a storm with gale force winds and lots of rain in the UK. Accuweather closed out the season counting 2 major hurricanes, six hurricanes, and eight tropical storms, ie less hurricane activity than normal. season.
| | |
| --- | --- |
| SXM-Beaches: Below are some storm photos taken at Cupecoy Beach. These are not hurricane photos, just storms, mostly storms on the east coast of the US kicking up waves. I have not had the pleasure of living through a hurricane on the island. I did endure one on Cape Cod, losing power for a week and one in Taiwan, losing my outbound flight and getting several bonus days in a perfectly comfortable hotel. On the right is Cupecoy on a better day. | |
| | |
Beach reading: Guide to Spain 2015 by Rick Steves ($8 Kindle or $17 hardcover) Rick Steves has spent 100 days every year since 1973 exploring Europe. He produces a public television series (Rick Steves' Europe), a public radio show (Travel with Rick Steves), and an app and podcast (Rick Steves Audio Europe); writes a bestselling series of guidebooks and a nationally syndicated newspaper column; organizes guided tours that take thousands of travelers to Europe annually; and offers an information-packed website (RickSteves.com). With the help of his hardworking staff of 80 at Europe Through the Back Door in Edmonds, Washington, just north of Seattle - Rick's mission is to make European travel fun, affordable, and culturally broadening for Americans.

We used this in conjunction with the Michelin Guide to take us on an 18 day circumnavigation of Spain and Portugal. This is great on sites and walking tours while the Michelin covers all cities looking for restaurants and hotels. The Michelin, as far as I can tell, is available only in Spanish.
Sapphire Beach Club: We are not in our condo (Unit 255) at this time. I'm hearing that the A/C and elevators are problematic. Beach towels are available, the common areas are clean, and the pool is lovely. The condo is available now at rates at $1000 per week until 4 Jan 2015 when we arrive. You'll get a 10% discount from Unity Car Rental, one of the longest running and most trusted agencies on the island, and several more coupons as well. Check the calendar on our website for available dates.

Below is a panorama taken from our Caribbean balcony across 25 miles of the Caribbean to Saba. Oh yeah, that's a cruise ship essentially blocking the view of Saba.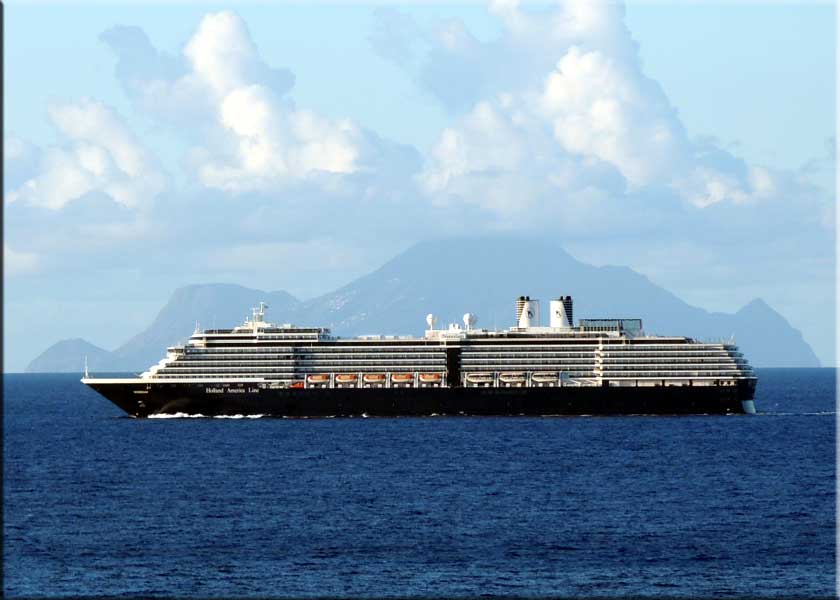 A visitor in early April said:
Erich,
The vacation was GREAT. Your suite is very nice, the plants, books and cd's made it home-like. We especially liked tooling around the Island listening to Dexter Gordon and Miles Davis on the cd player in Unity's car; which was by the way, a great deal. He upgraded us one level and charged us low season rates. The Pub Crawl was a success. Neil has a knack of getting a group to interact and have fun and we always go out with him at least once. Select Wine Cellar was a highlight. Sylvain steered us to some bottles that were very good. All in all it was a great vacation. Thanks for the coupons they made our stay even better than usual.
Best regards,
Nick & Sharon
For those of you who wish to sell or rent their week or unit, we have opened up the Sapphire Beach Club website for that purpose. We charge $25 per year. If you wish to rent or sell your unit, send us some text (and $25 to esk@sxm-info.com via Paypal). If you wish to rent or buy a unit without high middleman fees, check out the website. At present, there are several sales and/or rentals available directly from owners. Given a 25 to 35% standard rental commission, there should be some bargains in eliminating the middleman and dealing direct.
| | | | |
| --- | --- | --- | --- |
| | | SXM-Activities: King Bob, aka Bob Barron (far left), says that Category 5 Band is at La Bamba Beach Bar on Sunday nights at 8 PM. "We will have a very special guest playing with us the last week of Feb, I think Feb 22. I cannot mention the name as yet but he is a sax player for an artist who is one of the most famous songwriter/singer in the history of American music." Bob is at Tortuga Beach Café on Mon nights for their BBQ buffet with music, singing, dancing, and Karaoke starting at 7 PM. | |
Groceries: Here's another take on a Salade Niçoise. Get some nice greens and Guadeloupe tomatoes at Grande Marché. The French use canned tuna, but you can get fresh tuna at Skipjack's. That's traditional, but swordfish works well. Frequently we don't have to buy the fish because we took some home a restaurant meal the night before. Get the Savigny-les-Beaune from Sylvain (below).

Alcohol: Sylvain at Select Wine is offering Belin Tradition Champagne for $30 during the holiday season. If you want something a bit better, try his Deutz Brut Classic. Use the coupon on Sylvain's website to get 10% off on his list prices.
Nature: On the right is a sugar bird on a cactus that lives on our Caribbean porch.

Our office is well over 100% solar-powered and our hosting company servers are about 130% wind-powered.

Small Island story: The Herald reported that Dock Maarten can continue with its plans to extend their breakwater and build a dock for mega-yachts despite the fact that the Island Territory granted St. Maarten Harbour Holding Company (SHHC) NV the exclusive right to pursue all harbor activities in Great Bay in July of 2007.
---
---
As you can request five prizes on one entry form, you could win a bargain on lodging, car rental, entertainment, dinner, and a gym to work it off! That would be five prizes to one person.

Winners of the contest ending 7 December:

Caribbean View Condo - half price summer rental (May-October) - Allen Morrow
Lagoon Pub Crawl - two for one ticket - Georgia Baxter
Skipjack's - $50 off a dinner for two - Georgia Baxter
Marci's Mega Gym - Two for One week with a shake - no entries
Random Wind - $40 gift certificate - Paul Snyder
Select Wine Cellar - Wine tasting and a bottle of wine - Georgia Baxter
Piazza Pascal - $50 off dinner for two - Allen Morrow
Pizza Galley - $25 off on a dinner for two - Georgia Baxter

Current Contest: now to 8 February Caribbean View Condo - half price summer rental (May-October)
Lagoon Pub Crawl - two for one ticket
Skipjack's - $50 off a dinner for two
Marci's Mega Gym - Two for One week with a shake
Random Wind - $40 gift certificate
Select Wine Cellar - Wine tasting and a bottle of wine
Piazza Pascal - $50 off dinner for two
Pizza Galley - $25 off on a dinner for two

Read our rules, visit the websites of these sponsors, find their contest codes, and enter them on our entry form.

One of the rules is that you should enter each contest only once. You can enter five of the drawings on one entry. Thus, you could win a rather nice vacation at a considerable savings by combining accommodations with dinners and activities. I really check and while a Sulay entered 33 times for one contest, instead of increasing her chance of winning, she decreased it to zero as I deleted all of them. She did account for about a third of the entries for that contest.

Here's some comments from a past winner:

Erich,
We met with Sylvain at Select Wine Cellar, enjoyed the tasting, and opted for the Belin Champagne for the free bottle. It was very good. I will try and find this at home to drink again. He was a very nice host. ... I enjoyed entering the contest and look forward to future entries. Over 16 days we only had only one 4 minute rain shower; otherwise the weather was beautiful. We tried the Hideaway Restaurant at La Vista. It was very good as were the other places we dined.

Future Contests:
8 February to 5 April | 5 April to 31 May
31 May to 30 August | 30 August to 6 December
same cast of characters as current contest
---
---
READ THIS: We found a bit of a credit card scam being worked in Spain. The bill would be brought to the table in euros, of course, but when a credit card was offered, they brought the subsequent credit charge paperwork over in dollars. The large print said "NO COMMISSION." However, the fine print said that we were offered a choice and choose to make the payment in dollars with a 3% markup on the wholesale rate. The large print giveth and the small print taketh away. I don't know who ultimately gets the 3% extracted from my pocket, but I bet that some is kicked back to the restaurant. The Spanish economy is one of the sickest in Europe, so maybe this nonsense won't spread too far, but If anyone has seen this elsewhere, please let us know.

On 12 October the Euro was at 1.263 and today it is at 1.229. This is the lowest it has been in over two years.

Piazza Pascal and La Villa, in Grand Case are offering 1 to 1 for cash. Nearby Ti Bouchon offers 1 to 1 also.
You should not be paying a currency transaction charge as there are many credit cards that don't have this onerous charge. My United Mileage Plus Explorer/Chase card no longer charges it and gets my first bag checked free for all United tickets purchased on the card. My Capital One Signature Visa Venture card gets a good exchange rate with no fee. The frequent flier benefits can be used on any airline and there are no blackouts. Basically you get to spend 1 cent on air travel for every dollar you charge to your card. However, we can usually get a round trip from Albany to SXM for 35,000 miles on United. They would sell me that ticket for about $700. Do the math and you see you would have to spend $70,000 on Cap One to get enough "miles" to buy the ticket. Consequently, we rarely use the Cap One card. As there is no yearly charge, it is a handy spare card. We found it best to take the rewards in merchandise. We picked up an 18 bottle wine refrigerator with half of our points from a previous year, but we couldn't even fly one of us to SXM. Recently, they essentially gave us 1% cash back, but it could only be applied to travel expenses charged on the card which makes it essentially the same as getting a ticket through their system. Moreover, spending several thousand dollars at restaurants in Burgundy and Paris did not qualify as traveling expenses and neither did the gite rental in Beaune nor the apartment rental in Paris.

Cap One just offered Martha a Quicksilver Visa Signature Card that gives us 1.5% back - no fooling around with miles. They do not charge an exchange fee on foreign transactions and they do provide rental car insurance. This will be our primary card as airline miles are not as valuable or as easy to use as they used to be.

We always notify our card companies of our travel. Chase actually accepts this info on-line, making it much easier.

There are discussions on Credit card Forum and Daily Markets that may help you decide what card is best for you.
---
---
On a lovely warm day in March, we had lunch with Timothy and Patricia from L'Esperance Hotel. Martha had the fish sampler (below left), one of our many favorites here. Patricia had a special of cheese and red sauce on some fish (center). We had the usual view of the hijinks on Orient Beach (right). Timothy and I had the mixed grill (far below left). It came with the great crispy potatoes in the center photo. On the right below is one of the new bits of nonsense on the beach. At the bottom is a panoramic shot of the beach with Tintamarre on the left and Green Cay on the right.
In mid-February last high season we stopped in at Select Wine Cellar and ordered lunch from Champagne Bistro. On the left is an Italian plate with a mini caprese salad (tomatoes and mozarella), a bit of lasagne, some fried eggplant, melon with proscuitto, and some beef carpaccio. The Nicoise salad on the right had romaine lettuce, tomatoes, black olives, tuna (yes, typically from a can), a hard boiled egg, and anchovies. It should have had some green beans and the dressing is usually a vinaigrette. We were dining at Select so we added our own oil and vinegar.
Le Pressoir


Late in the season, we had a final dinner at Le Pressoir. We looked over the menu and decided to start with the tasting plate of foie gras (below left). We chose two glasses of sweet white wine to accompany this course. We turned to flavorful seafood preparations for our main courses. Martha had a special, a wonderful fillet of white fish (we believe cod), and I had a special spicy shrimp dish (below right). With Melanie's help, we chose a 2009 Nuits-Saint-Georges from Domaine des Perdrix. It's a premier cru from a the Aux Perdrix vineyard that is almost 100% owned by the Domaine, hence the Quasi Monopole notation on the label. This gives them control of the grapes and the vinification. Moreover, it is their namesake, so you can be pretty sure it will be very good. It was and despite being a red, it was fine with the robust flavors of Franck's cuisine. It was a wonderful meal with great service and a superb wine. This is one of the finer restaurants on the island.
Last April we headed over to Pizza Galley for our last pizza. As usual, it was the JP special pizza a roasted garlic clove in the center (left, $17 plus $2 for the garlic). We started with a large salad split between us and added our usual Cotes du Rhone from Mont Redon ($24). That's a 2011, rated 6 to 9 of 10 depending on who you consult. Berry Bros & Rudd (BBR) are particularly unimpressed by Rhone wines lately. We thought it tasted fine with pizza, even our spicy pizza. The 2012 vintage will probably be replace the 2011 this year. It's rated 8 by BBR, an improvement over 6, but Parker and Enobytes, suggest a 9. The Daily Herald poll says this is the best pizza on the island. You can comment on their Facebook page.
| | |
| --- | --- |
| News and Changes: We frequently post some dining photos to Facebook. Less frequently we post activities and other things related to SXM or food. If you're interested, I trust you know what to do. | |
If you are looking to purchase gift certificates for island restaurants, check out Antoine Restaurant, Piazza Pascal, and L'Escargot Restaurant. Treat your friends at your favorite restaurant!
Momo said that Ti Bouchon reopened on Monday, 6 October. There was supposed to be a new menu and a new wine list on the website by mid October (Caribbean standard time, ie don't bother looking, it isn't there yet).
Here is the current list of the ARCHA members contributing to the security and clean-up of Grand Case. They would appreciate your continued support of their efforts. The sticker is displayed at businesses that participating in this much-needed endeavor.
Hotels and Residences:
Grand Case Beach Club
L'Esplanade
Le Petit Hotel
Bleu Emeraude
L'Atlantide
Catalina 4
Hevea Hotel

Restaurants:
Auberge Gourmande
Bistrot Caraïbes
Il Nettuno Restaurant
Le Tastevin
Piazza Pascal
Shambala
Le Pressoir
Calmos Cafe
La Crepe En Rose

Restaurants:
L'Effet Mer
Restaurant du Soleil
Ocean 82
Blue Martini
Le Cottage
L'Estaminet
Love
El Cafecito
Le Ti Provencal
Spiga

Boutiques:
Tijon Perfumery
Atypique
L'Atelier
La Boutique D'anaise
Octopus Diving
Que Du Bonheur
Cotton Club SXM
La Boheme
Sexy Fruits
Voila
Tropismes Galerie
Simple Elegance

---
BARGAINS AND HAPPENINGS
---
| | |
| --- | --- |
| | Coupons: Below are links to the SXM-Info clients who have coupons on their websites. Another approach is the SXM Privilege Card which is now free. It will get you various discounts and/or perks at about 50 restaurants. They also cover hotels (mostly spa treatments at hotels), activities, and more. Most of the restaurant perks are a 10% discount. Visit their website to see where you can get one on the island. |
| | | |
| --- | --- | --- |
| | | Our condo: The condo is available for rent $1000 per week or less for the summer. The rental includes about $500 in coupons from several of our website clients including one for 10% off a weekly car rental from Unity Car Rental, one of the longest running and most trusted car rental agencies on the island. Other notable coupons are $50 from Skipjack's restaurant, a tasting and a bottle of wine from Select Wine Cellar, a two for one ride on Celine's famous Lagoon Pub Crawl, and $50 off a daysail on Random Wind. The Christmas and New Year's holiday weeks will be available at $2000 per week and the balance of the high season is available at $1500 per week. As always any days within the next month are available for $100 each. Check the calendar on our website for available dates. |
| | | | | |
| --- | --- | --- | --- | --- |
| | | SXM-Info has chosen SkyMed and MedjetAssist to arrange medical transportation services. We hope you never need it, but when air evacuation flights cost $30,000 or more, it's good to have. Check out both and see which one offers the best prices for your timeframe and traveling group. | | |
Kindle: We now have now have two Kindle devices, as Martha just bought a Kindle Fire, She paid about $200 for the device without the 3G option. It connects to WiFi which we have here in NY and at the condo in SXM, and nowadays, at almost all restaurants, hotels, etc. The Fire is essentially a tablet computer with Kindle capabilities and a camera. If you add Amazon Prime to the package you get free 2 day shipping on Amazon, access to a lending library of Kindle books with no expiration, and access to over 40,000 movies via Netflix. The Kindle Paperwhite e-book from Amazon is a great thing to take on a beach vacation. It is glare-free, weighs less than a half pound, and is one-third of an inch thin. It's only $119. Newsletter subscriber Contessa says: "I loaded it up with more books than I needed and it was a very convenient way to read without lugging books to the beach." Paul M wrote: "My wife and I spent a lovely week at La Samanna in late March and I loaded my Kindle with several books and read them on the beach. The Kindle was fabulous. I had a case and was careful not to get in contact with sand, but the device was excellent to use for beach or poolside reading." Wendy K reports that her friend Jerri is quite happy with hers and now Wendy reports she bought her own. If you've already got one, you can get books here. They are cheaper than any other version of the book (except used!)
Even though Martha has a Kindle and is quite happy with it, she still downloads audio books from our local library to her Zune or Sansa player (iPod knockoffs) and that has been working rather well. Obviously, these are audio books and it's not the same as "reading" the text, but it works quite well and keeps us amused as we drive. I just got a newsletter from a reader who reports that "Regarding downloading - several of my friends have the Nook and they can download books on it from their library in the states...but they do expire after 2 weeks."