St Maarten/St Martin
13 July 2014 Newsletter

ISLAND NEWS



---
Weather: It's steadily been been getting warmer. By now it is ranging from 79 to 82 as the low for the day and 85 to 87 for the high. Over the last week there were three sunny days, three partly cloudy days and a rainy day. That is pretty good for summer weather, especially as the tradewinds were a pretty steady 17-21 mph making it feel coolerf. The photo on the right is a more typical summer day, partly cloudy, with little breeze to produce waves. The shot was taken from our balcony at Sapphire. That's Lambada and a couple other boats heading out on their sunset cruise.

The box shows the current local conditions and here's the detailed forecast from Weather Underground and here's one from the Weather Channel. Sunset tonight will be at 6:52 PM providing 13 hours and 10 minutes of sunshine. We've passed the summer solstice and the days are getting shorter. José at Tastevin was telling me how beautiful the sunset is from his restaurant in the center of Grand Case Bay. When we are on the island for three months over the winter, sunset is always much too early for a fashionable dinner. In 2014 the full moons will be 10 Aug, 8 Sep, 8 Oct, 6 Nov, and 6 Dec.
This sunset pano was taken from the Caribbean balcony of our condo in late February.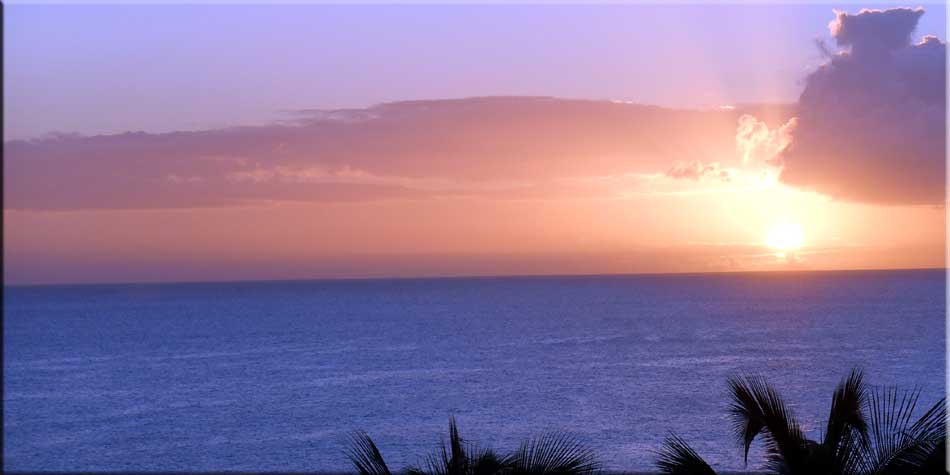 Hurricane Predictions

I'm going to keep the hurricane predictions from Colorado State University in the newsletter and compare them to actuality. They predicted only 9 named storms (compared to 12 in the average year from 1981 to 2010), 35 named storm days (60.1), 3 hurricanes (6.5), 12 hurricane days (21.3), one major hurricane (2.0), and 2 major hurricane days (3.9).

We've already had one hurricane, sort-of. Arthur formed over South Carolina and headed south east - rather strange. Wikipedia says that aircraft and radar readings "suggested Arthur hit hurricane strength" while out at sea. It turned around over the Bahamas where it deposited minimal rain and made "landfall" over the Shackleford Banks in North Carolina. It went out to sea again and and did not make landfall again until it reached Nova Scotia. The east coast of the US got some rain and wind as it passed by.
SXM-Beaches: The news from Orient Beach hasn't been too good. Recently, someone died on Tintamarre and the next day someone choked on a sandwich at Andy and Cheryl's restaurant. People tried the Heimlich Maneuver, etc to no avail. French EMTs arrived but could do no better. The victim's name was Bruno and he and his wife, Janet, were frequent visitors to Club O and Orient Beach. There's a thread on TTOL that had this info and then quickly drifted into bringing prescription drugs and epi-pens through security. The thread on Tintamarre has even less information about the death and drifted off-topic even more quickly. I have seen nothing in the island's paper of record. I don't think that there are any lessons to be learned or blame to be spread around. SXM attracts a wealthier clientele and generally that means older. That can be a problem given too much exertion in the warmer summer months. Be careful and bring your meds.

The pano below was taken from Celine as we approached Tintamarre several years ago. The shot on the left is of Tiko-Tiko taken after we anchored.

| | |
| --- | --- |
| | Beach reading: Sandy Ground by Tim Stelma - (about $12 paperback, $3 Kindle) - This is the third book in a trilogy written with SXM as the location. What are all these dead people doing in our yard? This is the question facing Shores Detective Frank Davis when a quiet, affluent suburb of Detroit becomes the scene of a double shooting. He has little to work with and his only witness isn't talking. Frank believes there is much more to it than is on the surface. His suspicions are confirmed when the body count begins to rise and he embarks on a race against time to solve the mystery of the multiple murders. His search brings him to St. Martin where he uncovers a life-changing revelation in Sandy Ground. The first novel is about a young woman getting an all-over tan and more at Happy Bay and the second uses a Cole Bay Band as a backdrop. Get them all on your Kindle for less than $10. Contessa had mentioned these books to me after the last newsletter and Tim sent a friend request. Here's his Facebook page. |
Sapphire Beach Club: We are not in our condo (Unit 255) at this time. The A/C works, the elevators work (although one has had problems), beach towels are available, the common areas are clean, and the pool is lovely. The condo will is available now at rates ranging from $700 to $1000 per week over the low season. You'll get a 10% discount from Unity Car Rental, one of the longest running and most trusted agencies on the island, and several more coupons as well. Check the calendar on our website for available dates.

To the right is a shot across our Caribbean balcony, over the pool and villas, and about 25 miles across the Caribbean to Saba. It was so clear that the houses on Saba are visible in the enlarged version.
A visitor in early April said:
Erich,
The vacation was GREAT. Your suite is very nice, the plants, books and cd's made it home-like. We especially liked tooling around the Island listening to Dexter Gordon and Miles Davis on the cd player in Unity's car; which was by the way, a great deal. He upgraded us one level and charged us low season rates. The Pub Crawl was a success. Neil has a knack of getting a group to interact and have fun and we always go out with him at least once. Select Wine Cellar was a highlight. Sylvain steered us to some bottles that were very good. All in all it was a great vacation. Thanks for the coupons they made our stay even better than usual.
Best regards,
Nick & Sharon
For those of you who wish to sell or rent their week or unit, we have opened up the Sapphire Beach Club website for that purpose. We charge $25 per year. If you wish to rent or sell your unit, send us some text (and $25 to esk@sxm-info.com via Paypal). If you wish to rent or buy a unit without high middleman fees, check out the website. At present, there are several sales and/or rentals available directly from owners. Given a 25 to 35% standard rental commission, there should be some bargains in eliminating the middleman and dealing direct.

SXM-Hotels: L'Esperance Hotel is a neat and tidy hotel with a great pool (left) and free Wifi on the outskirts of Pburg. Prices are great and all rooms have TVs, refrigerators, and cooking facilities.

Another place we like is Azure Beach Studios on Simpson Bay Beach. There's no pool, but it is on one of the islands finer beaches. Walk barefoot out of your room and onto the fine white sand.
SXM-Activities: Berne V. won the Random Wind contest a while ago and wrote: "Just wanted to let you know that we used the $40 gift certificate that I won from you for the Random Wind. We used this on June 3 and had a fantastic time. Eli, the first mate and Captain Trevor were great. This was our tenth visit to SXM and each trip we do some sort of a boat ride that includes snorkeling. This was the first time we actually saw an octopus!!! We enjoyed the delicious lunch that was served. Thank you!"

The Palm D'Or Nightclub above Palm Beach Restaurant is breaking out with parties on every Friday, Saturday, and Sunday starting at 11PM (Doors open at 10PM). Every Sunday features an AFTER BEACH PARTY with dj Rudy, essentially a continuation of the Palm Beach Restaurant Party. Fridays are Caribbean night with dj Dutty Fresh and Saturdays are ladies night featuring free maragaritas for the ladies.
Groceries: On the left is our soapstone island in our US kitchen. On the island is a local goat cheese made like a Tomme de Savoie by novelist Brad Kessler. I'd say he makes it in his spare time, but when you have a herd of animals that need milking, everything else is done in your spare time. Jenkins', in his Cheese Primer, declares Tomme to be "a personal favorite - rustic, simple, delicious" to be consumed with a light, fruity red or white wine. Martha has helped make cheese with Brad several times over the last few years and we currently have a wheel ripening in our wine cellar as part of an experiment to see how the different environment changes the taste. On the island you can usually get Tomme at Simply, either in Sandy Ground or in Grand Case. If not, try Saint Nectaire as it is similar.

Last newsletter had a bit about lobster in this slot. I recommended Skipjack's as George uses them as a loss leader. He thanked me for the plug but noted that recently he had to raise the price to $26.95!!! in an effort to slow down sales because lobsters are in very short supply, but it has not slowed sales. He also noted increased business over the same period last year. Unemployment is down in the US and the stock market is booming. Martha and I are still getting lobsters for $5.88 per pound.

| | |
| --- | --- |
| Alcohol: I got an email from Sylvain at Select Wine Cellar saying he was trying to line up some visits in Tuscany and Piedmont next September. We gave it a bit of a thought, but we will have too many animals to feed and already were heading to Spain and Portugal in November. Shortly thereafter, some other friends asked us to go to Provence and Italy in September. We found a house, farm animal, cat, and garden sitter and will be staying at Casa Del Bosco near Alba in the Piedmont awaiting Sylvain's arrival. Until then, he will be at the shop in Cole Bay. He's from Burgundy and has a great selection of both red and white Burgundy, but also has some fantastic Bordeaux and Rhone wines. There's more and he has hopes of expanding his Italian selection. Use the coupon on Sylvain's website to get 10% off on his list prices. | |

Crime: Two armed bank robberies have occurred in Simpson Bay in the last month or so. According to the Herald, robbers hit Scotiabank and First Caribbean. On Friday three or four robbers hit Dazzling Gems with a smash and grab, injuring a tourist. Fast action got Pburg locked down causing a massive disruption to traffic, but eventually two of the robbers were picked up. Further details in the Herald story. On the left is Pburg on a better day. The shot was taken from Front Street, looking down an alley leading to the beach, Great Bay, and Saba in the distance.

Travel: TSA has announced that your electronics must be turned on and functional when you go through security heading for the US. It appears that they are most concerned with travelers from airports in Europe, Africa, and the Middle East. Keep the battery charged or you may have your device seized.

GEBE: The Daily Herald said that the local electric company is lowering rates by 0.05 Naf for residents and 0.01 Naf for commercial clients.

Nature: On the right is a ringneck dove sitting atop one of the flag poles in front of Sapphire. They are beautiful creatures.

Our office is well over 100% solar-powered and our hosting company servers are about 130% wind-powered.

Small Island story: No snarky comments in this newsletter. The two deaths and the three robberies knocked the snark out of me.

---

---

As you can request five prizes on one entry form, you could win a bargain on lodging, car rental, entertainment, dinner, and a gym to work it off! That would be five prizes to one person.

Winners of the contest ending 13 July 2014

Caribbean View Condo - half price summer rental (May-October) - no entries
Lagoon Pub Crawl - two for one ticket - Mike Masuicca
Skipjack's - $50 off a dinner for two - Mike Masuicca
Marci's Mega Gym - Two for One week with a shake - no entries
Random Wind - $40 gift certificate- Lisa Beratis
Select Wine Cellar - Wine tasting and a bottle of wine - Mike Masuicca
Piazza Pascal - $50 off dinner for two - Carolyn
Escargot Restaurant - $50 off a dinner for two - Carolyn
Pizza Galley - $25 off on a dinner for two - Mike Masuicca

Current Contest: now to 12 October

Caribbean View Condo - half price summer rental (May-October)
Lagoon Pub Crawl - two for one ticket
Skipjack's - $50 off a dinner for two
Marci's Mega Gym - Two for One week with a shake
Random Wind - $40 gift certificate
Select Wine Cellar - Wine tasting and a bottle of wine
Piazza Pascal - $50 off dinner for two
Escargot Restaurant - $50 off a dinner for two
Pizza Galley - $25 off on a dinner for two

Read our rules, visit the websites of these sponsors, find their contest codes, and enter them on our entry form.

One of the rules is that you should enter each contest only once. You can enter five of the drawings on one entry. Thus, you could win a rather nice vacation at a considerable savings by combining accommodations with dinners and activities. I really check and while a Sulay entered 33 times for one contest, instead of increasing her chance of winning, she decreased it to zero as I deleted all of them. She did account for about a third of the entries for that contest.

Here's some comments from a past winner:

Erich,
We met with Sylvain at Select Wine Cellar, enjoyed the tasting, and opted for the Belin Champange for the free bottle. It was very good. I will try and find this at home to drink again. He was a very nice host. We also went to Peg Leg Pub for the steak dinner. We had the place to ourselves with two other couples. The $50 certificate kept the cost under $100 after wine, main course, and appetizers. I enjoyed entering the contest and look forward to future entries. Over 16 days we only had only one 4 minute rain shower; otherwise the weather was beautiful. We tried the Hideaway Restaurant at La Vista. It was very good as were the other places we dined.

Future Contests:
12 October to 7 December
same cast of characters as current contest

---

---

At the end of May the Euro was at 1.363 and today it is at 1.361, down almost 2 percent in six weeks, and down about 5 percent since we left the island in April, a fairly large change, and for the good.

Piazza Pascal and La Villa, in Grand Case are offering 1 to 1 for cash. Paradise View Restaurant above Orient Beach is offering 1.2 to 1. Nearby Ti Bouchon offers 1 to 1 also. Auberge Gourmande and Palm Beach Restaurant are doing 1.25 to 1. Almost all other restaurants on the French side that we have visited have offered us a better rate than we would get from our credit card or a bank. There is no doubt that they want your business.

You should not be paying a currency transaction charge as there are many credit cards that don't have this onerous charge. My United Mileage Plus Explorer/Chase card no longer charges it and gets my first bag checked free for all United tickets purchased on the card. My Capital One Signature Visa Venture card gets a good exchange rate with no fee. The frequent flier benefits can be used on any airline and there are no blackouts. Basically you get to spend 1 cent on air travel for every dollar you charge to your card. However, we can usually get a round trip from Albany to SXM for 35,000 miles on United. They would sell me that ticket for about $700. Do the math and you see you would have to spend $70,000 on Cap One to get enough "miles" to buy the ticket. Consequently, we rarely use the Cap One card. As there is no yearly charge, it is a handy spare card. We found it best to take the rewards in merchandise. We picked up an 18 bottle wine refrigerator with half of our points from a previous year, but we couldn't even fly one of us to SXM. Recently, they essentially gave us 1% cash back, but it could only be applied to travel expenses charged on the card which makes it essentially the same is getting a ticket through their system. Moreover, spending several thousand dollars at restaurants in Burgundy and Paris did not qualify as traveling expenses and neither did the gite rental in Beaune nor the apartment rental in Paris.

Cap One just offered Martha a Quicksilver Visa Signature Card that gives us 1.5% back - no fooling around with miles. They do not charge an exchange fee on foreign transactions and they do provide rental car insurance.

We always notify our card companies of our travel. Chase actually accepts this info on-line, making it much easier.

There are discussions on Credit card Forum and Daily Markets that may help you decide what card is best for you.

---

---

On a Thursday night in late February, we went to Grand Case for dinner at La Villa. Florence and Christophe have now made it through four seasons and seem to be doing well at the start of their fifth. They are still doing 1 to 1 pricing and the $49 three course menu option is still available.
Basic math skills show that the three course meal provides a half price dessert and that is especially good when their desserts include an array of premium ice creams. We ordered sparkling water and had two complimentary flutes of champagne while we decided on two full flavored main courses. We chose the robust flavors of a 2010 Gigondas from Gabriel Meffre to accompany our meal (right, $52). It had a well-justified 92 rating from Wine Spectator.

| | |
| --- | --- |
| An amuse bouche (right) of spicy, chilled asparagus soup arrived and quickly disappeared (right). We sipped the champagne through our two special seafood appetizers: panko-crusted lobster fritters with a teriyaki-like dipping sauce (below left) and scallop and snapper mousseline with tapanade (below center) Both were about $15 and very tasty. The panko crumbs gave the lobster a very satisfying crunch much as the as the scallops slipped some texture into the mousseline. | |

| | |
| --- | --- |
| | Martha had the chicken breast with mushrooms, potato and goat cheese ravioli in a truffle-flavored sauce (above right, $26) and I had the Angus beef fillet with "foie gras" sauce, potatoes au gratin, and assorted vegetables (left, $30). We ended complimentary balloons of Armagnac. Our total bill was a about $152 aided by their acceptance of dollars (cash) at one to one on the Euro. Service was, as usual, superb. The restaurant is lovely and they have live plantings in the dining room to make up for the lack of a sea view. It should be on everybody's list to visit at least once as the food, service, wine list, and pricing are excellent. |

News and Changes: JP at Pizza Galley wrote to say that they just received their 2014 Certificate of Excellence from Trip Advisor.

We frequently post some dining photos to Facebook. Less frequently we post activities and other things related to SXM or food. If you're interested, I trust you know what to do.

The Thursday night party at Marina Royale in Marigot has ended for the season.

The Tuesday Night Party (left) in Grand Case started on 21 January and ran until 30 March. C'est fini.

If you are looking to purchase gift certificates for island restaurants, check out Antoine Restaurant, Piazza Pascal, and L'Escargot Restaurant. Treat your friends at your favorite restaurant!

Here is the current list of the ARCHA members contributing to the security and clean-up of Grand Case. They would appreciate your continued support of their efforts. The sticker is displayed at businesses that participating in this much-needed endeavor.

Hotels and Residences:
Grand Case Beach Club
L'Esplanade
Le Petit Hotel
Bleu Emeraude
L'Atlantide
Catalina 4
Hevea Hotel

Restaurants:
Auberge Gourmande
Bistrot Caraïbes
Il Nettuno Restaurant
Le Tastevin
Piazza Pascal
Shambala
Le Pressoir
Calmos Cafe
La Crepe En Rose

Restaurants:
L'Effet Mer
Restaurant du Soleil
Ocean 82
Blue Martini
Le Cottage
L'Estaminet
Love
El Cafecito
Le Ti Provencal
Spiga

Boutiques:
Tijon Perfumery
Atypique
L'Atelier
La Boutique D'anaise
Octopus Diving
Que Du Bonheur
Cotton Club SXM
La Boheme
Sexy Fruits
Voila
Tropismes Galerie
Simple Elegance


---

BARGAINS AND HAPPENINGS

---

| | |
| --- | --- |
| | Coupons: Below are links to the SXM-Info clients who have coupons on their websites. Another approach is the SXM Privilege Card which is now free. It will get you various discounts and/or perks at about 50 restaurants. They also cover hotels (mostly spa treatments at hotels), activities, and more. Most of the restaurant perks are a 10% discount. Visit their website to see where you can get one on the island. |

| | | |
| --- | --- | --- |
| | | Our condo: The condo is available for rent $1000 per week or less for the summer. The rental includes about $500 in coupons from several of our website clients including one for 10% off a weekly car rental from Unity Car Rental, one of the longest running and most trusted car rental agencies on the island. Other notable coupons are $50 from Skipjack's restaurant, a tasting and a bottle of wine from Select Wine Cellar, a two for one ride on Celine's famous Lagoon Pub Crawl, and $50 off a daysail on Random Wind. The Christmas and New Year's holiday weeks will be available at $2000 per week and the balance of the high season is available at $1500 per week. As always any days within the next month are available for $100 each. Check the calendar on our website for available dates. |

| | | | | |
| --- | --- | --- | --- | --- |
| | | SXM-Info has chosen SkyMed and MedjetAssist to arrange medical transportation services. We hope you never need it, but when air evacuation flights cost $30,000 or more, it's good to have. Check out both and see which one offers the best prices for your timeframe and traveling group. | | |

Kindle: We now have now have two Kindle devices, as Martha just bought a Kindle Fire, She paid about $200 for the device without the 3G option. It connects to WiFi which we have here in NY and at the condo in SXM, and nowadays, at almost all restaurants, hotels, etc. The Fire is essentially a tablet computer with Kindle capabilities and a camera. If you add Amazon Prime to the package you get free 2 day shipping on Amazon, access to a lending library of Kindle books with no expiration, and access to over 40,000 movies via Netflix. The Kindle Paperwhite e-book from Amazon is a great thing to take on a beach vacation. It is glare-free, weighs less than a half pound, and is one-third of an inch thin. It's only $119. Newsletter subscriber Contessa says: "I loaded it up with more books than I needed and it was a very convenient way to read without lugging books to the beach." Paul M wrote: "My wife and I spent a lovely week at La Samanna in late March and I loaded my Kindle with several books and read them on the beach. The Kindle was fabulous. I had a case and was careful not to get in contact with sand, but the device was excellent to use for beach or poolside reading." Wendy K reports that her friend Jerri is quite happy with hers and now Wendy reports she bought her own. If you've already got one, you can get books here. They are cheaper than any other version of the book (except used!)
Even though Martha has a Kindle and is quite happy with it, she still downloads audio books from our local library to her Zune or Sansa player (iPod knockoffs) and that has been working rather well. Obviously, these are audio books and it's not the same as "reading" the text, but it works quite well and keeps us amused as we drive. I just got a newsletter from a reader who reports that "Regarding downloading - several of my friends have the Nook and they can download books on it from their library in the states...but they do expire after 2 weeks."