St Maarten/St Martin
13 April 2014 Newsletter

ISLAND NEWS



---
Weather: The last newsletter went out on 23 March. We were supposed to depart on 27 March but one of our tenants back on the farm emailed that the quarter mile driveway up the hill to our house was generally impassable. We scrambled airline reservations and pushed our departure to 3 April. The week leading up to 27 March was largely below freezing, especially at night, turning any daytime snow melt into ice. The following week was largely above freezing and we made it home. In the last newsletter I mentioned that it was getting hazy and the Monday morning photo on the right includes Saba. Barely. You might have to click the pic to enlarge it before Saba becomes visible. The yellow power boat is Swaliga 2 and the sailboat is Random Wind going out for her day sail.

The box shows the current local conditions and here's the detailed forecast from Weather Underground and here's one from the Weather Channel. Sunset tonight will be at 6:28 PM providing 12 hours and 37 minutes of sunshine. Here in upstate NY we have 13 hours and 19 minutes of daylight. I wouldn't call it sunshine. In 2014 the full moons will be 15 Apr (this week!), 14 May, 12 Jun, 12 Jul, 10 Aug, 8 Sep, 8 Oct, 6 Nov, and 6 Dec.
On the evening that followed the photo on the right above, the haze cleared and although there were clouds, there was a spectacular sunset. The sun appeared beneath the clouds in a clear layer just above the sea. It produced a green flash as it disappeared (see the pano below). The photo below left was taken on Tuesday (25 Mar) and shows Tango in the foreground with a rather clear Saba in the distance. Unfortunately the big northeaster that hit the east coast brought us some troubles. We had a rain shower on Thursday evening which produced a complete semicircular rainbow. It went from Grand Case in the center photo over to Maho Beach at the end of the runway in the right hand photo. The next day the rollers were crashing all over Cupecoy and Mullet. High winds added to the fun.
This is a sunset shot taken from the headland between the beach below the Cupecoy parking lot and the little cove (baby beach).

Hurricane Predictions
We are moving into hurricane season and Dr Gray and Phil Klotzbach of Colorado State University have decided the 2014 Atlantic Hurricane Season will be below average with only 9 named storms (compared to 12 in the average year from 1981 to 2010), 35 named storm days (60.1), 3 hurricanes (6.5), 12 hurricane days (21.3), one major hurricane (2.0), and 2 major hurricane days (3.9). This is the first year in a long time predicted to be below normal. However, many of those predictions turned out to be wrong. This one could be also. Gregg Easterbrook has a blog on Reuters that looked at NOAA and CSU predictions versus reality. It doesn't say much for the supposed scientific basis behind the predictions.
| | |
| --- | --- |
| SXM-Beaches: On the right is a shot of the monolith and the old dock toward the northwestern end of Cupecoy. You can see what little is left of the monolith in the small shot but if you click the image, the enlarged version shows shows the ruins of the dock on the left foreground and Saba on the right horizon. The area in front of the dock used to be sand all the way to and around the monolith. The left photo below is the baby beach or little cove that had stairs leading down to a rather large beach, but not lately. In the center is Dany's truck and shack at the far northwestern end of the beach in front of ShorePointe. The final shot shows Dany talking to one of the few customers. To be fair, this was early in the morning. There is some dry sand, but the sand without footprints is an indication of the reach of the waves. There's barely room for a row of chairs. Things are calming down and sand is coming back. These photos were taken about a month ago. | |
These pictures were taken about two weeks ago after the big northeaster made a mess of the US east cost. The shot on the left shows no sand at ShorePointe, as predicted by many people when they moved the seawall out onto the sand. The center photo shows that some of that sand is now down by the monolith and the right hand photo shows more down at the baby beach. The big breaking rollers typically come in from the southwest after a big storm on the east coast. They tend to move large amounts of sand to the eastern portions of Cupecoy. Before Hurricane Lenny there was at least 100 feet of sand all along the beach. Moving a bit made little difference, but Lenny, unlike most hurricanes, approached from the west and removed most of the sand.
| | |
| --- | --- |
| | Beach reading: How About Never--Is Never Good for You?: My Life in Cartoons [Kindle Edition] by Bob Mankoff - about $17 - From Amazon: People tell Bob Mankoff that as the cartoon editor of The New Yorker he has the best job in the world. Never one to beat around the bush, he explains to us, in the opening of this singular, delightfully eccentric book, that because he is also a cartoonist at the magazine he actually has two of the best jobs in the world. With the help of myriad images and his funniest, most beloved cartoons, he traces his love of the craft all the way back to his childhood, when he started doing funny drawings at the age of eight. After meeting his mother, we follow his unlikely stints as a high-school basketball star, draft dodger, and sociology grad student. Though Mankoff abandoned the study of psychology in the seventies to become a cartoonist, he recently realized that the field he abandoned could help him better understand the field he was in, and here he takes up the psychology of cartooning, analyzing why some cartoons make us laugh and others don't. He allows us into the hallowed halls of The New Yorker to show us the soup-to-nuts process of cartoon creation, giving us a detailed look not only at his own work, but that of the other talented cartoonists who keep us laughing week after week. For dessert, he reveals the secrets to winning the magazine's caption contest. Throughout How About Never--Is Never Good for You?, we see his commitment to the motto "Anything worth saying is worth saying funny." |
Sapphire Beach Club: We are not in our condo (Unit 255) at this time. The A/C works, the elevators work (although one has had problems), beach towels are available, the common areas are clean, the pool is lovely, and the hot tub now has water although no heat. The condo will is available now at rates ranging from $700 to $1000 per week over the low season. You'll get a 10% discount from Unity Car Rental, one of the longest running and most trusted agencies on the island, and several more coupons as well. Check the calendar on our website for available dates. A recent visitor said, "Erich, We had a wonderful time at your condo for the third year in a row. We appreciated the coupons. Hope to be able to do it again next year."

Below is a shot across our Caribbean balcony, over the pool and villas, and about 25 miles across the Caribbean to Saba.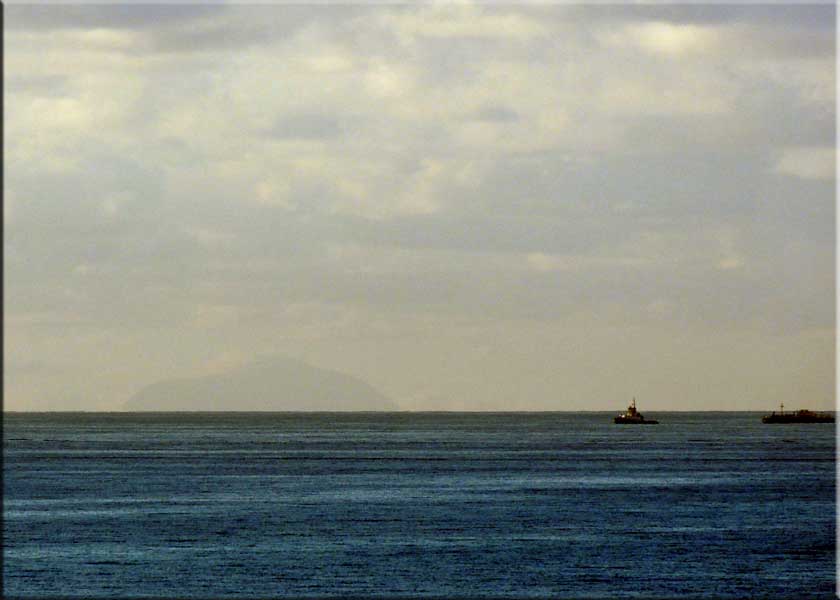 For those of you who wish to sell or rent their week or unit, we have opened up the Sapphire Beach Club website for that purpose. We charge $25 per year. If you wish to rent or sell your unit, send us some text (and $25 to esk@sxm-info.com via Paypal). If you wish to rent or buy a unit without high middleman fees, check out the website. At present, there are several sales and/or rentals available directly from owners. Given a 25 to 35% standard rental commission, there should be some bargains in eliminating the middleman and dealing direct.

SXM-Hotels: Villa Yellowcliff is ready for occupancy. The website is up and Joe and Karen await your visit. I'm no great fan of the Westin, but they have placed 2600 solar panels on their massive roof.
SXM-Activities: The photos above and on both sides were taken at La Bamba on a Sunday evening when Category Five rocks Kim Sha Beach. Above left is Nacio on bass with Eric on drums. In the center is Branko on lead guitar and King Bob. I'm sure he's on something also, especially if you check the photos above right and to the right. Connis Vanderpool sat in for a couple tunes on sax (left). The band covers hits of the 60s, 70s, and 80s and certainly gets the geezers grooving. Sometimes even people under fifty come out and dance with us. They have $10 buckets of beer and two for one Mount Gay rum drinks.

During the Heineken Regatta Richard E. Santaga was out amongst the boats and has sent me two spectacular photos. I have added them to the 27 photos on my Activities website, but you should have a look his photos:

Multihull 2 was won by Formula 40 Soma. Here,
she's heading down the west coast. Dauphin Telecom placed second.
Richard E Santaga

Otra Vez, CSA 1 came in second place
Here, she was having some spinnaker problems.
Richard E Santaga
Get Your Yoga on at SXM Yoga: SXM Yoga offers yoga classes for all levels more than five times a week. SXM Yoga's classes help calm your mind, strengthen your body, and stretch your muscles. Some regulars to SXM Yoga often comment on the benefits of decreased back pain, stress relief, and weight loss. If you are interested, you may simply drop in to any class, any time. AAll the information about their classes is available at their website, www.SXMYoga.com. They are located at White Sands Beach at the end of Simpson Bay, where Simpson Bay meets the Beacon Hill cliffs. They have mats for your use. Sounds like the perfect cure for a night at La Bamba.

Art: In the last newsletter I mentioned we had purchased a Paul-Elliott Thuleau painting at the Tropismes Gallery Grand Case. It's now above my desk in our condo as I work on this newsletter. The name of the painting is Casa Ting because of the Ting soda advert on the building in Barbuda.

On the left is the gallery on restaurant row. They are open over the lunch hour and again over the dinner hour until 10PM. Head to the southwestern end of restaurant row. They are just past Piazza Pascal on the same side of the street, ie the land side not the sea side.
Groceries: On the left is the last of the frozen Cornish hens we bought on sale at the Cole Bay Grand Marché. We got the broccoli and potatoes there and the mushrooms were picked up on the northwestern end of Marigot at the Super U which replaced Match (after a major hiatus) in the Howell Center. It's new, neat, large, and clean.

The shot on the right is the front of Sarafina's along the waterfront in Marigot. At present, we think their finette is the finest baguette on the island. The only problem is that many of the things they sell are very good and many people seem to know this. I took this photo as I waited about 15 minutes for Martha to buy three loaves of bread at about 12:15 one afternoon.

| | |
| --- | --- |
| | Alcohol: On 2 April we had lunch at Select Wine Cellar with Tom and Lori Fahy, winners of a wine tasting at Select, among other things. The lunch came from Champagne Bistro next door. We all had one of the specials, either a salmon and mahi fish kebab with risotto or an Italian plate with lasagne, melon and proscuitto, beef carpaccio, and risotto. As we were leaving St Maarten the next day, Sylvain was eager to load up a wine shipper with a dozen bottles of his best wines. We got some 2009 Ch La Louviere and these three bottles: a 2011 Clos de Vougeot Grand Cru from Chantal Lescure, a 2011 Chambolle-Musigny Premier Cru from Amiot Servelle, and a 2011 Vosne-Romanee Premier Cru from Chantal Lescure. We claimed 9 liters of wine and 3 liters of rum on the customs form, but they were more interested in the cat and sent us over to the ag inspection line. We produced the cat's papers and were welcomed back to the US. The wine shipper was a third bag for which we paid $40, but the savings in sales tax and duty on these expensive wines easily covered the cost of shipping. Use the coupon on Sylvain's website to get 10% off on his list prices. |

| | |
| --- | --- |
| Gas: There was a big blah-blah on TTOL about gas prices. The short answer is that the difference in the price for a fill-up might be $5-10 depending on where you go. We use about a tank per week and go out quite a bit, probably as much as the average tourist. Thus, over a a two week vacation it's $10 to $20. I wouldn't go out of my way for $10, but if I drive from my condo in Cupecoy to a dinner in Grand Case, I pass three stations. It's not much bother to stop at the cheapest one, so it makes sense to know which one is cheaper. Over the last eight years, it has been the Cadisco station on the lagoon on the Marigot side of the French Bridge. This one has a large sign on the road (right), but the station is on the lagoon a few hundred yards away. The sign currently says essence (super) is 1.26 per liter and the Cadisco Orient Beach station is usually a few pennies more. These two stations accept cash dollars at 1 to 1. NB: The Cadisco station in Nettle Bay on the western side of the French Bridge is a bit cheaper but does not offer 1 to 1, making it rather expensive. Some of the other French stations are selling gas at 0.96 per liter. If a euro is worth $1.38, then you are paying about $1.32 per liter, 5% more than the $1.26 that you would pay at Cadisco. Moreover you set yourself up for exchange fees and/or exchange miscalculations. | |

The Dutch side controls the price of gasoline in NAf. At times in the past the gas stations used different exchange rates. The final price at all of them were subject to incorrect conversions, ranging from 1 to 1 for the truly gullible to 1.8 or 1.75. I can't comment on their recent shenanigans because for the last eight years Cadisco has been selling gas for less than anyone else on the island and they are very close to our condo in Cupecoy. As I said, it's only worth $5 to $10 per fill-up, but if you need gas and are planning a trip past these stations, it's not much trouble to stop in at them.

Traffic: The causeway has certainly changed things. We don't have to spend as much time planning our journeys. If we drive from Cupecoy to the airport and find that the Dutch Bridge will be up, we continue a quarter turn around the rotary and head over the causeway. It may seem counter-intuitive, but going over the causeway, turning right into Cole Bay and back to the Kruythoff rotary is about the same distance as slogging through Simpson Bay over the Bridge (if it's open to vehicular traffic) and on to the other side of Kruythof rotary. As the drive across the causeway is swift, especially compared to the slog through Simpson Bay, the causeway is quicker even if the Bridge is open to vehicular traffic. As the Kruythoff rotary is the beginning of the road over the hill to Pburg, the causeway is now our preferred route to Pburg and points beyond such as Pointe Blanche, Guana Bay, and Oyster Pond.

Similarly, if we head to Grand Case we can head through the lowlands and head along the waterfront avoiding downtown Marigot and reach the Agrement rotary, but the route to Maho, past the airport to the causeway and straight through Marigot to the Agrement rotary is about the same distance. Obviously for those who live in Maho, it's shorter to use the causeway.

Nature: Our cactus is doing it again, literally, with the help of flies attracted to the rather pungent, earthy smell of this beautiful flower that is about 6 inches across.

Our office is well over 100% solar-powered and our hosting company servers are about 130% wind-powered.

Small Island story: On 2 April as we were packing up the condo to head back to the US I got a notice from Caribserve, my ISP, saying that my current quarterly payment covered me until 10 April when another payment would be due. I wrote saying that I was heading back to the US on 3 April and would not be needing the next quarter but would restart my service next January when I return. About an hour later, I lost my connection to the internet. I rebooted every piece of equipment I had and finally called Caribserve. They confirmed that they had shut off my service, but would turn it back on for a $50 reconnection fee?!?

---

---

As you can request five prizes on one entry form, you could win a bargain on lodging, car rental, entertainment, dinner, and a gym to work it off! That would be five prizes to one person.

Winners of the contest ending 13 April 2014

Caribbean View Condo - half price summer rental (May-October) - Michael Haldane
Lagoon Pub Crawl - two for one ticket - Debora Rumrill
Skipjack's - $50 off a dinner for two - Debora Rumrill
Marci's Mega Gym - Two for One week with a shake - no entries
Random Wind - $40 gift certificate - Debora Rumrill
Select Wine Cellar - Wine tasting and a bottle of wine - Rosemary Stathis
Piazza Pascal - $50 off dinner for two - Michael Haldane
Escargot Restaurant - $50 off a dinner for two - Rosie Moore
Pizza Galley - $25 off on a dinner for two - Michael Haldane

Current Contest: now to 13 July 2014

Caribbean View Condo - half price summer rental (May-October)
Lagoon Pub Crawl - two for one ticket
Skipjack's - $50 off a dinner for two
Marci's Mega Gym - Two for One week with a shake
Random Wind - $40 gift certificate
Select Wine Cellar - Wine tasting and a bottle of wine
Piazza Pascal - $50 off dinner for two
Escargot Restaurant - $50 off a dinner for two
Pizza Galley - $25 off on a dinner for two

Read our rules, visit the websites of these sponsors, find their contest codes, and enter them on our entry form.

One of the rules is that you should enter each contest only once. You can enter five of the drawings on one entry. Thus, you could win a rather nice vacation at a considerable savings by combining accommodations with dinners and activities. I really check and while a Sulay entered 33 times for one contest, instead of increasing her chance of winning, she decreased it to zero as I deleted all of them. She did account for about a third of the entries for that contest.

Here's some comments from a past winner:

Erich,
We met with Sylvain at Select Wine Cellar, enjoyed the tasting, and opted for the Belin Champange for the free bottle. It was very good. I will try and find this at home to drink again. He was a very nice host. We also went to Peg Leg Pub for the steak dinner. We had the place to ourselves with two other couples. The $50 certificate kept the cost under $100 after wine, main course, and appetizers. I enjoyed entering the contest and look forward to future entries. Over 16 days we only had only one 4 minute rain shower; otherwise the weather was beautiful. We tried the Hideaway Restaurant at La Vista. It was very good as were the other places we dined.

Future Contests:
13 July to 12 October | 12 October to 7 December
same cast of characters as current contest

---

---

In mid March the Euro was at 1.379 and today it is at 1.388. Not much movement over about 4 weeks.

Piazza Pascal and La Villa, in Grand Case are offering 1 to 1 for cash. Paradise View Restaurant above Orient Beach is offering 1.2 to 1. Nearby Ti Bouchon offers 1 to 1 also. Auberge Gourmande and Palm Beach Restaurant are doing 1.25 to 1. Almost all other restaurants on the French side that we have visited have offered us a better rate than we would get from our credit card or a bank. There is no doubt that they want your business.

You should not be paying a currency transaction charge as there are many credit cards that don't have this onerous charge. My United Mileage Plus Explorer/Chase card no longer charges it and gets my first bag checked free for all United tickets purchased on the card. My Capital One card gets a good exchange rate with no fee. The frequent flier benefits can be used on any airline and there are no blackouts. Basically you get to spend 1 cent on air travel for every dollar you charge to your card. However, we can usually get a round trip from Albany to SXM for 35,000 miles on United. They would sell me that ticket for about $700. Do the math and you see you would have to spend $70,000 on Cap One to get enough "miles" to buy the ticket. Consequently, we rarely use the Cap One card. As there is no yearly charge, it is a handy spare card. We found it best to take the rewards in merchandise. We picked up an 18 bottle wine refrigerator with half of our points from a previous year, but we couldn't even fly one of us to SXM. Recently, they essentially gave us 1% cash back, but it could only be applied to travel expenses charged on the card which makes it essentially the same is getting a ticket through their system. Moreover, spending several thousand dollars at restaurants in Burgundy and Paris did not qualify as traveling expenses and neither did the gite rental in Beaune nor the apartment rental in Paris.

We always notify our card companies of our travel. Chase actually accepts this info on-line, making it much easier.

There are discussions on Credit card Forum and Daily Markets that may help you decide what card is best for you.

---

---

Pizza Galley

On Sunday we headed over to Pizza Galley and were seated in the back at the Royal table (right), affording us a nice view of the yacht we are about to purchase and the new causeway (pano shot below). I have made an offer on that also. We had our usual small Caesar salad (below left, $6) followed by the JP special pizza with a roasted garlic clove in the center (below center, $17 plus $2 for the garlic), all washed down with our usual Cotes du Rhone from Mont Redon (below right, $24). It's now the 2012, rated 8 of 10, and tastes fine with pizza, even spicy pizza. The Daily Herald reader's poll says this is the best pizza on the island. They also get the best dessert prize. You can comment on the Pizza Galley Facebook page. JP let me know that they are doing a gluten-free pizza and he requests inquiries about a vegetarian or vegan pizza. If they can, they will make whatever you want. His daughter Leigh is doing a $45 three course gourmet vegan lunch on Saturdays in the VIP room. Make a reservation via email: leigh.elmes@gmail.com

Sol é Luna Restaurant

On Valentine's Day WendyK went to Sol é Luna Restaurant for their tapas lunch: "We both had the same tapa: crab remoulade (right). The orange squiggles are lobster bisque. The dish was nicely spiced with a little bit of heat and filled with a generous amount of crab. Tony's plate was a blanquette de veau with a risotto, a bit of spinach, and porcini mushrooms. He said the mushrooms were as tasty as the veal (below left). I had a pasta dish with large shells, served with bits of fresh tuna, sun dried and fresh red and orange cherry tomatoes, and basil. We had our usual desserts: creme brulee for Tony and pannacotta with a sort of apple crunch topping for me. We drank a bottle of San Pellegrino and a bottle of Dourthe Bordeaux, 5€ and 28€, respectively. A complimentary shot of our favorite vanilla ginger rum arrived to end a fine Valentine's day lunch. The meals were 20€ each, for a grand total of 76€, with a 3€ tax added in. This was the first time we've been that all the tables weren't filled. I guess people are saving themselves for a fancy dinner tonight!"

| | |
| --- | --- |
| | |

We went to see Daniel at Daniel's by the Sea on Tuesday, as that is his slow day. His wife, Tina, joined us and as it was slow, Daniel spent most of the night with us. We arrived to find a bottle of 2004 Arrowood Cabernet Sauvignon (right) on the table. It was a large and sturdy wine that that managed to hold its own with Daniels spicy squid (below left). The squid were perfection and you can dial your preferred level of heat. This was followed by a 2012 La Crema Pinot Noir a fresher, fruitier wine that matched well with the lowered wow factor of snails in garlic and parsley (below center). We also had a large basket of garlic bread and Caesar salads before the main course, a major portion of mixed seafood in a somewhat spicy red sauce (below right) with a side of pasta. It was accompanied by a 2007 Echezeaux, one of the world's finer Burgundies, so good that it was wonderful even in a poor vintage. We skipped dessert and the four of us headed to Bajatzu for after dinner drinks.

---

News and Changes:

---

| | |
| --- | --- |
| We frequently post some dining photos to Facebook. Less frequently we post activities and other things related to SXM or food. If you're interested, I trust you know what to do. | |

Rancho del Sol sent me the list of daily specials for March. They are on the website.

The Thursday night party at Marina Royale in Marigot has ended for the season.

The Tuesday Night Party (left) in Grand Case started on 21 January and ran until 30 March. C'est fini.

If you are looking to purchase gift certificates for island restaurants, check out Antoine Restaurant, Piazza Pascal, and L'Escargot Restaurant. Treat your friends at your favorite restaurant!

Here is the current list of the ARCHA members contributing to the security and clean-up of Grand Case. They would appreciate your continued support of their efforts. The sticker is displayed at businesses that participating in this much-needed endeavor.

Hotels and Residences:
Grand Case Beach Club
L'Esplanade
Le Petit Hotel
Bleu Emeraude
L'Atlantide
Catalina 4
Hevea Hotel

Restaurants:
Auberge Gourmande
Bistrot Caraïbes
Il Nettuno Restaurant
Le Tastevin
Piazza Pascal
Shambala
Le Pressoir
Calmos Cafe
La Crepe En Rose

Restaurants:
L'Effet Mer
Restaurant du Soleil
Ocean 82
Blue Martini
Le Cottage
L'Estaminet
Love
El Cafecito
Le Ti Provencal
Spiga

Boutiques:
Tijon Perfumery
Atypique
L'Atelier
La Boutique D'anaise
Octopus Diving
Que Du Bonheur
Cotton Club SXM
La Boheme
Sexy Fruits
Voila
Tropismes Galerie
Simple Elegance


---

BARGAINS AND HAPPENINGS

---

| | |
| --- | --- |
| | Coupons: Below are links to the SXM-Info clients who have coupons on their websites. Another approach is the SXM Privilege Card which is now free. It will get you various discounts and/or perks at about 50 restaurants. They also cover hotels (mostly spa treatments at hotels), activities, and more. Most of the restaurant perks are a 10% discount. Visit their website to see where you can get one on the island. |

| | | |
| --- | --- | --- |
| | | Our condo: The condo is available for rent $1000 per week or less for the summer. The rental includes about $500 in coupons from several of our website clients including one for 10% off a weekly car rental from Unity Car Rental, one of the longest running and most trusted car rental agencies on the island. Other notable coupons are $50 from Skipjack's restaurant, a tasting and a bottle of wine from Select Wine Cellar, a two for one ride on Celine's famous Lagoon Pub Crawl, and $50 off a daysail on Random Wind. The Christmas and New Year's holiday weeks will be available at $2000 per week and the balance of the high season is available at $1500 per week. As always any days within the next month are available for $100 each. Check the calendar on our website for available dates. |

| | | | | |
| --- | --- | --- | --- | --- |
| | | SXM-Info has chosen SkyMed and MedjetAssist to arrange medical transportation services. We hope you never need it, but when air evacuation flights cost $30,000 or more, it's good to have. Check out both and see which one offers the best prices for your timeframe and traveling group. | | |

Kindle: We now have now have two Kindle devices, as Martha just bought a Kindle Fire, She paid about $200 for the device without the 3G option. It connects to WiFi which we have here in NY and at the condo in SXM, and nowadays, at almost all restaurants, hotels, etc. The Fire is essentially a tablet computer with Kindle capabilities and a camera. If you add Amazon Prime to the package you get free 2 day shipping on Amazon, access to a lending library of Kindle books with no expiration, and access to over 40,000 movies via Netflix. The Kindle Paperwhite e-book from Amazon is a great thing to take on a beach vacation. It is glare-free, weighs less than a half pound, and is one-third of an inch thin. It's only $119. Newsletter subscriber Contessa says: "I loaded it up with more books than I needed and it was a very convenient way to read without lugging books to the beach." Paul M wrote: "My wife and I spent a lovely week at La Samanna in late March and I loaded my Kindle with several books and read them on the beach. The Kindle was fabulous. I had a case and was careful not to get in contact with sand, but the device was excellent to use for beach or poolside reading." Wendy K reports that her friend Jerri is quite happy with hers and now Wendy reports she bought her own. If you've already got one, you can get books here. They are cheaper than any other version of the book (except used!)
Even though Martha has a Kindle and is quite happy with it, she still downloads audio books from our local library to her Zune or Sansa player (iPod knockoffs) and that has been working rather well. Obviously, these are audio books and it's not the same as "reading" the text, but it works quite well and keeps us amused as we drive. I just got a newsletter from a reader who reports that "Regarding downloading - several of my friends have the Nook and they can download books on it from their library in the states...but they do expire after 2 weeks."