St Maarten/St Martin
23 March 2014 Newsletter

ISLAND NEWS



---
Weather: Last Sunday I mentioned that I could hear the rollers crashing on Cupecoy as I entered the living room. On the balcony I saw that they had become larger and shifted to the south west. Before I could even get to the beach, WendyK sent an email saying all of Cupecoy Beach was largely under water or at best, consisted of wet sand. It was a very nice day. On the right a three-master glides by with Saba quite visible. Below left is a close-up of the three-master. The view photo in the Rosemary's review below was taken on Wednesday during lunch on the waterfront in Marigot. It was cloudy, hazy, hot, and though humid, it hasn't rained in quite a while. The golf course (our rain gauge) is crisping up. The center photo below is Passat gliding past on a cloudy Thursday after a squall with Saba barely visible on the left.

The box shows the current local conditions and here's the detailed forecast from Weather Underground and here's one from the Weather Channel. Sunset tonight will be at 6:24PM, two extra minutes. In 2014 the full moons will be 15 Apr, 14 May, 12 Jun, 12 Jul, 10 Aug, 8 Sep, 8 Oct, 6 Nov, and 6 Dec. Last Sunday's full moon was fantastic because of clear skies.
The right side photo below was taken on Saturday around noon. I assure you that Statia is behind the big sailboat. Obviously, some hazy (and warm) weather has arrived.
This is a sunset shot taken taken from the shore road along the cemetery on the west side of Marigot. From here the sun does not set into the water, but drops behind the French lowlands and notably Les Mammelles, the two wonderfully shaped hills in the lowlands.


Beach reading: Tooth and Nail by Ian Rankin - $3-17 (Kindle, or CD) various prices for hardcovers or paperbacks, new and used - Scottish homicide detective John Rebus has been sent from "North of the Border" to help London police catch a serial killer with a gruesome M.O. Teamed with a London cop he wants to trust but can't, Rebus lets a beautiful psychologist into the case develops a bizarre portrait of a killer who leaves bite marks and tears on each victim's body. Now it's only a question of who is going to get busted first: the cop with the accent who breaks all the rules--or the pyscho painting London with blood...

The New York Times calls Ian Rankin's Inspector Rebus books "A superior series," and Tooth and Nail is another outstanding entry. [ed note: Obviously I like these if I'm onto the third one already.]
Sapphire Beach Club: We are in our condo (Unit 255) at this time. The A/C works, the elevators work (although one has had problems), beach towels are available, the common areas are clean, the pool is lovely, and the hot tub now has water although no heat. The condo will be available starting in April at rates ranging from $700 to $1000 per week over the low season. You'll get a 10% discount from Unity Car Rental, one of the longest running and most trusted agencies on the island, and many more coupons as well. Check the calendar on our website for available dates. A recent visitor said, "Erich, We had a wonderful time at your condo for the third year in a row. We appreciated the coupons. Hope to be able to do it again next year."

Below is a shot across our Caribbean balcony, over the pool and villas, and about 25 miles across the Caribbean to Saba.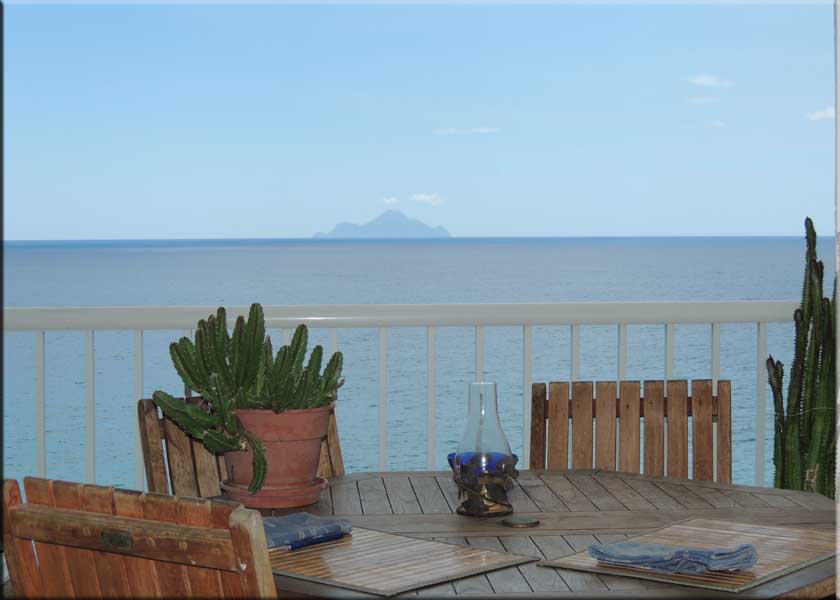 For those of you who wish to sell or rent their week or unit, we have opened up the Sapphire Beach Club website for that purpose. We charge $25 per year. If you wish to rent or sell your unit, send us some text (and $25 to esk@sxm-info.com via Paypal). If you wish to rent or buy a unit without high middleman fees, check out the website. At present, there are several sales and/or rentals available directly from owners. Given a 25 to 35% standard rental commission, there should be some bargains in eliminating the middleman and dealing direct.

SXM-Hotels: On St Paddy's Day we started around noon at a party in French Cul de Sac. Joe, from the parking lot in Grand Case, had a DJ out by his pool, plenty of libations, and the usual dinner at 3PM. He is just finishing work on a Villa Yellowcliff, a two bedroom villa on his property with the view as shown on the left. At about 5:30 we shifted over to our normal party at the Horny Toad Guesthouse for more corned beef, etc. The weather was spectacular.
SXM-Activities: The Heineken Regatta finished on Sunday and I have about 30 photos on my Activities website. There were 211 entries and they looked as if they were having fun as the went past our balconies on all three days.

| | | |
| --- | --- | --- |
| | Art: In several of our wanderings around Grand Case we have gone into the Tropismes Gallery. On our most recent visit, we found Paul-Elliott Thuleau manning the gallery. He is the artist responsible for the lovely paintings of Grand Case cottages. Martha has an earlier one hanging above here desk here in our condo. I now have one hanging above my desk. That's Paul-Elliott on the left in front of some of has larger works, holding our new acquisition. The larger view on the right shows that there is a typical open window, this time with a see-through view, a very intricate shadow on the building and a Ting soda advert on the building. I believe he said the building was in Barbuda. | |
| | | |
| --- | --- | --- |
| | Alcohol: On Saturday we made a brief stop at Select Wine Cellar. We tasted athe last of a Robert Denogent 2010 Pouilly-Fuissé Les Carrons, a superb Chardonnay ($71). We were supposed to have this with lunch on Friday but we got a report that our driveway was still impassable, so we had decided to stay another week. Many people, airline included, needed to be notified and plans rearranged. We also needed some more of our house wine, JJ Girard's 2009 Savigny-Les-Beaune ($25.70), but we had a long discussion over a bottle of Pierre Morey's 2009 Aloxe-Corton Premier Cru ($107). It's a bit young for such an august wine, but with a bit of breathing it was spectacular. Use the coupon on Sylvain's website to get 10% off. | |
Shopping: We went back to the Marigot market on Wednesday and made our final choices at The Garnet, formerly Octaedre Gems. They are in the permanent buildings at the eastern end of the market. Candy showed us the bracelet ($150) and Martha picked out the two sets of earrings for another $110. Candy is wearing a pendent very much like one that Martha bought a few years ago. It's very pretty jewelry and seems to hold up well.

We also stopped in at DK Gems and found a very nice sapphire and diamond ring. We have no photos at this time as it is off-island being resized. When we get it we'll let you have a look. Even though Deepti has departed for China, her brother Kamal, and cousins Raj and Jeff, provide great service (and cold beers).
Travel: An article in the Daily Herald said that the Court of First Instance agreed "that all European Union (EU) citizens, currently 28 nationalities, have to be treated no differently than Dutch citizens when applying for residency in St. Maarten." In effect, "like Dutch nationals, European Union citizens wishing to reside here still will need to submit proof of ability to maintain themselves financially, as well as their police clearance (proof of good conduct).

In other travel news, the Daily Herald reported that Royal Caribbean's Adventure of the Seas stayed overnight in St Maarten on Thursday because of an oil leak. The leak cannot be repaired until the ship enters drydock, so it will be operating at a lower speed until then.

Michael Maghiro has sculpted three bronze pelicans that have been installed at the airport roundabout. They cost a bit over a quarter million and are a gift from the airport to to SXM. The pelican is the "national" bird and has traits that are inherent in the St Maarten personality: grace, resourcefulness, courage and sacrifice.
Nature: On the right are the two baby doves who hatched out and were fed by mother and father for a couple weeks while they learned to fly. Next they were taught what to eat and now they are gone and mother is sitting on another couple eggs.

Our office is well over 100% solar-powered and our hosting company servers are about 130% wind-powered.

Small Island story: You know you are in a third world country when you hear that it is now safe to drink water on the French side.
---
---
As you can request five prizes on one entry form, you could win a bargain on lodging, car rental, entertainment, dinner, and a gym to work it off! That would be five prizes to one person.

Current Contest: now to 13 April 2014

Caribbean View Condo - half price summer rental (May-October)
Lagoon Pub Crawl - two for one ticket
Skipjack's - $50 off a dinner for two
Marci's Mega Gym - Two for One week with a shake
Random Wind - $40 gift certificate
Select Wine Cellar - Wine tasting and a bottle of wine
Piazza Pascal - $50 off dinner for two
Escargot Restaurant - $50 off a dinner for two
Pizza Galley - $25 off on a dinner for two

Read our rules, visit the websites of these sponsors, find their contest codes, and enter them on our entry form.

One of the rules is that you should enter each contest only once. You can enter five of the drawings on one entry. Thus, you could win a rather nice vacation at a considerable savings by combining accommodations with dinners and activities. I really check and while a Sulay entered 33 times, instead of increasing her chance of winning, she decreased it to zero as I deleted all of them. She did account for about a third of the entries.

Here's some comments from a past winner:

Erich,
We met with Sylvain at Select Wine Cellar, enjoyed the tasting, and opted for the Belin Champange for the free bottle. It was very good. I will try and find this at home to drink again. He was a very nice host. We also went to Peg Leg Pub for the steak dinner. We had the place to ourselves with two other couples. The $50 certificate kept the cost under $100 after wine, main course, and appetizers. I enjoyed entering the contest and look forward to future entries. Over 16 days we only had only one 4 minute rain shower; otherwise the weather was beautiful. We tried the Hideaway Restaurant at La Vista. It was very good as were the other places we dined.

Future Contests:
13 April to 13 July | 13 July to 12 October | 12 October to 7 December
same cast of characters as current contest
---
---
A week ago the Euro was at 1.390 and today it is at 1.379. That's a nice move (0.8%) in a week. We need a few more of these moves.

Piazza Pascal and La Villa, in Grand Case are offering 1 to 1 for cash. Paradise View Restaurant above Orient Beach is offering 1.2 to 1. Nearby Ti Bouchon offers 1 to 1 also. Auberge Gourmande and Palm Beach Restaurant are doing 1.25 to 1. Almost all other restaurants on the French side that we have visited have offered us a better rate than we would get from our credit card or a bank. There is no doubt that they want your business.
You should not be paying a currency transaction charge as there are many credit cards that don't have this onerous charge. My United Mileage Plus Explorer/Chase card no longer charges it and gets my first bag checked free for all United tickets purchased on the card. My Capital One card gets a good exchange rate with no fee. The frequent flier benefits can be used on any airline and there are no blackouts. Basically you get to spend 1 cent on air travel for every dollar you charge to your card. However, we can usually get a round trip from Albany to SXM for 35,000 miles on United. They would sell me that ticket for about $700. Do the math and you see you would have to spend $70,000 on Cap One to get enough "miles" to buy the ticket. Consequently, we rarely use the Cap One card. As there is no yearly charge, it is a handy spare card. We found it best to take the rewards in merchandise. We picked up an 18 bottle wine refrigerator with half of our points from a previous year, but we couldn't even fly one of us to SXM. Recently, they essentially gave us 1% cash back, but it could only be applied to travel expenses charged on the card which makes it essentially the same is getting a ticket through their system. Moreover, spending several thousand dollars at restaurants in Burgundy and Paris did not qualify as traveling expenses and neither did the gite rental in Beaune nor the apartment rental in Paris.

We always notify our card companies of our travel. Chase actually accepts this info on-line, making it much easier.

There are discussions on Credit card Forum and Daily Markets that may help you decide what card is best for you.
---
---
On Tuesday we headed over to Philipsburg for some shopping and a lunch at Antoine on a lovely day. The restaurant can be entered from the board walk along the beach or via Front Street. The dining room is along the beach with superb views of all of Great Bay. We started with sparkling water and the 2011 Brouilly from Chateau de Pierreux, (below center, $36). Martha ordered the shrimp with garlic, parsley, and pastis (below left, $27) and I had the a wonderful fresh snapper in a spicy sauce based on olive oil (right, $27). Both lunches came with a bit of brocoli, some cauliflower purée, some squash purée, and rice. The total was about $100 with the added 15% tip. We had a lovely time on a beautiful day. It is a great spot for a relaxing and very good lunch, if you are downtown shopping. They do serve a lighter lunch menu and serve at the beach chairs in front of the restaurant.
The left hand photo is the view to the east down the boardwalk with the Segway crew cruising by. The center photo is view straight out across the beach and Great Bay to the three cruise ships calling today. On the right is the view to the west off to Divi Resort.
Anse Marcel Beach
WendyK headed over here on St Paddy's Day. It's a long and harrowing drive, but I have been there several times over the years. This was her first trip and here's the report: A friend of a friend kindly agreed to drive us old ladies to the beach at Anse Marcel. He had been there several times over the years. I'm ashamed to say, I had never been there. When I arrived, I felt like I was on vacation at a tropical resort: the super calm, clear water, and flat sand reminded me of photos from a travel brochure. Two chairs and a sturdy umbrella that shaded both chairs pretty well were 20€. There are several wooden structures with table and chairs for dining, as well as a large bar and restaurant seating area plus spiffy rest rooms. We ate in a separate structure with four tables in it. Service was excellent and friendly. Two of us had tuna tartare (22€, below center) and two had tuna carpaccio (below right). A glass of rose was 5€, and I'm sorry I didn't scrutinize the menu for the other charges. "Tips not included" was printed on our receipt, so we left a good tip, (after deducting the 40€ cost of the chairs/umbrellas.) The total bill was about $65 per person with 2 beverages each and a bottle of water. Not an inexpensive day at the beach, but a new experience for me, and one I thoroughly enjoyed. [ed note: The beach is on the north side of the island facing north to Anguilla. It is an extremely protected area with high hills rising on each side of the beach. You can see the eastern hill extending quite a way out past the beach in the left side photo. It's also true of the western hill. This does make for a calm beach but the sun is behind you (if you face the water) and it rises late over the eastern hill and sets early over the western hill. It is, however, spectacular from 10AM until 3PM.]
| | | |
| --- | --- | --- |
| | After our purchases at The Garnet we walked over to the local food stands just outside the market. While we were looking about, a tout came up to us and pointed at an empty table in Rosemary's Seafood and Créole Cuisine. Decision made, we sat down, ordered a Red Stripe (2€), and checked the menu. Conch Créole was there at 13€. Two more decisions, in the blink of an eye. I just may be the new decider. On the right is our waitress showing off her menus. The beer arrived almost quickly and the food arrived promptly (below center). The conch stew is at the bottom of the plate, tender conch (not easy to do) with a spicy tomato sauce and some crunchy, but not hot, peppers. Starting from there and proceeding clockwise we have provision, a fried plantain, rice and beans (with hot sauce), and salad. | |
That is a pretty healthy and filling plate of food. Beans and rice are complementary proteins, meaning together they contain all the essential amino acids. The conch supplies more protein with less than 10% of calories coming from fat. The same weight of lamb loin would contain 2.5 times the calories with almost 70% coming from fat. Provision is starch, in this case we believe boniato and green banana mixed and boiled. 3 oz are about 100 calories and 12% of daily fiber needs. The plantain has about 20% more calories (sugar!) and 50% more fiber. The salad has almost no calories or fat, but a bit of fiber. The salad is undressed, but dressing is brought to your table. You will probably add more calories from fat with the dressing than there is on the plate. Sorry to go all food police on you, but I think this is pretty tasty food and I know it's pretty good for you.

On the left is the view from our table across the parking lot to the West Indies Mall with Fort Louis at the top of the hill. On the right is a photo of the entrance to this fine food emporium.
---
News and Changes:
---
| | |
| --- | --- |
| We frequently post some dining photos to Facebook. Less frequently we post activities and other things related to SXM or food. If you're interested, I trust you know what to do. | |

Rancho del Sol sent me the list of daily specials for March. They are on the website.

The Thursday night party at Marina Royale in Marigot has ended for the season.

The Tuesday Night Party (left) in Grand Case started on 21 January and will run until 30 March.

If you are looking to purchase gift certificates for island restaurants, check out Antoine Restaurant, Piazza Pascal, and L'Escargot Restaurant. Treat your friends at your favorite restaurant!
Here is the current list of the ARCHA members contributing to the security and clean-up of Grand Case. They would appreciate your continued support of their efforts. The sticker is displayed at businesses that participating in this much-needed endeavor.
Hotels and Residences:
Grand Case Beach Club
L'Esplanade
Le Petit Hotel
Bleu Emeraude
L'Atlantide
Catalina 4
Hevea Hotel

Restaurants:
Auberge Gourmande
Bistrot Caraïbes
Il Nettuno Restaurant
Le Tastevin
Piazza Pascal
Shambala
Le Pressoir
Calmos Cafe
La Crepe En Rose

Restaurants:
L'Effet Mer
Restaurant du Soleil
Ocean 82
Blue Martini
Le Cottage
L'Estaminet
Love
El Cafecito
Le Ti Provencal
Spiga

Boutiques:
Tijon Perfumery
Atypique
L'Atelier
La Boutique D'anaise
Octopus Diving
Que Du Bonheur
Cotton Club SXM
La Boheme
Sexy Fruits
Voila
Tropismes Galerie
Simple Elegance

---
BARGAINS AND HAPPENINGS
---
| | |
| --- | --- |
| | Coupons: Below are links to the SXM-Info clients who have coupons on their websites. Another approach is the SXM Privilege Card which is now free. It will get you various discounts and/or perks at about 50 restaurants. They also cover hotels (mostly spa treatments at hotels), activities, and more. Most of the restaurant perks are a 10% discount. Visit their website to see where you can get one on the island. |
| | | |
| --- | --- | --- |
| | | Our condo: The condo is available for rent $1000 per week or less for the summer. The rental includes about $500 in coupons from several of our website clients including one for 10% off a weekly car rental from Unity Car Rental, one of the longest running and most trusted car rental agencies on the island. Other notable coupons are $50 from Skipjack's restaurant, a tasting and a bottle of wine from Select Wine Cellar, a two for one ride on Celine's famous Lagoon Pub Crawl, and $50 off a daysail on Random Wind. The Christmas and New Year's holiday weeks will be available at $2000 per week and the balance of the high season is available at $1500 per week. As always any days within the next month are available for $100 each. Check the calendar on our website for available dates. |
| | | | | |
| --- | --- | --- | --- | --- |
| | | SXM-Info has chosen SkyMed and MedjetAssist to arrange medical transportation services. We hope you never need it, but when air evacuation flights cost $30,000 or more, it's good to have. Check out both and see which one offers the best prices your timeframe and traveling group. | | |
Kindle: We now have now have two Kindle devices, as Martha just bought a Kindle Fire, She paid about $200 for the device without the 3G option. It connects to WiFi which we have here in NY and at the condo in SXM, and nowadays, at almost all restaurants, hotels, etc. The Fire is essentially a tablet computer with Kindle capabilities and a camera. If you add Amazon Prime to the package you get free 2 day shipping on Amazon, access to a lending library of Kindle books with no expiration, and access to over 40,000 movies via Netflix. The Kindle Paperwhite e-book from Amazon is a great thing to take on a beach vacation. It is glare-free, weighs less than a half pound, and is one-third of an inch thin. It's only $119. Newsletter subscriber Contessa says: "I loaded it up with more books than I needed and it was a very convenient way to read without lugging books to the beach." Paul M wrote: "My wife and I spent a lovely week at La Samanna in late March and I loaded my Kindle with several books and read them on the beach. The Kindle was fabulous. I had a case and was careful not to get in contact with sand, but the device was excellent to use for beach or poolside reading." Wendy K reports that her friend Jerri is quite happy with hers and now Wendy reports she bought her own. If you've already got one, you can get books here. They are cheaper than any other version of the book (except used!)
Even though Martha has a Kindle and is quite happy with it, she still downloads audio books from our local library to her Zune or Sansa player (iPod knockoffs) and that has been working rather well. Obviously, these are audio books and it's not the same as "reading" the text, but it works quite well and keeps us amused as we drive. I just got a newsletter from a reader who reports that "Regarding downloading - several of my friends have the Nook and they can download books on it from their library in the states...but they do expire after 2 weeks."