St Maarten/St Martin
9 March 2014 Newsletter

ISLAND NEWS



---
Weather: On the right is a taste of the rainy weather we have been having: no islands visible, gray clouds, and rain squalls. By the end of the previous week, we were starting to have some decent weather: no rain, but a lot of marine haze and/or humidity. By Monday I could see houses on Saba again and a bit later Statia and then St Kitts appeared. Look at the clouds in the sky on the left side photo. They dumped rain on me as I did my morning swim earlier. In the center photo Saba and some houses are visible, and although I could see Statia and St Kitts, they were barely visible in photos. The right hand shot was taken on Tuesday and Saba is visible, but it was gone on Wednesday and very hazy on Thursday. No rain and a bit cooler.

The box shows the current local conditions and here's the detailed forecast from Weather Underground and here's one from the Weather Channel. Sunset tonight will be at 6:20PM, two extra minutes. In 2014 the full moons will be 16 Mar (this week!), 15 Apr, 14 May, 12 Jun, 12 Jul, 10 Aug, 8 Sep, 8 Oct, 6 Nov, and 6 Dec.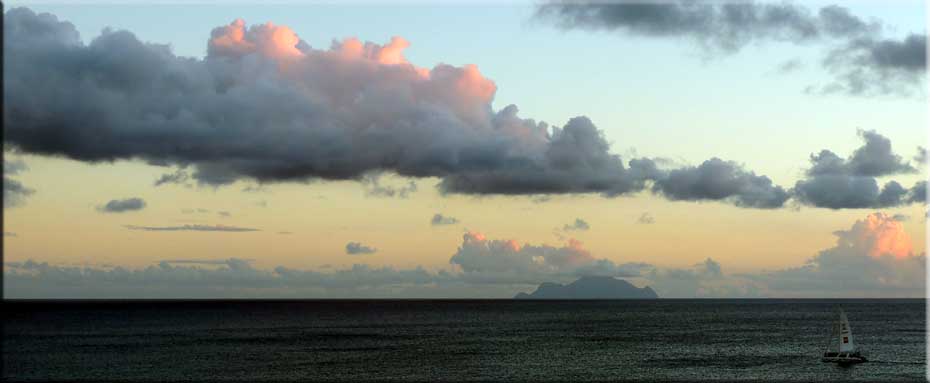 | | | |
| --- | --- | --- |
| | SXM-Beaches: On Tuesday we stopped in at Azure Beach Studios on Simpson Bay Beach. On the left is a view across their beach chairs to Beacon Hill/Caravanserai. On the right is the view in the other direction, all the way to the entrance to the Dutch Bridge and on to Kim Sha Beach (home of the final Regatta Party) and around to Pelican Cay. It's a little over a mile from the end of the beach at Beacon Hill to the canal leading to the Dutch Bridge. There are very few bars and/or restaurants on this stretch, although there are many small hotels, guesthouses, and condo developments. The notable exception is Karakter Beach Bar reachable from the eastern end of the runway near the lagoon. Kim Sha Beach has La Bamba, Greenhouse, and Buccaneer Beach Bar. | |
| | |
| --- | --- |
| | Beach reading: Knots and Crosses by Ian Rankin - about $12 (CD) or not much for used hardcovers or paperbacks, it's a very old book - Amazon.com Review: Detective John Rebus's city is being terrorized by a baffling series of murders and he's tied to a maniac by an invisible knot of blood. As the ghoulish killings mount and the tabloid headlines scream, Rebus cannot stop the feverish shrieks from within his own mind. Because he isn't just one cop trying to catch a killer - he's the man who's got all the pieces to the puzzle. "Ian Rankin is up there among the best crime novelists at work today." - Michael Connelly "A superior series." - The New York Times Book Review "Ian Rankin, you cannot go wrong." - The Boston Globe "A novelist of great scope, depth, and power." - Jonathan Kellerman "I also like it" - ESK |
Sapphire Beach Club: We are in our condo (Unit 255) at this time. The A/C works, the elevators work (although one has had problems), beach towels are available, the common areas are clean, the pool is lovely, and the hot tub now has water although no heat. The condo will be available starting in April at rates ranging from $700 to $1000 per week over the low season. You'll get a 10% discount from Unity Car Rental, one of the longest running and most trusted agencies on the island, and many more coupons as well. Check the calendar on our website for available dates. A recent visitor said, "Erich, We had a wonderful time at your condo for the third year in a row. We appreciated the coupons. Hope to be able to do it again next year."

This was Heineken Regatta week, so we saw a lot of new boats and a lot of spinnaker practice on the run across our Caribbean balcony.
For those of you who wish to sell or rent their week or unit, we have opened up the Sapphire Beach Club website for that purpose. We charge $25 per year. If you wish to rent or sell your unit, send us some text (and $25 to esk@sxm-info.com via Paypal). If you wish to rent or buy a unit without high middleman fees, check out the website. At present, there are several sales and/or rentals available directly from owners. Given a 25 to 35% standard rental commission, there should be some bargains in eliminating the middleman and dealing direct.

SXM-Hotels: Azure Beach Studios has transformed their entryway into a giant terrarium. The gentleman on the left seems to be in charge, although he is a bit slow. I remember when he fit in the palm of my hand. The rooms are even nicer and start at about $800 per week in high season.
| | | |
| --- | --- | --- |
| | SXM-Activities: We went out on Funseaker on Wednesday. She starts in Anse Marcel at 8:15AM, stops at Creole Rock to take on more passengers and do a bit of snorkeling before a trip to Tintamarre. Eventually, she goes on to Rendezvous Bay in Anguilla for a great lunch and a great lounge. We boarded at Grand Case as it is closer to our home and it takes the boat about an hour to get there. ie 9:15AM. Much better. The trip to Tintamarre is a bit difficult as you are exposed to the tradewinds that have just blown for a few thousand miles across the Atlantic. Lunch was at a beach bar on Rendezvous Bay. If you could, move your attention just a bit to the left of what has caught your attention. | |
| | | |
| --- | --- | --- |
| | Groceries: This week (Heineken Regatta) was a good time to do your shopping early. Boats have been arriving for some time, and while sailors are known for drinking more than eating, the grocery stores will be crazy by Thursday. They usually have some sales and one of the best is on Mount Gay Rum, three liters for $25. That will get your average sailor through the weekend. Cornish hens, which are Cornish-Rock crosses and not necessarily hens, were on sale at Grand Marché for about $3.75 for 22 oz birds. We got four, had two for dinner on Saturday, and kept two in the freezer for emergencies. We bought a GE Advantium microwave with a halogen convection option for the condo and it makes short work of these little birds. On the right is one of our birds cooked to crispy perfection with mashed potatoes and mushroom gravy and mixed veg (cauliflower, tomato, onion, and spices). We also found a large piece of top round French veal, about 1.6 pounds, at $13 per pound, from which we got three wonderful meals. | |
| | |
| --- | --- |
| Alcohol: We picked up some 2010 Savigny-les-Beaune ($25.70) and some 2011 Aloxe-Corton ($37) at Select Wine Cellar on Tuesday. We had tasted a 2011 Beaune Clos du Roi premier cru which cost $2 more than the Aloxe-Corton. Surprisingly we liked the Aloxe better, despite being a lesser area and a village wine, not a premier cru. Use the coupon on Sylvain's website to get 10% off. | |
Nature: On the right, the ring-necked dove is feeding the fledglings. This is the first batch we have seen that lived long enough to fly about. In the past, the nest, eggs, or hatchlings fell from the palm tree as it flapped in the breeze.

Our office is well over 100% solar-powered and our hosting company servers are about 130% wind-powered.

Small Island story: The Daily Herald has reported that the adopted 2014 budgets of St. Maarten and Curaçao have met the standards of the Kingdom Law on Temporary Financial Supervision for Curaçao and St. Maarten. Sounds good? The next sentence: "It is now time to take the next step and actually get in control," said Board of Financial Supervision CFT Chairman Age Bakker. In other words, there is a document called a budget, but it has only a fleeting resemblance to the money flowing out.
---
---
As you can request five prizes on one entry form, you could win a bargain on lodging, car rental, entertainment, dinner, and a gym to work it off! That would be five prizes to one person.

Current Contest: now to 13 April 2014

Caribbean View Condo - half price summer rental (May-October)
Lagoon Pub Crawl - two for one ticket
Skipjack's - $50 off a dinner for two
Marci's Mega Gym - Two for One week with a shake
Random Wind - $40 gift certificate
Select Wine Cellar - Wine tasting and a bottle of wine
Piazza Pascal - $50 off dinner for two
Escargot Restaurant - $50 off a dinner for two
Pizza Galley - $25 off on a dinner for two

Read our rules, visit the websites of these sponsors, find their contest codes, and enter them on our entry form.

One of the rules is that you should enter each contest only once. You can enter five of the drawings on one entry. Thus, you could win a rather nice vacation at a considerable savings by combining accommodations with dinners and activities. I really check and while a Sulay entered 33 times, instead of increasing her chance of winning, she decreased it to zero as I deleted all of them. She did account for about a third of the entries.

Here's some comments from a past winner:

Erich,
We met with Sylvain at Select Wine Cellar, enjoyed the tasting, and opted for the Belin Champange for the free bottle. It was very good. I will try and find this at home to drink again. He was a very nice host. We also went to Peg Leg Pub for the steak dinner. We had the place to ourselves with two other couples. The $50 certificate kept the cost under $100 after wine, main course, and appetizers. I enjoyed entering the contest and look forward to future entries. Over 16 days we only had only one 4 minute rain shower; otherwise the weather was beautiful. We tried the Hideaway Restaurant at La Vista. It was very good as were the other places we dined.

Future Contests:
13 April to 13 July | 13 July to 12 October | 12 October to 7 December
same cast of characters as current contest
---
---
A week ago the Euro was at 1.380 and today it is at 1.388. That is the highest this high season as the graph on the right shows. The US dollar is supposed to be a safe haven and the current problems are on Europe's far eastern border. I would have bet that the dollar would strengthen against the euro given the news.

Piazza Pascal and La Villa, in Grand Case are offering 1 to 1 for cash. Paradise View Restaurant above Orient Beach is offering 1.2 to 1. Nearby Ti Bouchon offers 1 to 1 also. Auberge Gourmande and Palm Beach Restaurant are doing 1.25 to 1. Almost all other restaurants on the French side that we have visited have offered us a better rate than we would get from our credit card or a bank. There is no doubt that they want your business.

You should not be paying a currency transaction charge as there are many credit cards that don't have this onerous charge. My United Mileage Plus Explorer/Chase card no longer charges it and gets my first bag checked free for all United tickets purchased on the card. My Capital One card gets a good exchange rate with no fee. The frequent flier benefits can be used on any airline and there are no blackouts. Basically you get to spend 1 cent on air travel for every dollar you charge to your card. However, we can usually get a round trip from Albany to SXM for 35,000 miles on United. They would sell me that ticket for about $700. Do the math and you see you would have to spend $70,000 on Cap One to get enough "miles" to buy the ticket. Consequently, we rarely use the Cap One card. As there is no yearly charge, it is a handy spare card. We found it best to take the rewards in merchandise. We picked up an 18 bottle wine refrigerator with half of our points from a previous year, but we couldn't even fly one of us to SXM. Recently, they essentially gave us 1% cash back, but it could only be applied to travel expenses charged on the card which makes it essentially the same is getting a ticket through their system. Moreover, spending several thousand dollars at restaurants in Burgundy and Paris did not qualify as traveling expenses and neither did the gite rental in Beaune nor the apartment rental in Paris.

We always notify our card companies of our travel. Chase actually accepts this info on-line, making it much easier.

There are discussions on Credit card Forum and Daily Markets that may help you decide what card is best for you.
---
---
| | |
| --- | --- |
| Because of widespread drinkage over the weekend, we found ourselves out of Burgundy on Monday evening. We alerted Sylvain and on Tuesday we went to Select Wine Cellar to pick up some emergency supplies and have a lunch imported from Champagne Bistro. We started with a kir made with some Supercassis ($27 for a liter) that the three of us had tasted in France in September 2012. You've heard that before, but this time he added the cassis to a cold glass of vinho verde newly arrived on a pallet from Portugal. It's light, low in alcohol (under 10%), inexpensive ($8.50) and fizzy! We thought this was superior to our previous concoction using a light white wine from the south of France. Absolutely perfect at a beach restaurant. We ordered lunch and moved on to Sylvain's last bottle of the 2008 Nuits-Saint-George from Chantal Lescure. He still has the 2010 and the 2011 which we think are better. | |
Martha had the Alsatian plate special with a bit of quiche containing bacon, zucchini, and cheese; a bit of salad, and a potato dish with cheese and bacon (left). Welcome to Alsace, all bacon, all the time! Sylvain and I had the fish special with smoked salmon, grilled scallops, and some snapper? wrapped in phyllo dough and fried (center). There are two or three specials every day costing $16 to $19 and in a pinch you can have steak/frites or grilled chicken/frites for less. Our dessert was a small glass of poire William (right).
Le Pressoir


On Thursday we headed to Grand Case, arriving at 7:30 to meet two other couples. At this hour, there is no free parking left except for the truly lucky, so we headed to the pay lot and took a short walk to the north. Our table in a small room off the main room was waiting because we had reservations, always a good plan for a party of six.

One of our friends had brought along four fine examples of Italian vitaculture. We started with a 2005 Barbaresco and that was gone before we even ordered dinner. We moved on to the 2005 Barolo which wasn't as stunning as we expected. That wasn't such a bad thing as our amuse bouche was a foie gras macaroon (below right). It is basically a macaroon sliced in half with foie gras in the middle. However, Franck wisely adds a bit of tropical sweetness (passion fruit) to the drizzle of sauce, a bit of chervil, and a tiny crunchy string of bitter root veg for contrast, making an extremely interesting combination of flavors and textures, but not overly powerful.
| | | |
| --- | --- | --- |
| | For a starter, I chose braised beef in raviolis with chanterelles in a flavorful sauce. This certainly went well with the 2004 Saffreddi Toscano, rated 95-97, and ready to drink, but just barely. | |
For the main course, Martha had the pigeon special with the legs cooked a bit longer and the breast somewhat rare and sliced. It came with a somewhat crispy, and very tasty, potato gratin and chanterelles (left). As you can see, a truffle was shaved over the dish adding more earthy flavors. I expressed interest in the sweetbread/shrimp/bacon dish I had on our last visit, but Mélanie offered to do another sweetbread dish with morels. It was wonderful and further elevated with the addition of a few slices of truffle (right). There was a medley of veg and some tasty mashed potatoes.
The final wine was a Solaia, a super Tuscan in that it starts as an official Tuscan blend, but gets some Cabernet Sauvignon added to the mix. This is somewhat controversial but I think the addition of the cab and some modifications to the vinification produce a much more food-friendly wine. The combination was fantastic. Given the wonderful ingredients, Franck's (owner and chef) abilities and expertise, and the fine wine, I had a wonderful experience. I tasted Martha's pigeon and was similarly pleased. The final tally came to about 140€ per couple, somewhat less than $200. The restaurant is in a refurbished Créole cottage with lovely paintings and prints. The service was impeccable, friendly and attentive. Altogether, one of the best restaurants on the island.
On Friday we drove to Il Nettuno, parking in the central lot directly across from the restaurant. The lot is free at lunchtime and quite convenient. I had made a reservation, but it rarely gets busy at lunch. We arrived to one other table and only two more deuces showed up as we dined. The view is spectacular and the regatta boats were passing by as we dined (below left). Sharp eyes may spot a bit of rock on the left hand side of the photo. That is Créole Rock at the eastern end of Grand Case Bay. A blackboard offered about a dozen dishes. Martha ordered an eggplant, tomato, and goat cheese tart with a very nice green salad (center, 16€). I had a ribeye steak with a great sauce, some veg, and mashed potatoes (right, 23é) We ordered Valpolicella (26€), a dry, mellow, red wine from north central Italy and settled down to watch the boats in the regatta. The lunches arrived and were quite good. We ended with a balloon of complimentary grappa, always good at the end of an Italian meal.
Raymon has sold the business to Amin and Sophie from L'Astrolab. They have refurbished and repainted the restaurant and it looks quite good. The colors used are the same as the border on this review. They brought in the second chef from Ocean 82, also named Frank, and though he is French, he has done quite a bit of work in Italian restaurants. Amin has made the menu a bit smaller and reduced the wine list. Nonetheless, it's quite easy to find something you'll like and a great bottle of wine to go with it.
| | |
| --- | --- |
| We frequently post some dining photos to Facebook. Less frequently we post activities and other things related to SXM or food. If you're interested, I trust you know what to do. | |

When we got on Funseaker in Grand Case, we walked past Talk of the Town and the picnic tables were stacked up as if for sale. That's because they are. The woman running the lolo got ill and her son, followed by the son's wife were running it - but not paying taxes. The government closed them and is probably selling what they can to get the back taxes.

Rancho del Sol sent me the list of daily specials for March. They are on the website.

The Thursday night party at Marina Royale in Marigot has started and will run until 20 March. It will feature the usual bands and parade and shops will stay open until 9PM. After 20 March there will be the Sip and Chat promotion along the waterfront (more details later).

The Tuesday Night Party in Grand Case started on 21 January and will run until 30 March.

If you are looking to purchase gift certificates for island restaurants, check out Antoine Restaurant, Piazza Pascal, and L'Escargot Restaurant. Treat your friends at your favorite restaurant!
Here is the current list of the ARCHA members contributing to the security and clean-up of Grand Case. They would appreciate your continued support of their efforts. The sticker is displayed at businesses that participating in this much-needed endeavor.
Hotels and Residences:
Grand Case Beach Club
L'Esplanade
Le Petit Hotel
Bleu Emeraude
L'Atlantide
Catalina 4
Hevea Hotel

Restaurants:
Auberge Gourmande
Bistrot Caraïbes
Il Nettuno Restaurant
Le Tastevin
Piazza Pascal
Shambala
Le Pressoir
Calmos Cafe
La Crepe En Rose

Restaurants:
L'Effet Mer
Restaurant du Soleil
Ocean 82
Blue Martini
Le Cottage
L'Estaminet
Love
El Cafecito
Le Ti Provencal
Spiga

Boutiques:
Tijon Perfumery
Atypique
L'Atelier
La Boutique D'anaise
Octopus Diving
Que Du Bonheur
Cotton Club SXM
La Boheme
Sexy Fruits
Voila
Tropismes Galerie
Simple Elegance

---
BARGAINS AND HAPPENINGS
---
| | |
| --- | --- |
| | Coupons: Below are links to the SXM-Info clients who have coupons on their websites. Another approach is the SXM Privilege Card which is now free. It will get you various discounts and/or perks at about 50 restaurants. They also cover hotels (mostly spa treatments at hotels), activities, and more. Most of the restaurant perks are a 10% discount. Visit their website to see where you can get one on the island. |
| | | |
| --- | --- | --- |
| | | Our condo: The condo is available for rent $1000 per week or less for the summer. The rental includes about $500 in coupons from several of our website clients including one for 10% off a weekly car rental from Unity Car Rental, one of the longest running and most trusted car rental agencies on the island. Other notable coupons are $50 from Skipjack's restaurant, a tasting and a bottle of wine from Select Wine Cellar, a two for one ride on Celine's famous Lagoon Pub Crawl, and $50 off a daysail on Random Wind. The Christmas and New Year's holiday weeks will be available at $2000 per week and the balance of the high season is available at $1500 per week. As always any days within the next month are available for $100 each. Check the calendar on our website for available dates. |
| | | | | |
| --- | --- | --- | --- | --- |
| | | SXM-Info has chosen SkyMed and MedjetAssist to arrange medical transportation services. We hope you never need it, but when air evacuation flights cost $30,000 or more, it's good to have. Check out both and see which one offers the best prices your timeframe and traveling group. | | |
Kindle: We now have now have two Kindle devices, as Martha just bought a Kindle Fire, She paid about $200 for the device without the 3G option. It connects to WiFi which we have here in NY and at the condo in SXM, and nowadays, at almost all restaurants, hotels, etc. The Fire is essentially a tablet computer with Kindle capabilities and a camera. If you add Amazon Prime to the package you get free 2 day shipping on Amazon, access to a lending library of Kindle books with no expiration, and access to over 40,000 movies via Netflix. The Kindle Paperwhite e-book from Amazon is a great thing to take on a beach vacation. It is glare-free, weighs less than a half pound, and is one-third of an inch thin. It's only $119. Newsletter subscriber Contessa says: "I loaded it up with more books than I needed and it was a very convenient way to read without lugging books to the beach." Paul M wrote: "My wife and I spent a lovely week at La Samanna in late March and I loaded my Kindle with several books and read them on the beach. The Kindle was fabulous. I had a case and was careful not to get in contact with sand, but the device was excellent to use for beach or poolside reading." Wendy K reports that her friend Jerri is quite happy with hers and now Wendy reports she bought her own. If you've already got one, you can get books here. They are cheaper than any other version of the book (except used!)
Even though Martha has a Kindle and is quite happy with it, she still downloads audio books from our local library to her Zune or Sansa player (iPod knockoffs) and that has been working rather well. Obviously, these are audio books and it's not the same as "reading" the text, but it works quite well and keeps us amused as we drive. I just got a newsletter from a reader who reports that "Regarding downloading - several of my friends have the Nook and they can download books on it from their library in the states...but they do expire after 2 weeks."
Regards,