St Maarten/St Martin
9 February 2014 Newsletter

ISLAND NEWS



---
Weather: You may remember I mentioned a squall at 5:30AM last Sunday. Another passed over at 10:39 and was gone by 10:42. There were three squalls between 5:30 and 7:30 Monday morning and two on Tuesday in the same timeframe. Nonetheless, the photo on the right was taken about 1PM on Monday. There's lots of blue sky behind the fort(?) that's visible high on the hill opposite Rambaud. Thursday and Friday didn't have many squalls, but one passed over Grand Case as we were dining.

The box shows the current local conditions and here's the detailed forecast from Weather Underground and here's one from the Weather Channel. Sunset tonight will be at 6:11 PM. In 2014 the full moons will be 14 Feb (this week - moonlight dining!), 16 Mar, 15 Apr, 14 May, 12 Jun, 12 Jul, 10 Aug, 8 Sep, 8 Oct, 6 Nov, and 6 Dec.
The photo below left is the KLM flight from Amsterdam coming in around noon on Tuesday. It's a bit cloudy and the haze almost obscures Saba in the distance. The middle photo is the sunset on Monday night taken from our Caribbean balcony. Note the plane up in the cloud-free area above then setting sun. The clouds are bringing a lot of rain, but they also bring some very interesting sunsets. The pano below shows a mini-regatta taking place between squalls. It seems as if there is blue sky, but there are a lot of clouds there.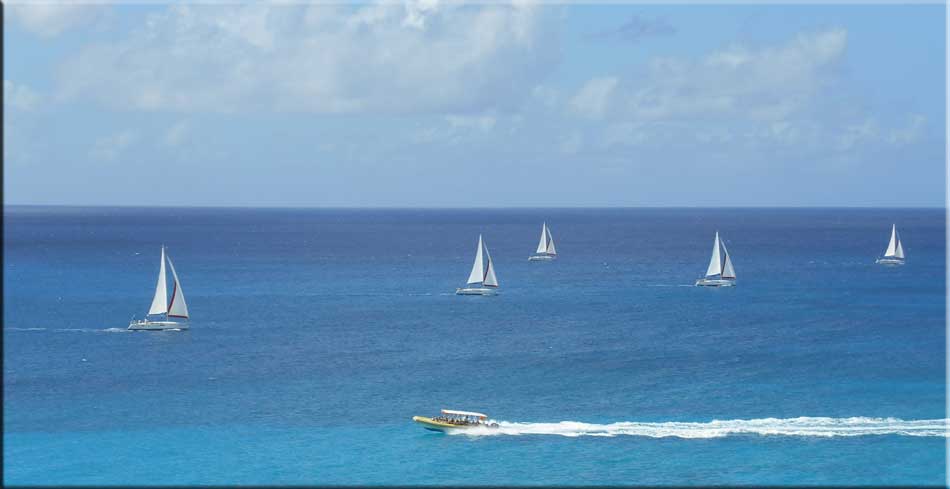 SXM-Beaches: On the right is a shot of Bay Rouge showing the large area to the right (east of the entrance and beach bars. There seems to be plenty of sand, but the parking lot was very full.

Below are a couple shots of the action at Maho Beach at the end of the runway. As Roseanne Roseannadanna said, "It's always something." And yes, there is always something happening here. There isn't much beach and they periodically have to pick it up from the roadway and move it back to the beach, but the attractions are the planes taking off and landing and the beach bars at either end of the beach. Oh, and one of the bars gives free drinks to topless women. Hope springs eternal.
| | |
| --- | --- |
| | |
Beach reading: The Seventh Commandment by Lawrence Sanders - about $7 (Kindle)- From Publishers Weekly: "Murder, greed, lust, corruption and an extraordinary preoccupation with food and drink--trademarks of Sanders's Deadly Sin and Commandment bestsellers--are here, yet this tale lacks the passion needed to engage readers fully. When New York City jewelry magnate Lewis Starrett is stabbed to death on the street, insurance investigator Dora Conti, whose firm carries the $3-million policy on his life, is assigned to look into the murder. The array of suspects includes the victim's son, who may be using the family's corporate empire for his own nefarious purposes; his drug-crazed daughter; the amoral brother-and-sister team romantically involved with each of them; and a religious charlatan who holds the widow in thrall. As murder follows upon murder, relationships among this sorry lot deterioriate at a ludicrous rate. Meanwhile, amidst her probings, Dora, a refreshingly plump and ordinary heroine, is tempted to endanger her happy marriage in a fling with the NYPD detective on the case, a subplot lacking both tension and interest. [The book] winds down to a flat and undramatic, albeit fitting, conclusion. Literary Guild and Doubleday Book Club main selections; Mystery Guild alternate."

I agree that the ending was not explosive, but I kept turning the pages.
Sapphire Beach Club: We are in our condo (Unit 255) at this time. The A/C works, the elevators work (the broken one was repaired), beach towels are available, the common areas are clean, the pool is lovely, and even the hot tub has warmish water. It will be available starting in April at rates ranging from $700 to $1000 per week over the low season. You'll get a 10% discount from Unity Car Rental, one of the longest running and most trusted agencies on the island, and many more coupons as well. Check the calendar on our website for available dates. A recent visitor said, "Erich, We had a wonderful time at your condo for the third year in a row. We appreciated the coupons. Hope to be able to do it again next year."
Somebody asked about Lilly, so here she is sprawled out on the chair in our living room. She's a bit bored, but she was getting bored lying on the heating vent in NY.
For those of you who wish to sell or rent their week or unit, we have opened up the Sapphire Beach Club website for that purpose. We charge $25 per year. If you wish to rent or sell your unit, send us some text (and $25 to esk@sxm-info.com via Paypal). If you wish to rent or buy a unit without high middleman fees, check out the website. At present, there are several sales and/or rentals available directly from owners. Given a 25 to 35% standard rental commission, there should be some bargains in eliminating the middleman and dealing direct.

SXM-Hotels: Turquoise Shell Inn has a convenient location quite close to the Dutch Bridge, a swimming pool, wifi, and sits across the street from Simpson Bay Beach, one of the longest beaches on the island. the units are fully equipped with refrigerators and cooking facilities. Save money as you have breakfast and lunch at home by the pool and enjoy all that Simpson Bay has to offer for restaurants and nightlife.
SXM-Activities: ReveMarine and Sunevasion are both in Marina Royale in Marigot. If you want a boat with or without a captain, they can supply it. There is a lot of fun to be had out on the water, be it fishing, water-skiing, diving, snorkeling, or just loafing on a secluded sandy beach. Check out their websites for details.

We stopped at Blue Martini after dinner on Friday and caught the House of Blues. They are probably the best pop/blues band on the island. On the left is Ronny on lead guitar with the drummer and flattop on lead vocals and cowbell. He beats a mean cowbell. On the right is Amin doing rhythm guitar (although he and Ronny swap at times) and the bassist.
Groceries: Our contribution to the Superbowl dinner at the Horny Toad Guesthouse was a purple cauliflower, carrot, celery, red onion, and sun dried tomatoes. All from Grande Marché, very colorful, and quite tasty.
On Monday we stopped at Super U on the eastern edge of Marigot to replenish our larder. I got a beautiful Guadeloupe melon at 4.5€/kg, about 40% higher than the Grand Marche. This one looked better but the Grand March€ melon tasted fine. I picked up some Chaumes ($12.30/lb), Comté ($14/lb), Emmental ($7.50/lb), Morbier ($9.85/lb), Petit Billy ($9.15/lb, on sale) and Roquefort ($12.20/lb). The Petit Billy is a goat cheese made in the village of Billy (Department of Berry, almost in the center of France, somewhat west and a bit south of Paris). Jenkins' Cheese Primer says it is excellent and we agree.
Shopping: Alpha Healthcare Services across from the St Maarten Medical Center has all your healthcare needs covered including mobility, oxygen/respiratory, braces/support, scooters and even beach wheelchairs!

Deepti may be in China, but Kamal, Jeff, and Raj at DK Gems still provide great service and good prices on fine diamonds. Use their in-house designer to help you create original pieces that precisely complement your unique style. For more than 15 years, we have bought pieces here and used their skills to repair and restyle other pieces.
Alcohol: On Wednesday we went to Select Wine Cellar to pick up some wine and have lunch. The table was graced with this display of rosé. Sylvain is looking for a beach bar that wants to feature these bottles. The very large format would be perfect for large groups at Kokomo or Waikiki on Sundays!

On Thursday night we got four couples together and cooked an entire venison tenderloin with a bit of extra Angus beef. Martha also provided a buerre rouge. One couple provided a fabulous tuna tartare as an appetizer and another provided a lobster and shrimp salad. Along the way, we consumed eight bottles of fabulous red wine, anointing the Heitz Cellars Martha's Vineyard 1986 (fourth from left) as the best and ended the night with some 1983 Dow's vintage port. The dinner (and drinking) started at 6:30 and ended about 11:30. Drinking a bottle (or five glasses) of wine over five hours should leave a 150 lb man at about zero BAC.
Nature: On the right is a pair of boat tail grackle fledglings. They are a bit lighter than the mature male, much like a skinny version of the mature female. They have been sitting in the tree beneath our balcony calling to be fed. All this commotion bothers the dove on her nest beneath them.

Our office is well over 100% solar-powered and our hosting company servers are about 130% wind-powered.

The International Herald reported that Branson is behind a push to replace diesel generators with solar and wind generators in the Turks and Caicos, St Lucia, and the BVI.

Small Island story: Only on this island can the headline for the lead story in the newspaper be Ministry [of Infrastructure] busy repairing district bridges. Moreover, they were going to mark the roads and fill potholes. I applaud this novel and new approach.
---
---
As you can request five prizes on one entry form, you could win a bargain on lodging, car rental, entertainment, dinner, and a gym to work it off! That would be five prizes to one person.

Current Contest: now to 16 February 2014

Caribbean View Condo - half price summer rental (May-October)
Lagoon Pub Crawl - two for one ticket
Skipjack's - $50 off a dinner for two
Marci's Mega Gym - Two for One week with a shake
Random Wind - $40 gift certificate
Select Wine Cellar - Wine tasting and a bottle of wine
Piazza Pascal - $50 off dinner for two
Escargot Restaurant - $50 off a dinner for two
Pizza Galley - $25 off on a dinner for two

Read our rules, visit the websites of these sponsors, find their contest codes, and enter them on our entry form.

One of the rules is that you should enter each contest only once. You can enter five of the drawings on one entry. Thus, you could win a rather nice vacation at a considerable savings by combining accommodations with dinners and activities. I really check and while a Sulay entered 33 times, instead of increasing her chance of winning, she decreased it to zero as I deleted all of them. She did account for about a third of the entries.

Here's some comments from a past winner:

Erich,
We met with Sylvian at Select Wine Cellar, enjoyed the tasting, and opted for the Belin Champange for the free bottle. It was very good. I will try and find this at home to drink again. He was a very nice host. We also went to Peg Leg Pub for the steak dinner. We had the place to ourselves with two other couples. The $50 certificate kept the cost under $100 after wine, main course, and appetizers. I enjoyed entering the contest and look forward to future entries. Over 16 days we only had only one 4 minute rain shower; otherwise the weather was beautiful. We tried the Hideaway Restaurant at La Vista. It was very good as were the other places we dined.

Future Contests:
16 February to 13 April | 13 April to 13 July | 13 July to 12 October | 12 October to 7 December
same cast of characters as current contest
---
---
A week ago the Euro was at 1.349 and today it is at 1.362, up by 1.0% erasing the dollar's earlier gains.

Piazza Pascal, La Villa, L'Escapade Restaurant, and Rainbow Café in Grand Case are offering 1 to 1 for cash. Paradise View Restaurant above Orient Beach is offering 1.2 to 1. Nearby Ti Bouchon offers 1 to 1 also. Auberge Gourmande and Palm Beach Restaurant are doing 1.25 to 1. Almost all other restaurants on the French side that we have visited have offered us a better rate than we would get from our credit card or a bank. There is no doubt that they want your business.

You should not be paying a currency transaction charge as there are many credit cards that don't have this onerous charge. My United Mileage Plus Explorer/Chase card no longer charges it and gets my first bag checked free for all United tickets purchased on the card. My Capital One card gets a good exchange rate with no fee. The frequent flier benefits can be used on any airline and there are no blackouts. Basically you get to spend 1 cent on air travel for every dollar you charge to your card. However, we can usually get a round trip from Albany to SXM for 35,000 miles on United. They would sell me that ticket for about $700. Do the math and you see you would have to spend $70,000 on Cap One to get enough "miles" to buy the ticket. Consequently, we rarely use the Cap One card. As there is no yearly charge, it is a handy spare card. We found it best to take the rewards in merchandise. We picked up an 18 bottle wine refrigerator with half of our points from a previous year, but we couldn't even fly one of us to SXM. Recently, they essentially gave us 1% cash back, but it could only be applied to travel expenses charged on the card which makes it essentially the same is getting a ticket through their system. Moreover, spending several thousand dollars at restaurants in Burgundy and Paris did not qualify as traveling expenses and neither did the gite rental in Beaune nor the apartment rental in Paris.

We always notify our card companies of our travel. Chase actually accepts this info on-line, making it much easier.

There are discussions on Credit card Forum and Daily Markets that may help you decide what card is best for you.
Rancho Del Sol

On Monday we had lunch at Rancho Del Sol. They are located high on a hill overlooking Tintamarre, Green Cay, all of Orient Bay, and even St Barts. They have free wifi and Martha could monitor how much money we were losing in the stock market. Isn't technology wonderful! I complained above about the frequent squalls and we got another one as we pulled into the parking lot. It was gone in about five minutes and I went out and shot the center photo below showing the wonderful view from up here. Martha is a bit under the weather with many of the symptoms of Chikungunya so she merely picked at her Rancho salad featuring bacon with tomatoes, onions, and potatoes (12€). I had a glass of Cotes du Rhone (5€) and a Pony Express Pizza with peppers, onions, mozzarella, tomato sauce, and ham (12€). I finished at least half of Martha's salad and now have half my pizza for lunch on Tuesday. The good news is that after two days of a fever and two days of fatigue, Martha now feels pretty good. But enough about that, how was the food? Quite good and inexpensive. But wait. There's more. They offer free delivery locally and they have a plate of the day at 10€. On the day we were there it was pork with caramel and black mushrooms on Chinese noodles, something we like quite a bit. So much in fact that Martha had just made a Chinese noodle dish with pork tenderloin chunks, mushrooms, and veg. Every Wednesday features hanger steak in a changing preparation. Sundays are a bit more extravagant (Couscous Royal, Moules a la creme, Paella, and Fricasee of Conch for this month) and are priced at 15€. If you are staying out here, you should take advantage of this service and if not, you should find out what is on offer (Fax-info sometimes has the monthly plan) and plan an excursion.
On Wednesday we went to Select Wine Cellar to see Sylvain, pick up some wine, and have a lunch imported from Champagne Bistro. We started with a kir made with some Supercassis ($27 for a liter) that the three of us had tasted in France in September 2012. We thought it was the best cassis we had ever tasted, but Sylvain had trouble making a connection before last season. This season he managed to get several cases of the cassis and added the Colombelle ($8, a Wine Spectator Best Buy!) specifically to put together with the cassis for a refreshing kir. The drink is named after Félix Kir (1876-1968), mayor of Dijon in Burgundy, who was a pioneer of the twinning movement in the aftermath of the Second World War. He popularized the drink by offering it at receptions to visiting delegations.
We moved on to a 2012 Domaine d'Aupilhac white ($17) as we waited for the special cod dish ($18, right) from the restaurant. The cod arrived with a coating of slivered almonds and a shellfish sauce accompanied by a mound of flavored rice, a broiled tomato, and a vegetable Napoleon. All benefited from the addition of some wonderful extra virgin olive oil and some fleur de sel that Sylvain keeps at the dining table.

We took home a bottle of the Supercassis and two bottles of the Colombelle, plus a couple Cotes du Rhone, three Savigny-les-Beaune, and four of the wonderful Volnay from JJ Girard. I am currently finishing the last of the 2010 vintage that I opened for our usual lunch on the Caribbean balcony: cheese, paté, and bread. We are convinced that the finette at Sarafina on the waterfront in Marigot is the best bread to be found on the island.
On Friday we headed over to Grand Case for a dinner on the water at Le Tastevin. I first went to this restaurant in 1993 shortly after the current owners, Christine and José Manrique, had finished transforming the building into one of the prettiest restaurants on the water in Grand Case. Hurricane Luis in 1995 and Hurricane Lenny in 1999 forced them to do more renovations. They rebuilt a dining room almost 100 feet long running along the bay. Almost half the tables are on the water and the landscaping along the waterfront worked into indentations in the facade provide some of the most intimate dining areas in Grand Case.

We arrived at 7:30 to an almost full restaurant, but because we had reservations, our corner waterfront table awaited with it's lovely view of sailboats in Grand Case harbor and Anguilla's lights in the distance. We started with sparkling water and two glasses of champagne (11€ each) in celebration of one of the best dinners we would have this season. I noticed a 2009 Beaune du Chateau from Bouchard, a premier cru, on the wine list for a mere 59€. That was a great year (rated 95) with the added advantage that it is quite drinkable when young. We are rather partial to this wine as we served the 85 in magnums at our wedding reception at La Chamade in Marigot in 1998.
| | |
| --- | --- |
| | Above right is our amuse bouche: a very tasty chilled sweet potato soup. Martha's appetizer was the shrimp tempura (13€, left). It came with four large shrimp in a crispy tempura batter flavored with basil. It was accompanied by a dipping sauce with coconut milk and a mild local pepper. My appetizer was the foie gras paté with a fig compote (18€, below left), one of the best on the island, and even better with a glass of Sauternes (12€). Martha's main course was the rack of sea bass with tarragon butter and Jerusalem artichokes from the menu (below center, 31€). I had the black angus tenderloin (31€, right) in a roasted garlic sauce and a gratin of potatoes with vegetables. We finished complimentary balloons of old rum as we listened to the waves slap the shore and watched the sandpipers skittering along the waves in Grand Case Bay. The bill came to about $250, but the dining room is lovely, the view spectacular, the service impeccable, the wine superb, and the food is not only top quality, but well-prepared. |
We look forward to this visit as we feel this is one of the most pleasant dining experiences on this island. Even the rolls are fabulous and the butter is an AOC version from Serrigny. To enhance your experience, go a few days before or after the full moon as it lights up the bay. The owners, Christine et José, have been here over twenty years and the chef, Patrick Guillerm, has been here for over ten years. Even the kitchen help and wait staff are fairly stable. They are open every day for lunch and dinner.
It you are looking for a review of Ti Bouchon because we mentioned getting reservations last week, it was postponed because of the venison dinner. We have reservations for the coming week.

Art in the park will be happening this afternoon at the Emilio Wilson Park on the back side of Pburg. Admission is $1 and parking is $1. head on out and see what our local artists are doing. there will be food and drink available. The Thursday night party at Marina Royale in Marigot has started and will run until 20 March. It will feature the usual bands and parade and shops will stay open until 9PM. After 20 March there will be the Sip and Chat promotion along the waterfront (more details later).

Harmony Night in Grand Case started on 21 January and will run until 30 March.

We are just rolling out a new feature on our restaurant site. Antoine Restaurant and Piazza Pascal will be offering gift certificates for sale. We expect more restaurants to follow. Treat your friends at your favorite restaurant!

Here is the current list of the ARCHA members contributing to the security and clean-up of Grand Case. They would appreciate your continued support of their efforts. The sticker is displayed at businesses that participating in this much-needed endevour.
Hotels and Residences:
Grand Case Beach Club
L'Esplanade
Le Petit Hotel
Bleu Emeraude
L'Atlantide
Catalina 4
Hevea Hotel

Restaurants:
Auberge Gourmande
Bistrot Caraïbes
Il Nettuno Restaurant
Le Tastevin
Piazza Pascal
Shambala
Le Pressoir
Calmos Cafe
La Crepe En Rose

Restaurants:
L'Effet Mer
Restaurant du Soleil
Ocean 82
Blue Martini
Le Cottage
L'Estaminet
Love
El Cafecito
Le Ti Provencal
Spiga

Boutiques:
Tijon Perfumery
Atypique
L'Atelier
La Boutique D'anaise
Octopus Diving
Que Du Bonheur
Cotton Club SXM
La Boheme
Sexy Fruits
Voila
Tropismes Galerie
Simple Elegance

---
BARGAINS AND HAPPENINGS
---
| | |
| --- | --- |
| | Coupons: Below are links to the SXM-Info clients who have coupons on their websites. Another approach is the SXM Privilege Card which is now free. It will get you various discounts and/or perks at about 50 restaurants. They also cover hotels (mostly spa treatments at hotels), activities, and more. Most of the restaurant perks are a 10% discount. Visit their website to see where you can get one on the island. |
| | | |
| --- | --- | --- |
| | | Our condo: The condo is available for rent $1000 per week or less for the summer. The rental includes about $500 in coupons from several of our website clients including one for 10% off a weekly car rental from Unity Car Rental, one of the longest running and most trusted car rental agencies on the island. Other notable coupons are $50 from Skipjack's restaurant, a tasting and a bottle of wine from Select Wine Cellar, a two for one ride on Celine's famous Lagoon Pub Crawl, and $50 off a daysail on Random Wind. The Christmas and New Year's holiday weeks will be available at $2000 per week and the balance of the high season is available at $1500 per week. As always any days within the next month are available for $100 each. Check the calendar on our website for available dates. |
| | | | | |
| --- | --- | --- | --- | --- |
| | | SXM-Info has chosen SkyMed and MedjetAssist to arrange medical transportation services. We hope you never need it, but when air evacuation flights cost $30,000 or more, it's good to have. Check out both and see which one offers the best prices your timeframe and traveling group. | | |
Kindle: We now have now have two Kindle devices, as Martha just bought a Kindle Fire, She paid about $200 for the device without the 3G option. It connects to WiFi which we have here in NY and at the condo in SXM, and nowadays, at almost all restaurants, hotels, etc. The Fire is essentially a tablet computer with Kindle capabilities and a camera. If you add Amazon Prime to the package you get free 2 day shipping on Amazon, access to a lending library of Kindle books with no expiration, and access to over 40,000 movies via Netflix. The Kindle Paperwhite e-book from Amazon is a great thing to take on a beach vacation. It is glare-free, weighs less than a half pound, and is one-third of an inch thin. It's only $119. Newsletter subscriber Contessa says: "I loaded it up with more books than I needed and it was a very convenient way to read without lugging books to the beach." Paul M wrote: "My wife and I spent a lovely week at La Samanna in late March and I loaded my Kindle with several books and read them on the beach. The Kindle was fabulous. I had a case and was careful not to get in contact with sand, but the device was excellent to use for beach or poolside reading." Wendy K reports that her friend Jerri is quite happy with hers and now Wendy reports she bought her own. If you've already got one, you can get books here. They are cheaper than any other version of the book (except used!)
Even though Martha has a Kindle and is quite happy with it, she still downloads audio books from our local library to her Zune or Sansa player (iPod knockoffs) and that has been working rather well. Obviously, these are audio books and it's not the same as "reading" the text, but it works quite well and keeps us amused as we drive. I just got a newsletter from a reader who reports that "Regarding downloading - several of my friends have the Nook and they can download books on it from their library in the states...but they do expire after 2 weeks."