St Maarten/St Martin
13 January 2013 Newsletter

ISLAND NEWS



---
Weather: We left snowy and cold Salem, NY mid-day on 8 Jan. The temperature was still below freezing and the snow from late December was still covering my solar panels. We stayed overnight in Newark and arrived on the island via UA 267 into a warm (84 F) afternoon with bright sunshine and a bit of bluster. The shot on the right is a cruise ship passing by our balcony at about 7AM the next morning. It's raining off to the southeast, but OK here at Sapphire. It stayed hazy all day, blotting out Saba, but it was warm and sunny in Cupecoy. Despite that hazy shot, we have had some wonderful sunny days and interesting sunsets for the entire week.

The box shows the current local conditions and here's the detailed forecast from Weather Underground and here's one from the Weather Channel. Sunset tonight will be at 5:56 PM. The moon is quite new. In 2013 plan on full moons for 27 Jan, 25 Feb, 27 Mar, 25 Apr, 25 May, 23 Jun, 22 Jul, 21 Aug, 19 Sep, 18 Oct, 16 Nov, and 17 Dec.
| | |
| --- | --- |
| | |
SXM-Beaches: This is the beach at Flamingo in a fabulous photo taken by Mary McDonald. For those of you who don't know, Flamingo is on the western end of Simpson Bay down Billy Folly Road, just after Pelican, now Simpson Bay Resort, possibly Hard Rock Something, but not yet. The more things change, the more they remain insane.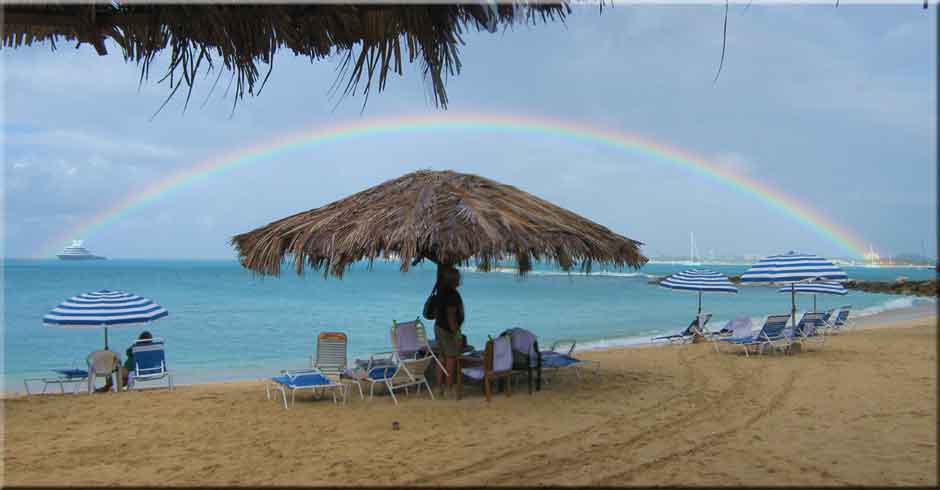 | | |
| --- | --- |
| Beach reading: Bodies in Winter by Robert Knightly - (about $4 for the Kindle version) - From Publisher's Weekly: "Knightly, a former New York City police officer, makes a solid debut with this novel of crime and corruption. Seven years after Brooklyn cop David Lodge pleaded guilty to manslaughter in the death of Clarence Spott, who was bludgeoned to death in a precinct cell, Lodge leaves prison only to be gunned down shortly thereafter. Det. Harry Corbin and his partner, Det. Adele Bentibi, have trouble with the official theory of the case. They believe that evidence has been manipulated to finger Spott's brother as the murderer, and both buck their superiors by pursuing other leads. For Corbin, his unwillingness to simply go along to get along jeopardizes his long-held dream of a transfer to the homicide division. The trail, somewhat predictably, leads the pair to reopen the issue of Lodge's guilt. While no one will mistake this portrayal of police work with those of masters like Joseph Wambaugh and Michael Connelly, it's good enough to make further books from Knightly a welcome prospect." Martha is reading this on her Kindle. | |
Sapphire Beach Club: We are in our condo at this time and it looks fine. The pool is clean, the teak deck surrounding the pool glistens, and even our hot tub is warm and clean. The unit will be available again on April 2 when we return to the US. The rate ranges from $700 to $1000 per week over the low season. You'll get a 10% discount from Unity Car Rental, one of the longest running and most trusted agencies on the island, and many more coupons as well, including the use of our 2013 SXM Privilege Card that gets you discounts on many restaurants. Check the calendar on our website for available dates. A recent visitor said, "Erich, We had a wonderful time at your condo for the third year in a row. We appreciated the coupons. Hope to be able to do it again next year."

You could sit on the balcony and watch Random Wind on her way back into port after a great day snorkeling, swinging on the trapeze, dining, swimming, etc.
For those of you who wish to sell or rent their week or unit, we have opened up the Sapphire Beach Club website for that purpose. We charge $25 per year. If you wish to rent or sell your unit, send us some text (and $25 to esk@sxm-info.com via Paypal). If you wish to rent or buy a unit without high middleman fees, check out the website. At present, there are several sales and/or rentals available directly from owners. Given a 25 to 35% standard rental commission, there should be some bargains in eliminating the middleman and dealing direct.
| | |
| --- | --- |
| Construction/Traffic: Shortly after arrival we circumnavigated the lagoon, driving through the lowlands and Marigot to reach Select Wine Cellar in the Orange Grove Shopping Center. The convenient parking is a bonus. After a bit of wine and cheese, we bought a case (see below) and headed to Grand Marché. After picking up some groceries we headed back through the Dutch side, noting that traffic was backing up on Union Road from the Kruythoff roundabout. We turned right onto the Cole Bay Bypass emerging at Tropicana Casino, avoiding the Kruythoff roundabout, and beat the 5:30 bridge by a few minutes. Welfare Road in Cole Bay and Airport Road in Simpson Bay were essentially stopped all the way to the end of the runway. There were several minor construction sites on both sides of the island but no backups because of them. The left center of the photo on the right shows the corner of the runway. This is where the backup started and as the bridge was probably rising by the time we got here, the backup would grow considerably. The pile of sand leaving that corner and heading toward the pilings is the start of the causeway that will make landfall at Port de Plaisance. (photo courtesy of Leland Harm) | |