| | |
| --- | --- |
| Weather: Super Sunday, 3 Feb, had waves of showers pass over and they continued through Monday morning. The photo shows a regatta that sailed by on Sunday afternoon. In theory Saba was in the distance, but you'll get an idea how hazy it was for a couple days. It was also cool and breezy. The sky didn't clear up until Thursday and there is a lot of haze on the water. We still can't even see Saba. Friday morning had at least two tropical downpours before it turned into a decent day. Saturday was fine and Sunday is startng out fine also, although there is still haze on the water. Here's the local weather forecast from the Weather Underground and here's one from the Weather Channel. Today's (10 Feb) sunset will be at 6:05PM. Full moon dates for 2008 are: 21 Feb, 21 Mar, 20 Apr, 20 May, 18 Jun, 18 Jul, 16 Aug, 15 Sep, 13 Oct, 13 Nov, and 12 Dec. | |
SXM-Beaches: We were dining on Nettle Beach and there was plenty of sand. We bumped into some old Cupecoy beach friends at Gondola Restaurant and asked them where they have been going lately. They said that they spend most of their time at Bay Rouge, off to the west, away from the beach bars and chairs. Nonetheless, Wendy K was at Cupecoy on Friday and says there's more sand on the main beach at the NW end, but still quite a bit at the little cove too. It was quite wavy, but not too much to swim. I'm writing this on Saturday and can hear the surf and see the waves, but they are not breaking and there are no surfers. If you don't know where the island's beaches are, visit SXM-Beaches for maps and photos.
Beach Reading: I've started reading A Cook's Tour by Anthony Bourdain. Time was Anthony Bourdain prowled these parts getting material for his cooking show and background for his fiction. This is the tale of his search for the perfect meal and he starts with some of his chef friends describing their putative last meal, assuming a trip to the electric chair on the morrow. The offerings are braised short ribs (this was a big fad a while ago), a slab of seared foie gras, linguine pomodoro, cold meat loaf sandwich, etc. No one ever says, "The tasting menu at Ducasse." No one ever remembers the best meal as being in a jacket, tie, and starched shirt in a four star restaurant. OK, I get the point, but a lot of what he says comes across as I, Anthony Bourdain, have conquered the finest food, nothing can compare, so I'm off looking for authentic experiences with bizarre food in strange places. I had a friend who disdained the yearly trips I took to France, preferring the more remote Greek islands where he could get strange food and even stranger intestinal diseases. Sounds the same, and I'm still not convinced.
Activities: Art is not a terribly active thing, but you might read this article on Jasper Johns from the NY Times. His house is quite conspicuous from our bedroom balcony as it perches on the hill above the Cupecoy Yacht Club. We may be more attuned to him and his art because Martha's PhD thesis was on the second generation of abstract expressionists in America (mostly NY City) after WWII. They were somewhat eclipsed by Johns and others (including Rauchenberg). Johns put targets, flags, and maps into his early paintings and this did not endear him to some other artists, as his Abstract Expressionist predecessor Mark Rothko impatiently dismissed Johns's symbols, saying, "We worked for years to get rid of all that."
There is plenty of art on the island. SXM Art lists many galleries. We have works from Paul Elliott Thuleau (Tropismes Gallery), Mair Pattersun, and Jill Alexander in our condo and works by Fredy Maurras and Patrick Poivre de la Freta (also Tropismes Gallery) in our home in NY. Currently, there is a contest for one of Paul Elliot's prints on SXM Info.

Construction: Here's the Cupecoy Yacht Club project at our end of the lagoon. In the foreground is fake lighthouse that will become a living unit. Behind that is one of their apartment towers and on the hill above that at the corner of the old road is Jasper Johns's house.
| | |
| --- | --- |
| | We've had chats with people who should know and the scuttlebutt is that several of the building projects are being scuttled. We have reported earlier that nothing was happening at the Cove at Cupecoy down on the lagoon and the sales office up on the main road (that's called Rhine Road, but I defy you to find a sign) was for sale. As the photo shows, the skirt has been removed from the building and steel I-beams have been inserted underneath it in preparation for its removal. As far as I know, nothing was sold at the Villages of Cupecoy and certainly nothing is happening on the site. The abandoned sales office is sinking into the brush. Pharos is on short staff. There are a few workers there, but progress is minimal. Even the new Rainbow building (I'd say final building, but with this project, one never knows) appears to be going slowly. |
Sapphire Beach Club: Sapphire's pool is looking quite nice this year. Our condo is right above it and at night they have different colored lights in the two sections of the pool. Moreover, all the lights work and none are floating up out of their sockets. There is a photo on our site. Jean Verdier does seem to be making an effort to get his gold crown status back. That would be good for all owners and be at least some money well spent.
For those of you who wish to sell or rent their week or unit, we have opened up the Sapphire Beach Club website for that purpose. We charge $25 per year. If you wish to rent or sell your unit, send us some text (and $25 to esk@sxm-info.com via Paypal). If you wish to rent or buy a unit without high middleman fees, check out the website. Given the large assessment that Sapphire just levied, there may be a lot of sales. At present, there are 20 sales and/or rentals available directly from owners. Given a 25 to 35% standard rental commission, there should be some bargains in eliminating the middleman and dealing direct.
Travel: All travel to the USA now requires a passport. Life is pretty easy if you allow enough time to renew by mail. All the details can be found at this State Department page.
Shopping: Martha bought some cosmetics at Lipstick in Marigot. There's at least one on the Dutch side also. We find it easier to get to Marigot from our home in Cupecoy, avoiding the airport and Simpson Bay Bridge. It makes no difference in the pricing, as Love Mahtani of Jewels By Love explained: the goods are extremely expensive for their size, in his case jewels and watches, and in this case, cosmetics and perfume. The differences in rents and labor costs from one side to the other are insignificant in the overall pricing. The underlying prices of diamonds, French perfume, and Swiss watches are set elsewhere and nobody is dumb enough to sell a diamond at one price to a guy with $$$ and another with €€€. At Lipstick, Martha used the credit card and got 1 to 1 pricing, which essentially says their prices are in dollars.
Groceries: Just the usual trip to Grande Marche for our weekly groceries. We are astounded by the prices for the Angus Beef, even flank and skirt (called flap, locally) steak was around $12 per pound. We ended up buying a five pounds of frozen stew meat for about $2 per pound. It's been cool enough that we have been thinking about stews! No Guadeloupe melons were on display, but just this week we finished the last half of the one we bought earlier. I hacked off more bits from the talon (end piece) of prosciutto that we bought several weeks ago from US Imports. We've also been frying up bits of the prosciutto for use in omelets and in a Chinese dish we made for Chinese New Year (Feb 7). You probably missed it. It's the year of the rat, my birth year also. In China, the rat is known for its intelligence.
Alcohol: In the 6 Jan newsletter I talked about rum, but that was molasses-based rum, not rhum agricole as he is made on the French islands from sugar cane juice, rather than the dregs from the bottom of the sugar refining pot. Needless to say, the French version made on Martinique, Guadeloupe, and Marie Galante (I'd say it's a small island off Guadeloupe, but it's twice the size of SXM!) is considerably more expensive. It's also better, especially after some ageing. However, the Appleton seemed pretty good, especially at the price. The St James Rum from Martinique costs $30.00 for a liter and the Appleton Dark Jamaican Rum costs $5.53 (the XO was less than $15). This is related to the Best of lists discussed below.
Traffic: We went to the gym at 9AM on Friday morning and headed into Cole Bay at about 10:30. No problems at that hour. We stopped at Select Wine Cellar to pick up some wine and stayed an hour talking to and tasting with Sylvain and Isabella from Le Chalet in Sandy Ground. We then got groceries at Grand Marche and attempted to return home via Cole Bay. We got as far as the new Ace Mega Center, turned around, and returned home via Marigot. Gas prices at Cadisco are now $1.04 per liter at Orient and $1.02 in Sandy Ground, almost $4 per gallon. They still do 1 to 1 for cash and I think they are still cheaper than the Dutch side. Jeff Berger says that the Gess in Orleans charges $1.08 per liter and gives 1 to 1.
Best of: Both Jeff Berger and the Herald came out with some Best lists lately. The Herald's was their highly scientific reader's poll. Ostensibly open to the whole island, but voters get an entry form in the Dutch-side, English-language newspaper. And perish the thought that advertising dollars are any influence, but the 32 page supplement that breathlessly announced the results contained almost 18 pages of ads only from winners or also-mentioneds. Similarly, Jeff came out with the best lobster dishes featuring six restaurants, four of the owners do business with him, every one is on the Dutch side, and I believe none of them even have a lobster tank, although I'm not sure as there are some I have never visited in 15 years on this island. Having forgotten the culinary capital of the Caribbean, he added his sole Grand Case client, Spiga, to two others already mentioned (all website clients) and tells us they have the best lobster bisque.
The Herald also reviews restaurants and uses an even more scientific 30 point scale, dividing 5 points each into various categories: service, speed, cleanliness, taste, etc. One could start by arguing that more emphasis should be put on taste than speed (or vice versa). Then one can quibble about each of the individual categories, ie whether a restaurant that is quite lovely inside (say Alabama with all its plantings or Temptation with its Greg Spann interior and water walls) can be as lovely as a waterside table in Grand Case, Philipsburg, or elsewhere. Even after you decide how many points should be given for view and that a water view is better than a lovely interior view, you can argue about whose water view is better. And if you think that is subjective, wait until you start to talk about food. Then there is wine. Many ratings (not those of the Herald) place great emphasis on the wine list. Generally, Large=good and Expensive=better for these ratings, when a well thought out list containing 15 wines that complement the restaurant's menu would serve most patrons far better than the 20 page list that pleases The Wine Spectator. Finally, there is price. You will pay for that water view, because the restaurant has to pay for it. You will pay for Greg Spann and then you'll pay again for the elements that create his vision. Foie gras is quite good, but not cheap. My free range chickens taste better than Frank Perdue's incarcerated birds, but they cost me about twice what he charges and I do all the work.
But I digress. The bottom line is that I do not publish a Best of list. There are about 20 restaurants that I believe are top notch on this island. They are easily as good as anything that I have found in the Albany/Saratoga, NY area. These restaurants on the island are different from one another in view, cuisine, and cost. Some days I want French, some days I want fish, Creole is good, Italian is good. If the trade winds are howling, my favorite beach restaurant is sheltered. Full moon nights (or thereabouts) make views of even unlit beaches spectacular. The rest of the time, choose a waterfront restaurant with some lights on the beach or at least in the distance. You need to know more than some best of list, and even if you see one, you need to know who made it, how, and why.
Nature: All this rain has certainly made the island green. The mango tree in the new traffic circle (rotary in Massachusetts, roundabout in England) in Bellvue is loaded with blossoms as is a nearby tamarind. The mango was trimmed back a bit as it became the centerpiece on the circle and seems quite happy.
Small island story: The Chief Commissioner of the Police, Derrick Holiday, was moved from that position to an assistant to the Lt Gov for sorting out the details of the changeover of the country status, supposedly on 15 December of this year. Shortly after that he was moved to Pointe Blanche Prison as the Curacao (Federal) authorities came into town to question him regarding his connection to the former Chief Commissioner of Immigration, Marcel Loor, who is no longer with us as he was sentenced to four years in prison last November for accepting bribes for the provision of false entry documents. After 35 hours Mr Holiday was released, but Chief Prosecutor Taco Stein (I am not making this up, that is his name) confirmed that Holiday's release did not mean he was no longer considered a suspect in the ongoing investigation.
---
SXM-INFO'S CONTESTS
---
We're starting to fill in the contests for the next season:
Current Contest - now to 2 March 2008
Caribbean View Condo - half price summer rental (May-October)
DK Gems - $50 off a purchase of $100 or more
Antoine Restaurant - $100 off a dinner for two
Le Cottage Restaurant - $100 off a dinner for two
Lagoon Pub Crawl - two for one ticket
Select Wine Cellar - Wine tasting and a bottle of wine

Read our rules, visit the websites of these sponsors, find their contest codes, and enter them on our entry form:
One of the rules is that you should enter each contest only once.
Future Contests:
2 March to 27 April
Caribbean View Condo - half price summer rental (May-October)
Halsey's Restaurant - $50 off a dinner for two
Hibiscus Restaurant - $50 off a dinner for two
Lagoon Pub Crawl - two for one ticket
L'Escargot Restaurant - $100 off dinner for two (cash payments only excludes Friday Cabaret show) Select Wine Cellar - Wine tasting and a bottle of wine

27 April to 27 July
Caribbean View Condo - half price summer rental (May-October)
Lagoon Pub Crawl - two for one ticket
Skipjack's - $50 off a dinner for two
Select Wine Cellar - Wine tasting and a bottle of wine

27 July to 26 October
Caribbean View Condo - half price summer rental (May-October)
Lagoon Pub Crawl - two for one ticket
Skipjack's - $50 off a dinner for two
Select Wine Cellar - Wine tasting and a bottle of wine

26 October to 28 December
Caribbean View Condo - half price summer rental (May-October)
Lagoon Pub Crawl - two for one ticket
Skipjack's - $50 off a dinner for two
Select Wine Cellar - Wine tasting and a bottle of wine

---
---
On 3 February the euro was at 1.480. Today it is at 1.451. That is a whopping change in one week. A dozen of these weeks in a row and we'd be someplace. Last season, some restaurants were still offering a 1 to 1 exchange, but the numbers of such restaurants are decreasing. At a 15% or 20% premium they could do it for a while, but as the US budget and balance of payment deficits have ratcheted upward, international confidence in the dollar has ratcheted downwards. Most restaurants have dropped this because at 40 to 50% premium, there isn't much profit left.
California Restaurant
,
L'Escapade Restaurant
,
Kokomarina
,
Rancho del Sol
,
Sunset Café
,
Ti Bouchon
,
Auberge Gourmande
, Spicy, and Alabama are still is offering 1 to 1 and many other restaurants are offering favorable exchange rates. Just taking your dollars at the current exchange rate saves the 3% foreign exchange conversion rate from most credit cards.
On Wednesday night Francois Prudhomme from Philipsburg Liquors arranged a wine tasting dinner at Le Pressoir in Grand Case featuring the wines of Château Beau-Sejour Bécot, a Premier Grand Cru from Saint-Emilion. Chef Franck put together a menu that was most interesting and with Melanie being named hostess of the year on the French side by Gault-Millau, it promised to be a special evening. This was all arranged rather last minute and we already had plans, so we only stopped in to say hello. I can attest that the event was well attended, Juliette Bécot, daughter of the vineyard owners, is quite charming, and the starting wines were pretty good. There was a magnum of 1990 Château Beau-Sejour Bécot that had already been decanted awaiting one of the later courses. I'm betting that was fabulous.

While we are plugging restaurants, Wendy K wants you to know that she had lunch at Durreche: fresh tuna with wasabi. We've been to Durreche several times, at least once with Wendy. The food is good, tasty, and inexpensive. The service is good and friendly. The view is essentially the waterfront street and the market on the other side.
On Sunday we went to the Horny Toad Guesthouse for the Super Bowl. These parties are not open to the public but all of the guests (and the webmaster) are invited. Everybody chips in and makes something. Betty bought some fabulous beef at Prime in Cole Bay and the guests added aps, veg, potatoes, desserts, drinks, etc. A great time was had by all, watching the game in the outdoor pavilion about 50 feet from Simpson Bay. Unfortunately GEBE cut the power at the start of the fourth quarter with the Pats leading 7-3. We waited and fussed a bit, eventually moving the TV back into its room. Shortly thereafter the power came on and the Giants were ahead 10-7 with the Pats driving. The power only lasted a few minutes, so we gave up and drove through darkened streets back to Cupecoy, which was bathed in light! We got to our room to find the Pats leading 14-10 with the Giants driving. And they drove right on in leaving about a half minute on the clock, ruining a perfect season. There's always next year. Three things for tourists: First, the gang at the Horny Toad has parties at the drop of a hat, led by Betty, the owner and chief party-goer. If you can get one of the few rooms (only 9 on the oceanfront property), you should have a great time. Second, Prime has some great beef in large quantities. Don't go there to feed two of you, but if you've got a large party they are a good bet. Third, GEBE makes US monopolies look good.
On Tuesday we had great lunch at Les Boucaniers in Nettle Bay. No one was in a particular hurry, so we chatted with Nicolas, the chef/owner for quite a while. He used to work with Cecile at Chanteclair Restaurant in Marina Royale. He has been in this lovely location for a few years. On pleasant days, there is hardly a nicer spot as the photo shows.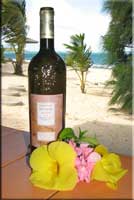 During our wide ranging discussion, Nicolas spoke highly of red wines from Provence, and highly recommended a Château Roubine (26€). Frequently we have a rosé from Provence for lunch, but this red wine was a new, and pleasant, experience. A bowl of accras arrived with a slightly spicy calypso sauce. The accras seemed to be chewier, less crunchy than most which we attributed to having a higher proportion of salt cod in the recipe. It's always nice to get some salt cod in your codfish fritters. The wine was fine with the light flavors in the accras and stood up to the calypso sauce nicely. It was a perfect foil for my lightly smoked salmon salad but with enough body to stand up to Martha's duck confit. Nicolas smokes the salmon on premises and in this case he wrapped it around a salad of arugula, sprouts, and red cabbage. This was then surrounded with perfectly ripe avocado slices and four artichoke hearts. It was all drizzled with olive oil. Martha's confit was made from a moulard duck and accompanied by oven-roasted potatoes and an arugula salad. We were here to take a photo of the blanc manger coco (coconut custard) that we had tasted on our first visit. We are proposing the recipe and photo for a future article in St Maarten Events. The menu (and our first version) had a passion fruit coulis with this. Today Nicolas made a raspberry coulis. It hardly matters, but do try an old rum with it.
On Wednesday we went to Hibiscus Restaurant in the further reaches of Grand Case. A couple years ago Thierry Delaunay sold his restaurant after a decade and Franco Burato took over. Thierry was a tough act to follow with his eclectic menu. One of the first changes was that the pig trotters trotted off the menu. This displeased Martha, but probably no one else noticed. Franco gradually slipped in more Italian dishes, but he did keep many of the Caribbean dishes that Thierry had. The lobster and sweet mashed potatoes with sandalwood comes to mind. We have been going to this restaurant a couple times per year (at least) for over a dozen years and I have had almost everything on the menu and many specials. Nonetheless, I still have a hard time deciding what I want - too many favorites on the list. Eventually we chose the scallop appetizer special. Three scallops arrived wrapped in bacon floating in a light green asparagus and lemongrass sauce with a bit of truffle oil and several bits of mâche (14€). Alessandra (Franco's wife) recommended a 2003 Alois Lageder Alto Adige that was smooth and large (59€). Martha had the French sea bass in an Italian preparation featuring tomatoes (of course) and potatoes. The whole seabass was filleted at the table. I finally choose the sweetbreads with porcinis in a light brown sauce. Both were wonderful, but the wine was a bit much for them. We finished with espresso and complimentary cookies for dessert. And then Franco appeared with Mirto and Grappa. Mirto di Sardegna from the Rau Distillery is made from blueberries (Mertilles in French, but Bluettes in French-Canadian) on the island of Sardinia. It's amusing. The Grappa came from Tignanello and Franco thought it was a bit sweet, but it didn't stop him from continually testing his assessment and seeking our opinion. We were the last patrons in the restaurant and almost had to sleep on the couch. As I recall, it was a great evening. Hibiscus uses 1.3 dollars to the euro and our dinner (without our expensive wine) came to about $100.
Changes: Vanessa at California Restaurant now has live music on Friday nights featuring Jim Spector, an international guitarist (flamenco, gypsy, and more). He'll also be there on Valentine's Day when they'll have a special menu offering main course choices between monkfish and smoked salmon in a ciboulette (chive) sauce or prosciutto and chicken Provençal style. You also get an appetizer, a dessert, and a glass of champagne. The price is 60 and as they do 1 to 1 you can use euros or dollars. Currently, I'd suggest dollars. Moreover, they are offering $100 for two.
---
BARGAINS AND HAPPENINGS
---
Halsey's Restaurant has special three course Valentine's Dinner for $110 per couple featuring a petite beef filet mignon of with a Cognac and green pepper sauce, served with a Russian King Crab leg with drawn garlic butter, rosemary roasted new potatoes and baby squash Or Veal Oscar (Grilled Veal tenderloin medallions topped with jumbo lump crabmeat and hollandaise sauce) served with black truffle and roasted garlic whipped potatoes and asparagus. The ap and dessert are pretty special also. Note the price is per couple. The full menu is on the events page their new website.
Art in the Park: The annual Art in the Park show will take place on Sunday, 10 Feb (TODAY!) at Emilio Wilson Park, a short drive past the Texaco at the Pburg roundabout. Festivities start at 10AM and run until 4PM.
Wine & Cheese Party: Select Wine Cellar and Champagne Snack Bar are hosting a monthly wine and cheese tastings, usually on the first Friday of the month. The next one is on 7 March. Send an email to Sylvain for more details or a reservation (highly recommended as these are very popular).
Harmony Nights will run every Tuesday night in Grand Case until April. Pascal from Blue Martini is in charge of entertainment. He also has entertainment at his restaurant next to the parking lot on several nights.
Orient Village has a similar, though smaller, affair on Friday nights.
Bali Bar in Marigot's Marina Royale generally has live music or a DJ starting at 7:30 CST (Caribbean standard time) on Wednesday, Friday, and Saturday.
Coupons: Look on the SXM-Info website for a list of all restaurants and others that have coupons for some freebie or discount. There are several coupons there to make your vacation a bit cheaper. Here's a list of what you'll find:
The Mario's Bistro Cookbook is now available. They are shipped via UPS and cost $49 for one, $87 for two, and $123 for three, delivered. Delivery via UPS should take a day or two in the US.
L'Esperance Hotel has great rates and is conveniently located. It's quite handy if you just need a night or two at either end of your vacation because of the wretched flight schedules. They have a lovely pool and offer free wireless internet access.
Sandy Molloy at Molloy Travel offers personalized service to fit your needs and budget.