Weather: Last week I said that Sunday has arrived with lots of clouds, but no rain. I spoke too soon. That makes two weeks in a row with the same opening to the newsletter. By 10:15 the sky over Marigot was gray and whitecaps were plentiful on the lagoon. At 10:20 we were lost in a whiteout. At 10:45 it was bright and sunny and 81F. It didn't rain again all day and we went over to the Horny Toad Guesthouse to watch the sainted New England Patriots defeat the Jets. While there, we heard that it hadn't rained all day. So do not despair because of the rain showers. They come and go, but generally the days are fine. Monday was spectacular with almost no wind. The photos below are from Monday evening, just before the green flash! Tuesday morning broke the same. From the front balcony, I could see the sea floor in the lagoon it was so still and all four islands were visible off the back balcony: Saba at about 26 miles, Statia at 35 miles, St Kitts at 50 miles, and the tip of Mount Nevis on Nevis at about 80 miles away! The horizon was clear, but the upper atmosphere was hazy. All was revealed when we were told that the Soufriere Hills volcano on Montserrat had shot a cloud of ash more than five miles into the sky the day before. If you hurry, there may be a photo and story in the Jamaica News. Wednesday arrived with no breeze and a haze so thick that Saba is not visible. The weather got back to fairly warm days and passing rain showers. We went through six of them on Friday, but none lasted very long. By Saturday they were so close together that it was a rotten day. Sunset will be at 5:53PM on Sunday (gaining seven minutes in a week) and the moon is a waning crescent.
SXM-Beaches: We went out to the Grand Case Beach Club for lunch at Sunset Café. The little beach next to the restaurant is actually quite large and they have several rows of chairs on it. Certainly diners at the Café can use the beach after a relaxing lunch and make an afternoon of it. We have been known to take a guided snorkel tour from Sebby at the activities desk before lunch, have a great lunch, and loaf away the afternoon on the beach.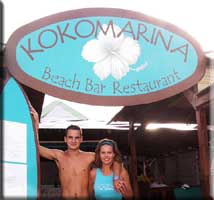 On this day, we dawdled over lunch and our wine, but finally went on to Orient to look around a bit more. As we approached, we stopped at Rancho del Sol for the fabulous view. It is now run by Johann, the son of Zuzu from California Restaurant. In it's previous existence, I was never sure if it was open or was merely an adjunct to the lumber yard next door. It has now been tidied up considerably and is serving a smaller version of the food at California. We made plans to return the next week. We stopped next at Paradise View Restaurant which has essentially the same view and found that Claudette is expanding the dining room.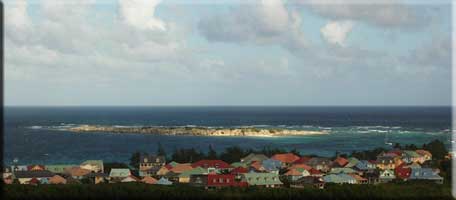 Fredy, the artist who paints with sand from the various beaches is now exhibiting in the restaurant during the day. From this height, you can see over the top of Green Cay. We made it down to Orient and stopped in to see Marina, Zuzu's daughter, at her restaurant, Kokomarina. It is just south of Kakao Beach, the last of the big five at the northern end of Orient. She is also doing a smaller version of the California menu. This end of Orient has plenty of sand. There were several spots with three rows of beach chairs. A stop at Kakao Beach found Hervé quite happy. No hurricanes and a great New Year's Eve with about $20,000 worth of fireworks going off over about 20 minutes seem to have started the season well. The extensive plantings around the tables in the sand make this one of the loveliest spots on this, or any, beach. The food is pretty good, too.
Traffic: Not bad this week, but this is the lull after the Christmas/New Year's storm, but before the coming school vacation insanity. We made it over the bridge in Simpson Bay at about 6 PM one evening. There were days during the rush when the bridge was still up at 6PM and traffic was stalled until 6:30.
Sapphire Beach Club: For those of you who wish to sell or rent their week or unit, we have opened up the Sapphire Beach Club website for that purpose. We charge $25 per year. If you wish to rent or sell your unit, send us some text (and $25 to esk@sxm-info.com via Paypal). If you wish to rent or buy a unit without high middleman fees, check out the website. Given the large assessment that Sapphire just levied, there may be a lot of sales. At present, there are 20 sales and/or rentals available directly from owners. Given a 25 to 35% standard rental commission, there should be some bargains in eliminating the middleman and dealing direct.
Drinking and driving: This produced a lot of blather on TTOL recently and I just got an email asking about it, so here is my take on things: There are essentially no laws on the Dutch side, although you are not supposed to drive under the influence. I've been told the law lacks any guidelines and I doubt there are any breathalyzers, so it is up to the officer. Luckily, you are not likely to find too many patrols, either. But you shouldn't have too much to drink as you will need all your wits about you to avoid the idiots on the road, especially after midnight.
The French side has laws made for them by La Belle France and enforced by real Frenchmen, the Gendarmes. Although quite cute in their short shorts, they actually do put up roadblocks and hand out breathalyzer balloons with regularity. Moreover, the laws they enforce start at 0.05 BAC (blood alcohol content, rather than the 0.08 BAC the US government forced on all the states). You get one set of penalties at 0.05 and more at 0.08. What does this mean? From my afternoon testifying as an expert witness at a drunk driving trial, the rule of thumb is a drink (one 12 oz beer at 5% alcohol or five ounces of wine at 12% alcohol or 1.5 ounces of eighty proof booze in a mixed drink, all equal 0.6 ounces of alcohol) raises the BAC of a 150 pound male by 0.02 BAC. One hour of metabolism reduces the BAC by 0.02. Thus, if a couple splits a bottle of wine (about 25 ounces), then the hypothetical male will get 2.5 glasses and reach the 0.05 limit. If they spend an hour over dinner, dropping his BAC by 0.02, he can have an after dinner drink and still meet the strict standards on the French side. It should be fairly obvious that the BAC is inversely proportional to weight and therefore, a 200 pound mail could drink 33% more to reach the same BAC. I keep saying males because it is different for females as they lack an enzyme that breaks down alcohol. One final point, global warming has been pushing up the alcohol content of wines, beers range from 2% to 6%, and multi-shot fancy drinks can be all over the map, so when you are doing your calculations, allow for these variations.
As if to illustrate some of the points above, the Daily Herald had an article on the front page the day after I wrote it. The Gendarmes were conducting a roadblock on the road from Marigot to Cole Bay on Wednesday evening. At about midnight, a car with French plates, slowed as it approached and then sped off through the roadblock toward the Dutch side. The Gendarmes did not even give chase. At about 1 PM a car coming from the Dutch side stopped and told the Gendarmes that there was a car in the bushes. They investigated and found that it was the car that had sped through earlier and after a short chase, they caught two men. They found stolen goods and about $10,000 worth of counterfeit US currency. They held the men and called the Dutch police who arrived promptly at 3:30AM.
Passports are required All travel to the USA now requires a passport. Life is pretty easy if you allow enough time to renew by mail. All the details can be found at this State Department page. Get a Passport!
Groceries: US Imports in Sandy Ground has had Petit Billy goat cheese lately. We think it is fabulous, creamy and tasty, but not too strong. Jenkins's Cheese Primer also sings its praises. The bakery that used to be next door still exists, but no longer does retail. There bread is available in US Imports and we feel they are one of the best baguettes on the island. We also have picked up a Mozzarella di Buffalo in the Maho Food Express, not cheap at about $16 per pound, but fabulous with the fresh Guadeloupe tomatoes that are in the supermarkets.
Small Island Story: We drove by Fleur from Rainbow as she was depositing garbage in the tip at Rambaud. We stopped and ended up going back to the house for a bottle of champagne and a chat with David and son, Ben. They are all doing well.
Club Fantastico
Just announced: a winter special, buy 5 nights, get two free, buy 7 nights, get 3 free, though March 31, 2007. Not all rooms and dates are eligible, but it is a great deal for last minute travel plans.
SPECIAL OFFER
For those staying elsewhere in St Martin this season, we welcome you to visit the Club and spend the day with us for $125 per couple, enjoy our facilities and make your future reservations to stay with us. This includes use of our property including open bar, beach transport, Pool, Jacuzzi, Satellite TV (NFL Football) and more fun than you can have anywhere else in the Caribbean. For more info on the club, visit our website. Hope to see you at Club Fantastico this season! And while you are there, enter the summer contest where they can enter to win seven nights during June, July, or August.
SPECIAL WEEKLY CONTEST
Winter schedule: Win $100 at
Princess Casino
and
Baccara Restaurant
contest every week until April 2007. Get $50 in casino action and $50 off a dinner for two at
Baccara Restaurant
, just above the casino floor. Make it a spectacular evening as you will be picked up and returned home in a chauffeured Bentley. You must enter this contest each week and you must use the entry form for this contest to be considered.
Martin Conway, GM at the casino, says that they offer free pick up service by Rolls Royce or Bentley and can send a bus for larger groups. Distance is no problem. With this service, there are no worries about security or drinking and driving. Our motto is Good Gaming, Great Entertainment, and Fine Dining.
Martin also notes some changes at the Princess for this season. Le Baccara has a new chef. We have a new restaurant: the "Rock House", restaurant and sports bar. Another new area "Just Sushi" and a terrace restaurant to open mid-November, the "Surf & Turf" Island Grill and Bar. The entertainment is great with a special themed evening every weekend. Examples so far, Miss Princess, Caribbean Night, Oriental Night, Mr.Princess, Victor-Victoria. Halloween is coming up as is Indian Night. Friday Night in the Rock House is Karaoke with over 2000 songs in English and French. Monday night is, of course, Football night and we have 7 large screens and a couple of pool tables.
Last week's winner:
Frank Young
---
SXM-INFO'S REGULAR CONTEST
---
Future Contests:
Stay tuned. They'll be back soon.
---
RESTAURANTS
---
On 7 January the euro was at 1.301 and today it is at 1.292, slightly better. I've read some postings on TTOL saying that the French side restaurants can't afford to do 1 to 1 anymore and certainly my list of restaurants at 1 to 1 is smaller this year. Moreover, it is getting to be something of a gimmick as by now the prices have been adjusted to enable a profit at 1 to 1 or else the restaurant would be out of business, so it merely helps with the math and eliminates currency transaction costs, not insignificant benefits to Americans. To further confuse the issue, others are offering an advantageous rate, but not as good as 1 to 1. For instance, Elisa at
Bikini Beach
says she will be at 1.20 to the dollar, but that some of the menu prices and most of the beverage prices will drop. "I am certainly here to give good and fair value for the dollar still!" Her boutique will stay 1 for 1 because she buys most everything in dollars in Thailand. A new container arrived from Thailand and she has lots of new and great stuff. Also a new line of exotic juices called "Jus Cool". Aloe and Honey, Hibiscus, coconut with pulp, Lychee with pulp, Pineapple with Nata, etc.
In any event, this season, some restaurants are still offering a 1 to 1 exchange. I don't doubt that after years of turmoil, the French wine prices have risen and even the food has gone up a bit. They still have pretty good prices and as many restaurants have online menus, you could do the math (if the websites were up to date). We noticed 1 to 1 at Bistrot Caraïbes, Blue Martini, California Restaurant, Hibiscus Restaurant, Restaurant du Soleil, Ti Bouchon, El Rancho del Sol, Kokomarina, L'Estaminet, and La Marine. Note that some only offer this rate for cash. As always, know what the euro is worth, what the restaurateur is offering for an exchange, and what the costs are on the menu. Finally, you are here to have fun and fine food, not to do complex financial calculations, so don't worry about it too much.
On Sunday we stopped at Bamboo Bernies for a free and a few low-priced sundowners. They are still doing free drinks from 5:00 to 5:30 and 50 cent drinks from 5:30 until 6:00. Drink prices go up a half dollar every half hour until 7:00 and then they are half price until 8:00. Ladies drink free every Wednesday from 10:00 PM until closing and Thursdays feature an all you can eat BBQ featuring ribs and chicken with live music for $25.
That evening we went over to a fairly dead Marina Royale. The places that were open were fairly crowded, but many close on Sunday evening. Belle Epoque, Le Village, and Chanteclair were all fairly busy on their side as was Tropicana across the way. We walked down to Saint Germain Restaurant for their 13 euro weekend BBQ with beef, sausage, chicken, and ribs. It comes with a baked potato and cole slaw and was too much for me. By mistake we started with moules in white wine, thinking it was a small appetizer portion. We got the full order with some of the crispest fries on the island. Martha had a special turbot filet in a saffron sauce with a zucchini gratin and rice. It was all good and lots of it. We had a bottle of Bouchard's Pinot Noir, water, and a complimentary rum punch for less than $100 even with the correct exchange rate.
On Monday night we went to Restaurant du Soleil in Grand Case for a nice dinner on the water. They are across the street from Grand Case Parking and will comp your parking fee, so life couldn't be much easier. Moreover, they are doing 1 to 1, so it can't get much cheaper either. It's a pretty place, recently refurbished, with good service and interesting food. We started with water and a 2002 Beaune du Chateau Premier Cru from Bouchard. This is the wine we had at our wedding, albeit 17 years younger. It was very good, even at $51, as 2002 was a great year and is now getting to be nicely aged. Our starter was the nem (spring roll) of crab and mango with salmon sashimi and salad - very interesting mixture of tastes and textures. Dinners were sweetbreads with mille-feuille accompanied by asparagus and mashed potatoes. The sweetbreads were slightly crisped on the outside and the asparagus bits added another bit of crunch. I had the rack of lamb, about six small chops topped with tapenade in a lovely sauce with mixed veg. All this was only $123 with a bonus view of Anguilla across Grand Case Bay. There are some photos on the website, but Cedric is having trouble getting the full menu and wine list off his computer. This is one of our favorite spots for a lazy Sunday lunch.
After dinner we stopped at Blue Martini next to the parking lot for a nightcap and to pick up the wine list to add to their website. The new menu was already there and it features a lot more steak, seafood, and salads. They are doing 1 to 1 for dinners. We made reservations for Thursday when they have LouLou singing in the back garden. On the way home we stopped at Mario's Bistro for a drink to celebrate the end of the first month of online sales for the Mario's Bistro Cookbook. Martyne said sales are going well. We came in about 10 PM and got a table on the water for espresso and armangac. I noticed that the closest table toward the inside of the restaurant was about 15 feet away and our deuce was so large that I could hardly reach Martha. When I wrote about what one received for one's money on Anguilla recently, my main comment was privacy or space. Mario's is not cheap and they don't do 1 to 1, but they do have some of the best food on the island, three owners in the establishment, and a lot of s p a c e, much of it at tables on the water.
On Thursday evening we returned to Blue Martini to try some of the new things on the menu. They are doing 1 to 1 in the dining room. The wine list is actually quite large and there is a blackboard with some high end additions. We had the 2004 Chateauneuf du Pape ($55). It was a bit chilly and tight at the start, but warmed up well rather quickly. We started with the chef's special tuna tartare, diced premium tuna with capers, onion, spices, a touch of sauce, and more surrounded by crisp greens including some endive leaves. The effect was quite nice and very tasty, made even better by the wine. Our dinner was the prime rib for two at $39. That's a fabulous price for some very good beef. It comes with your choice of sides and sauces. Our entire dinner came to $113 and almost half of that was wine. Afterwards we went into the garden to listen to the music.
On Friday we headed over to Sunset Café for lunch. A rain shower had just passed through and we arrived to find almost everyone who had been on the beach sitting down to lunch. Nonetheless, we got a seat along the railing looking out over the beach to Créole Rock. We started with LaCoste's rosé, a mere $19 using cash at the restaurant's 1 to 1 exchange, while we waited for our mussels in white wine and a tuna ceviche salad. They try to have fresh mussels from Wednesday until Saturday and when they do, you should try them. They are done up in white wine, onions, garlic, shallots, herbs, spices, a bit of cream, and some more, still undisclosed, ingredients. They come with the crispest of French fries and few days are better spent than enjoying this meal on the porch at Sunset Café. Martha's salad was also very good and we lingered quite a while over our bottle of rosé.
Saturday night found us at The Wharf Restaurant in Simpson Bay. They have a new menu on the website and new specials. They also have Stella Artois on draft, a great beer. We started with two of those for our chicken nachos and moved on to one of the specials, a homemade crabcake and bit of tuna with Creole sauce off the menu. The crabcake was quite good and the tuna was fine. Check out the coupon on the website and save a few bucks, but all this with the 15% service charge and a tip was only $65.
Changes: Citrus, the restaurant part of The Inn at Cupecoy, has been closed but there is has been a lot of construction in the space. On Tuesday night it appeared to be open and now there is a sign announcing Khush, a tapas bar. The market, next door, is now Le Petit Market, being run by Toufiq of Marrakech Restaurant. Perroquet became Breezin' for a half season and now is Fathom's Tavern. It looks nice and always had a great view of the lagoon. Philly Joe's became El Taieb and is now Gogo, serving the same pizza, Italian, panini, and have retained some middle eastern cuisine. We stopped in at Bec Fin Restaurant and bumped into Nori from Rainbow. Now that Rainbow has closed, he is managing Bec Fin. Esplette in Marigot has been dark every night we have passed.
---
BARGAINS
---
Every Tuesday afternoon from 4:30 until 6:00, Ti Bouchon will host a small (ten people maximum) wine tasting on their porch. There is no charge, but if you would like to attend, please visit the website and call or send an reservation request no more than one month in advance. Be sure to mention a date and the number in your party.
Coupons: Look on the SXM-Info website for a list of all restaurants and others that have coupons for some freebie or discount. There are several coupons there to make your vacation a bit cheaper. Here's a list of what you'll find:
Those who like Club Orient might be interested in Club Fantastico. Check it out. Richard says "At Club Fantastico the Jacuzzi is percolating and the pool is a perfect temperature for skinny dipping late into the evening. The Caribbean Sea is aqua blue and warm as can be. Chef Antonio was here over the holidays and will be back, so stay tuned. Music and fine cuisine will be the norm."
The Mario's Bistro Cookbook is now available. They are shipped via UPS and cost $49 for one, $87 for two, and $123 for three, delivered. Delivery via UPS should take a day or two in the US.
L'Esperance Hotel has great rates and is conveniently located. It's quite handy if you just need a night or two at either end of your vacation because of the wretched flight schedules. They have a lovely pool and offer free wireless internet access.
Sandy Molloy at Molloy Travel says that she can generally beat any rates you can get from the hotels. Give her a shot.
Regards,
Erich S. Kranz
www.SXM-Info.com
Click here to subscribe or unsubscribe