Guests in our condo in early September had a great time (thankfully). The end of September saw temperatures up into the 90's, but no hurricanes. The sun sets at about 5:45. The moon is in its last quarter.
While we are harping on things: Don't drink and drive! All right, there is no limit on the Dutch side and the French side uses 0.05% BAC (blood alcohol content and like most places this is measured by blowing into a device and making assumptions about the relationship between alcohol in the exhaled breath versus alcohol in the blood). This is lower than the 0.08% standard that the US federal government has imposed on all states desirous of highway funds. Roughly speaking, a 150 lb male can have one drink and raise his BAC by 0.02%. In one hour, his body can metabolize enough alcohol to reduce his BAC by 0.02%. Thus, over the course of a leisurely two hour meal, our male could have an aperitif, split a bottle of wine (six total drinks, three each) to arrive at a 0.06% BAC for the drive home. In the US, that should keep you out of trouble, but in France you'd be a bit over. My solution has been to forgo the pre or after-dinner libation. Another approach comes from Don and Daniel at GCL Car Rental. If you rent from them and feel that you have had too much to drink, just call them. They'll come and take you home at no charge.
15 October to 26 November
L'Esperance Car Rental
- $100 off a weekly low season rental
12 meter challenge: America's Cup Racing
- two for one ticket on the number one activity in the Caribbean
Blue Martini
- $50 off a dinner for two
Hibiscus Restaurant
- $50 off a dinner for two
Grand Case
- Grand Case Cookbook
Activities and more contest winners:
Marci's Mega Gym 2000
- 4 yoga classes with Valerie and one week admission to the gym - Leo Valenti
12 meter challenge: America's Cup Racing
- two for one ticket on the number one activity in the Caribbean - Rhonda Collier
Prince Rental Car
- a week's rental in low season for only $50 - Susan Price
Tri Sport
- two for 1 kayak exploration of the lagoon - Sandy Molloy
Octaedre Gems
- earrings - Susan Price
Grand Case
- Grand Case Cookbook - Susan Price
The rules make all other contests look like do-it-yourself brain surgery. Just find the codes, enter them on the form, click send - one form per contest. Good Luck.
Let's go over the rules:
Rule #1 - Visit the website(s) and find the entry code.
Rule #2 - Send in ONE entry using the form with all the contest codes for the contests you wish to enter.
Rule #3 - If the prize-awarding entity goes out of business before you claim your prize, you are unlikely to get your prize.
Rule #4 - Prizes are valid for one year from the award date.
Rule #5 - There is no rule number five.
It's a lot easier than other contests and there is no timeshare presentation. We choose an email randomly from all those received. If that person has entered multiple times, we throw them all out. If not, that person will win all the prizes for which the correct contest code has been entered. If all the contests have not been won by this person, another email will be chosen, etc until all prizes have been won. It isn't mentioned, but there are five slots for contest codes on the entry form. Thus, one entry can win five contests.
Future Contests:
Grand Case - 26 November to 24 December
California Restaurant - $100 off a dinner for two
California Apartments - $100 off a week's stay
Rainbow Café - $100 off a dinner for two
Ti Coin Créole - $50 off a dinner for two
Atelier des Tropismes - signed print from Paul Elliott Thuleau
Grand Case - Grand Case Cookbook
12 meter challenge: America's Cup Racing - two for one ticket on the number one activity in the Caribbean
NOT OUR CONTEST, BUT ...
Club Fantastico
is giving away a free week every month over the summer. Get to their website to enter.
---
RESTAURANTS
---
On 13 Aug the euro was at 1.276 and today it is at 1.255. Not much change over two months, but it is better. French side restaurants with many costs in dollars and many American (or Canadian) clients have been offering more favorable exchange rates. Some restaurants offer a 1 to 1 exchange. We got it at
Ti Bouchon
,
Ti Sucrier
,
Auberge Gourmande
,
Sunset Café
,
California Restaurant
,
Bistrot Caraïbes
,
Le Cottage Restaurant
,
Rainbow Café
,
Pirate Beach Bar
,
Pedro's Beach Bar
,
Bikini Beach
, and
Restaurant du Soleil
and noticed it at Layla's, Santal, Chez Martine, Marlin's Cafe, and all the lolos in Grand Case. Note that some only offer this rate for cash. As always, know what the euro is worth, what the restaurateur is offering for an exchange, and what the costs are on the menu. Finally, you are here to have fun and fine food, not to do complex financial calculations, so don't worry about it too much.
Club Fantastico announces that Chef Antonio will be making his way to SXM, soon. He plans to be there the week after Thanksgiving, New Years Week, and the first weeks of February and March 2007. Fine Italian dining with lots of cool tunes after dinner will be the norm. The Club owners look forward to seeing you all there this season.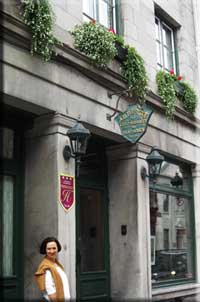 In mid-September we drove up to Montreal for a dining extravaganza. We stayed at a great B&B called Les Passants du Sans Soucy (right) in the old section of Montreal near where Boulevard Saint Laurent meets the waterfront. Sans Soucy is not a misspelling as this is not sans souci (without a care), but a pun using owner Daniel Soucy's last names. The B&B is in a refurbished building dating back to 1723. Our suite had a sitting room with a gas fireplace, a bedroom, and a bath. The breakfasts were quite nice: omelets, French toast, and more. French toast in France is called Pain Perdu (lost bread), but in Quebec is Pain Doré (gilded bread). Below is the park at Le Toqué Restaurant and on the right of that is a monument to Lord Nelson.

The boulevard, or The Main as it is called locally, has been cleaned up considerably since Trevanian wrote about it in
The Main,
published in 1976. Our first meal was at Au Pied du Cochon (Pig's Foot, sounds yummy, n'est pa?). Walk up The Main and turn right on Duluth Street, one of the two "pedestrian" streets crossing The Main (The other is Prince Arthur). Both remind one of a stroll along restaurant row in Grand Case. Martin Picard is the chef here and the emphasis is on good, local food, lots of it, and vegetarians beware! Foie gras is featured. The eastern townships of Quebec have many duck farmers and Martin goes out to get the best by establishing contact with local growers or harvesters, doing the same for most ingredients. We had leeks and girolles as a starter and Martha had the stuffed pig's foot while I had the venison as main courses. The starter consisted of baby leeks and a large handful of girolles swimming in butter. The dinners filled the plates and an entire bottle of Crozes-Hermitage could not wash them down. The restaurant reminded us of
Ti Bouchon
in Cul de Sac and the walk home past several nightclubs with music reminded us of a walk back to the
parking lot
in Grand Case with a stop at
Blue Martini
for late night music and more! The meal came to $167. Taking off 10% to convert to US dollars, brings it down to $150, about the same as one of our meals in Grand Case, although I think the wines in SXM are better at comparable prices. The Canadians seriously tax alcohol.
Beth, of the Boston Globe's Ask Beth, asked Martha about our dinner. Here are her comments: It was wonderful, in a heavy-on-the-fat, too-much-of-everything, way. It is very casual, more a coffee shop or diner than a proper restaurant in appearance, noisy, tables close together, good service, and so many good things on the menu it is hard to know where to start. There is a whole section of foie gras dishes, including a foie gras burger, lots of pigs feet in various guises (including one with foie gras), and a lovely things with local produce, like the leeks vinaigrette with girolles we had as a starter. We loved it--and we walked miles back to our hotel to compensate--but it is not for vegetarians, picky eaters, anyone put off by innards, and those who can't stop whining about cholesterol for just one night.
Our lunches were taken at La Villette, just down the street from our hotel. The sign says "Boucherie, Charcuterie, and Alimentation Generale" and one look in the window says "walk right in, sit down, and prepare to stay a while". Martha had a wonderful leek soup and I had the market platter, basically, whatever looked good: ham, sausage, cheeses, salads, pickles, and a tough red wine to stand up to such punishment. next day was a salad for Martha and the paté selection for me with more red wine. This place reminds me of Chez Bernadette and René on the outskirts of Marigot.
Martha is working with Martyne on a cookbook for Mario's Bistro. When we emailed Martyne that turnaround on edits would slow down because we were heading to Montreal for a couple days, Martyne insisted that we go to Toqué. Martin Picard worked there before opening Au Pied du Cochon and Normand Laprise is the current chef. Martyne got Mario to call Normand and arrange a dinner reservation with a bonus tour of the kitchen. This was just a short walk from our B&B, just outside the old section of Montreal in a bright shiny space overlooking a large square with sculpture, a fountain, and fog wafting up from underground. We were led to a window table and started with two flutes of champagne as this was Martha's birthday. We asked about the portion size on the gourmet seven course meal and were assured that they were small. Martha had the regular menu with wine ($152) and I had the menu that added foie gras to one of the courses ($162). We had already started with an amuse bouche of smoked salmon between wafer thin slices of crisp potato and the meal worked its way through abalone, sea urchin, tuna loin, a visit to the kitchen, duck breast, a cheese course, and desserts. Mine consisted of dead ripe blueberries in a blissful white chocolate sauce and the birthday girl got a more fitting bit of cake without singing. At the end of the meal we were about two pounds heavier and $450 lighter. It was a wonderful evening with bright flavors and well matched wines, followed by a short walk home.
The cookbook will be out by Thanksgiving and you should be able to order one on line in time for Christmas. We'll also feature a few in contests. I've seen some of the PDF files that went to the printer and the layout is gorgeous. Martyne took most of the photos and worked with a great graphic designer to produce a stunning book with lots of helpful tips and great recipes.
| | |
| --- | --- |
| | On the left is La Villette where we took most of our lunches. Below left is the Greek salad and on the right is the trilogy of terrines. On the right is the entrance to Le Toqué. |
We just did another third Thursday wine tasting dinner at The Sagamore on Lake George. As this was the day before my birthday, we spent the evening in one of their waterfront condos overlooking the lake. We thought that this evening was the best of the three that we had attended this season. The food wasn't as fussy, the wine and food pairings were better, and, Russell Weis, the general manager of Silverado Vineyards, was much more entertaining than the previous wine hosts.
For a similar, over-the-top dining experience in SXM, check out La Samanna's gastronomic week. It's part the their parent's (Orient-Express) Table Travels series and showcases seven chefs over seven nights with wine pairings. It runs from November 27 to December 3, 2006. We have always liked November and early December when the island is warm and the high season crowds have not arrived yet. The chefs and vineyards sound most interesting. Click here to go to more info on the La Samanna site.
Another approach, considerably less expensive, would be the wine dinners that Halsey's Restaurant has for New Years Eve and Valentine's Day and as the mood strikes them.
| | |
| --- | --- |
| I've talked about the Laguiole cutlery used in several SXM restaurants, Le Cottage Restaurant, Ti' Sucriere, among others. It originally was a high-quality French folding pocket-knife, produced in the town of Laguiole in southern France in the early 1800's. The word "Laguiole", is a generic term, not legally restricted to any one company or place of manufacture. Such knives are produced by a number of unrelated companies in the are with about 70% of production coming from Thiers, a long-established center of the cutlery industry. Thanks to their elegant and distinctive lines, as well as fine craftsmanship and expensive materials, they have achieved the status of a design classic and are sold for high prices, sometimes running into hundreds of dollars. The various designs have a slim, sinuous outline, about 4 inches long when closed, with a narrow, tapered blade, high quality construction, typically using luxurious materials, such as exotic woods, cattle horn, ivory, and Damascus steel. Usually the catch is fashioned to resemble a bee, the right to use this imperial symbol being said to have been granted by Napoleon, though others say the design actually represents a cattle fly, linking the knife with the stockmen who were its first users. Today, non-folding steak knives grace many tables in fine restaurants and many wine stewards use a similar folding corkscrew. We've had a similar corkscrew for many years, but prefer a more modern variety with a hinged lip lever. This allows the screw to be more fully driven into the cork while still maintaining a vertical pull on the cork via the shortened length of the lip lever when part of it is folded back. After the cork is on its way out of the bottle, the full length of the lip lever can be engaged to complete the job. Williams-Sonoma sells a set of four steak knives for $79, but Martha just picked up six at Target for $15! Moreover, we've seen them, on Overstock.com at great prices. The green handled corkscrew has the hinged lip lever and the other is our bone handled Laguiole. The knives are our new purchase. Everything is on a cork trivet available from the website for Quarry Road Farm. | |
Changes: Marina, daughter of Alain and Zuzu at California Restaurant, and her boyfriend have opened Kokomarina on Orient Beach, serving food much like that at California. It's between Mexicana and Baywatch.
Sylvain at Select Wine Cellar says that Enjoy Restaurant in Grand Case has closed and will reopen with a new owner. It's a tough location, but beautiful, especially for lunch. Sylvain has started working at Moulin Fou in Maho in the evenings.
---
BARGAINS
---
Caribbean View Condo: We are back in the USA, so our one-bedroom 1,000 square feet condo will be available for rent. The rate on the website is $1000 per week and you get a $50 gift certificate to Ama Bella, jewelers and more, a coupon good for the very best discount that Select Wine Cellar can offer plus a few tastes, a $50 coupon to the island's best new restaurant SkipJack's, a two for one ride on Celine's famous Lagoon Pub Crawl, a welcome champagne and an after-dinner drink from your choice one of the following: Auberge Gourmande, Sunset Café, or Montmartre, two free admissions to Golden Eyes, adult entertainment in Simpson Bay, and a 10% discount off the prices posted on Unity Car Rental's website. Moreover, I'll take $100 off for any newsletter subscriber. That brings the cost down to about $100 per night, tax and service charge included.
Coupons: Look on the SXM-Info website for a list of all restaurants and others that have coupons for some freebie or discount. There are several coupons there to make your vacation a bit cheaper. Here's a list of what you'll find:
Those who like Club Orient might be interested in Club Fantastico. Check it out. Richard says "At Club Fantastico the Jacuzzi is percolating and the pool is a perfect temperature for skinny dipping late into the evening. The Caribbean Sea is aqua blue and warm as can be. They welcome all of you who are taking in the peace and restful summer with us. Starting September, things will be gearing up, so make your reservations now, and get a special deal. Chef Antonio plans his return in the fall. Dates not yet set. Music and fine cuisine will be the norm."
L'Esperance Hotel has great rates and is conveniently located. It's quite handy if you just need a night or two at either end of your vacation because of the wretched flight schedules. They have a lovely pool and offer free wireless internet access.
Sandy Molloy at Molloy Travel says that she can generally beat any rates you can get from the hotels. Give her a shot.
Regards,
Erich S. Kranz
www.SXM-Info.com
Click here to subscribe or unsubscribe