Sunday was spectacular, warm, sunny, and not too windy. Monday and Tuesday were OK, but Tuesday clouded up and several rain showers passed over us at dinnertime. Wednesday and Thursday were hot and sunny, not much breeze. We turned on the A/C in the condo for the first time. It was raining off and on all day Saturday with a thunderstorm (quite rare) in the evening but Sunday has been beautiful. The sun sets at about 6:30. The moon will reach first quarter for Cinco de Mayo.
Grand Case - 2 April to 14 May
L'Alabama Restaurant - $100 off a dinner for two
Tastevin Restaurant - $100 off a dinner for two
Bistrot Caraïbes - $100 off a dinner for two
Hibiscus Restaurant - $50 off a dinner for two
Atelier des Tropismes - signed print from Paul Elliott Thuleau
Grand Case - Grand Case Cookbook
12 meter challenge: America's Cup Racing - one ticket on the number one activity in the Caribbean

You'll note there are seven prizes and only five entry slots on the contest form. You must choose the five you want and allow someone else to share in these prizes. The rules make all other contests look like do-it-yourself brain surgery. Just go to the Grand Case feature, find the codes, enter them on the form, click send - one form per contest. Good Luck.
Let's go over the rules:
Rule #1 - Visit the website(s) and find the entry code. In this case, just: Grand Case feature
Rule #2 - Send in ONE entry using the form with all the contest codes for the contests you wish to enter.
Rule #3 - If the prize-awarding entity goes out of business before you claim your prize, you are unlikely to get your prize.
Rule #4 - Prizes are valid for one year from the award date.
Rule #5 - There is no rule number five.
Yes, we added 3 and 4. Still, it's a lot easier than other contests and there is no timeshare presentation. We choose an email randomly from all those received. If that person has entered multiple times, we throw them all out. If not, that person will win all the prizes for which the correct contest code has been entered. If all the contests have not been won by this person, another email will be chosen, etc until all prizes have been won.
Future Contests:
Orient - 15 May to 31 July
Bikini Beach - A DAY AT THE BEACH (including 2 chairs and a parasol, 2 welcome punches and $50.00 credit towards food and drink)
Beau Beau's - $50 off a dinner for two
Panoramic Car Rental - $100 off a one week rental
12 meter challenge: America's Cup Racing - one ticket on the number one activity in the Caribbean
Grand Case - Grand Case Cookbook

Simpson Bay - 2 July to 13 August
Horny Toad Guesthouse - seven low season nights for the price of five
Turquoise Shell Inn - seven nights for the price of five (until 31 Dec)
Unity Car Rental - $100 off a one week rental
Halsey's Restaurant - $100 toward a meal for two
12 meter challenge: America's Cup Racing - one ticket on the number one activity in the Caribbean
La Guinguette Restaurant - $60 toward a meal for two
Grand Case - Grand Case Cookbook

Activities and more - 13 August to 15 October
Marci's Mega Gym 2000 - 4 yoga classes with Valerie and one week admission to the gym
12 meter challenge: America's Cup Racing - one ticket on the number one activity in the Caribbean
Prince Rental Car - a week's rental in low season for only $50
Tri Sport - two for 1 kayak exploration of the lagoon
Octaedre Gems - earrings
Grand Case - Grand Case Cookbook

15 October to 26 November
L'Esperance Car Rental - $100 off a weekly low season rental
12 meter challenge: America's Cup Racing - one ticket on the number one activity in the Caribbean
Blue Martini - $50 off a dinner for two
Grand Case - Grand Case Cookbook

Grand Case - 26 November to 24 December
California Restaurant - $100 off a dinner for two
California Apartments - $100 off a week's stay
Rainbow Café - $100 off a dinner for two
Ti Coin Créole - $50 off a dinner for two
Atelier des Tropismes - signed print from Paul Elliott Thuleau
Grand Case - Grand Case Cookbook
12 meter challenge: America's Cup Racing - one ticket on the number one activity in the Caribbean

---
RESTAURANTS
---
On 23 April the euro was at 1.230 last week and today it is at 1.263. Getting worse. French side restaurants with many costs in dollars and many American (or Canadian) clients have been offering more favorable exchange rates. Some restaurants offer a 1 to 1 exchange. We got it at
Ti Bouchon
,
Ti Sucrier
,
Auberge Gourmande
,
Sunset Café
,
California Restaurant
,
Bistrot Caraïbes
,
Le Cottage Restaurant
,
Rainbow Café
,
Pirate Beach Bar
,
Pedro's Beach Bar
,
Bikini Beach
, and
Restaurant du Soleil
and noticed it at
La Marine Restaurant
, Layla's, Santal, Chez Martine, Marlin's Cafe, and all the lolos in Grand Case. Note that some only offer this rate for cash. As always, know what the euro is worth, what the restaurateur is offering for an exchange, and what the costs are on the menu. Finally, you are here to have fun and fine food, not to do complex financial calculations, so don't worry about it too much.
On Saturday evening four of us went for a fish extravaganza at Bistrot Caraïbes. We started with a bottle of the Rully Premier Cru from Drouhin and continued through the evening with it as it was fine with all our fish, esp with the best smoked salmon on the island. Our other ap was the onion soup. Dinners were two of the whole French sea bass, deboned and served with vegetables (asparagus when available!), the fisherman's platter in a lobster sauce, "Bouillabaisse style" with toasts and garlic, and a mahi special. I usually order the sea bass, but our two friends had already ordered it and Thibault mentioned that the mahi looked lovely. It was. All great fish dishes at very good prices. Even with two bottles of wine and a chocolate cake for dessert, the bill was barely $200. Great food, fine service.
The next day we went to Orient. No problems parking. We had the conch Créole and the conch salad at Pirate Beach Bar. Add in a few beers and it's still a $25 lunch. NO added 15%, no exchange as the prices are in dollars. Great conch in tasty sauces and they have Matouk's hot sauce, if you feel like living on the edge. Afterwards we went over to Pedro's Beach Bar for chairs and heard the saga of the strike.
| | | |
| --- | --- | --- |
| On the way back from Orient, we stopped at Restaurant du Soleil for a glass of chardonny, some home made potato chips, conversation with Cedric, and a lovely sunset. | | |
| | | |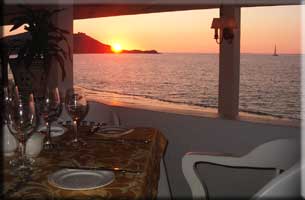 On Monday we went to Rainbow Café one last time this season. They will close for several months over the summer. We ordered at 2000 Cote Rotie ($98) from Gerin and started with a tasty tuna carpaccio with scallions, very fresh. The wine was wonderful, not cheap, but large and smooth, good with the tuna and great with the filet of beef with a bleu cheese topping. The beef came on a bed of garlic mashed potatoes and was topped with fried onion strings. The big Cote Rotie was also surprisingly good with Martha's mahi topped with mustard on buckwheat noodles surrounded by Chinese veg. It may have been fish, but the big red wine was fine, then again, the fish had a big sauce with the mustard and there was plenty of soy in the veg.
We had a light lunch on Wednesday at Le Village Restaurant in Marina Royale. Just pizza (Reine) and a salad Niçoise with some great draft beer: Stella Artois and Leffe. Several beers plus coffee came to only $39.
That night we went to Night Off for a light dinner of wine and cheese. The bread comes from Morning life, the bakery next door and I have no idea where Vino gets his cheeses, but they are in great shape and include many of our favorites: Pont l'Evecque, Coulommiers, Langres, Cantal, and a Bleu d'Auvergne. Vino made a sampler of these and poured a 2002 Ch Boscq, a lovely Saint-Estephe that, though high in cabernet sauvignon, was remarkably smooth in less than four years off the vine. We had a Warre's late bottled 1995 for dessert. A wonderful dinner at only $72.
On Thursday evening we visited Saint Germain Restaurant on the Marina Royale waterfront. There were three of us and we started with a Cotes du Rhone ($25) and a really nice moules frites dish: mussels in white wine with a touch of cream and lots of herbs, plus fries. It was quite tasty and the mussels were fresh as could be. It gives Sunset Café a run for the money in the best mussels this season. Our dinners were a pair of the scallop and shrimp dinners and a shrimp provencal, both tasty enough with interesting veg and all for only $120 or $40 per person. Complimentary rum after dinner, of course, and the usual fun with the owner, Patrick Le Black. They have free wifi also. Not bad.
On Friday we drove through deserted streets to Marigot. It's a holiday, at least on the Dutch side, because of the carnival and many French shops give it up and join in the festivities. We actually got a parking spot in front of the market, which was essentially empty: few vendors, no buyers. We walked down to L'Oizeau Rare Restaurant which sits a bit above the road on the hill leading to Fort Louis. We were the only people there (a bit early for French lunch at 12:45) and got a lovely table looking out over the square to the harbor and Anguilla. There are fountains and waterworks coming down the hill behind the restaurant and it is most pleasant. We ordered a Sancerre rosé made from pinot noir grapes that was a bit sturdier than your average rosé, but did not overpower Martha's crabcake in a crust with salad and a ginger-based sauce (a special). My tuna tartare is one of our favorite lunch dishes here and I only got to have it because Martha is a sucker for crabcakes. the tuna is quite good and has some tasty seasoning, but Jean-Christian adds hand-cut fries (and in our case bien-cuit, well-cooked, crispy). The lunches came to about $25, but the water and wine brought the meal up to $70. The after-lunch ginger rum was on the house. Shortly before we left Tuula and Denis from TUULA, women's fine fashion, came in for lunch. It is a bit of a place for local shopkeepers as they don't advertise too much. We think it is a great palce to go if you are in town for the market or for shopping.
That evening we had a final dinner at Montmartre Restaurant. Given our large lunch, we skipped aps and just had our usual bottle of 97 Beaune Pimont and two of our favorite meals on the island: fresh sashimi quality tuna filet, barely seared and the lamb chops with thyme and herbs. Both came with two vegetable purées and the lamb chops had some bonus ratatouille. They were wonderful with the smooth nine year old Burgundy. We ended with coffees and Armagnac, savoring our last night at Montmartre this season. It's a lovely restaurant with great food and superb service.
Our last dinner out was at Mario's Bistro and it was a fitting end to a glorious season of dining. Mario is hitting new heights this season. We ordered Drouhin's 2002 Beaune Clos des Mouches (99€) and started with grilled shrimp and chorizo with green olive tapenade on roast garlic flavored polenta croutons and Reggiano shavings on a bed of arugula with a red pepper vinaigrette (14€). While we were enjoying the wine and anticipating the complicated ap, Martyne delivered some duck breast raviolis with a banana BBQ sauce on a bed of shredded Granny Smith apple with shizo and a side of wasabi-flavored crème brûlée. Last year, through several meals at La Vi en Rose, I mused on what could justify higher prices. The basic answer is high-priced exotic ingredients and labor intensive preparations, plus an expensive waterfront location and fine furnishings. Every shrimp was peeled and had a slice of chorizo skewered to it. Garlic polenta had to be made and then made into crispy croutons which then had to be festooned with a dollop of green olive tapenade. Reggiano is not cheap and neither is arugula. And of course, it is all worthwhile because the resulting taste was fantastic. I leave it to you to contemplate the work involved in the other ap, although I'll point out that there is no duck breast ravioli tree, even in the Caribbean. I digress, but both of these were fabulous combos of tastes and textures aided by a wonderful smooth Burgundy, which was disappearing so fast that Martyne brought over a bottle of the 2002 Nuit St Georges Premier Cru from Domaine de la Perdrix. This was an even bigger and bolder Burgundy and went well with my fall off the bone short rib with a pinot noir sauce on wild mushroom risotto with a portobello mushroom tempura and some onion confit, all sprinkled with white truffle oil. Martyne said that Mario uses five bottles of Pinot to come up with 2 cups of sauce and I believe her based on the taste and consistency. Martha had an old favorite: tuna topped with bleu cheese on a bed of gnocchi with a tomato sauce. Both dinners were superb constructions and entirely too much for people who generally split one appetizer. There was no way we were going home without a doggie bag. Don't be bashful as Martyne has ordered lovely bags that just fit the styro takeout containers. We finished with coffee and armagnac and two hours of talking. Everybody had left and Martyne sat down to discuss her new project. More on this later. Fabulous dinner.
Changes: Maeva has closed in Grand Case. Havana Too in Marigot is now a bakery called Sarafina's. Phuket on Marina Royale has been rather dark for the last few evenings. La Bodeguita has been totally dark, although they are a late night spot. The tiles in front of them and the old Bussola have been taken up and replaced. There is construction activity in Bussola. I guess this isn't a change, but The Daily Herald reported earlier this week that the owner of Sunset Beach Bar was still in jail.
---
BARGAINS
---
Caribbean View Condo: We are heading home soon, so our one-bedroom 1,000 square feet condo will be available for rent. The rate on the website is $1000 per week and you get a $50 gift certificate to Ama Bella, jewelers and more, a coupon good for the very best discount that Select Wine Cellar can offer plus a few tastes, a $50 coupon to the island's best new restaurant SkipJack's, a two for one ride on Celine's famous Lagoon Pub Crawl, a welcome champagne and an after-dinner drink from your choice one of the following: Auberge Gourmande, Sunset Café, or Montmartre, two free admissions to Golden Eyes, adult entertainment in Simpson Bay, and a 10% discount off the prices posted on Unity Car Rental's website. Moreover, I'll take $100 off for any newsletter subscriber. That brings the cost down to about $100 per night, tax and service charge included.
Coupons: Look on the SXM-Info website for a list of all restaurants and others that have coupons for some freebie or discount. There are several coupons there to make your vacation a bit cheaper. Here's a list of what you'll find:
Those who like Club Orient might be interested in Club Fantastico. Check it out.
L'Esperance Hotel has great rates and is conveniently located. It's quite handy if you just need a night or two at either end of your vacation because of the wretched flight schedules. They have a lovely pool and offer free wireless internet access.
Sandy Molloy at Molloy Travel says that she can generally beat any rates you can get from the hotels. Give her a shot.
Regards,
Erich S. Kranz
www.SXM-Info.com
Click here to subscribe or unsubscribe