Grand Case - 2 April to 14 May
L'Alabama Restaurant - $100 off a dinner for two
Tastevin Restaurant - $100 off a dinner for two
Bistrot Caraïbes - $100 off a dinner for two
Hibiscus Restaurant - $50 off a dinner for two
Atelier des Tropismes - signed print from Paul Elliott Thuleau
Grand Case - Grand Case Cookbook
12 meter challenge: America's Cup Racing - one ticket on the number one activity in the Caribbean

You'll note there are seven prizes and only five entry slots on the contest form. You must choose the five you want and allow someone else to share in these prizes. The rules make all other contests look like do-it-yourself brain surgery. Just go to the Grand Case feature, find the codes, enter them on the form, click send - one form per contest. Good Luck.
Let's go over the rules:
Rule #1 - Visit the website(s) and find the entry code. In this case, just: Grand Case feature
Rule #2 - Send in ONE entry using the form with all the contest codes for the contests you wish to enter.
Rule #3 - If the prize-awarding entity goes out of business before you claim your prize, you are unlikely to get your prize.
Rule #4 - Prizes are valid for one year from the award date.
Rule #5 - There is no rule number five.
Yes, we added 3 and 4. Still, it's a lot easier than other contests and there is no timeshare presentation. We choose an email randomly from all those received. If that person has entered multiple times, we throw them all out. If not, that person will win all the prizes for which the correct contest code has been entered. If all the contests have not been won by this person, another email will be chosen, etc until all prizes have been won.
Future Contests:
Orient - 15 May to 31 July
Bikini Beach - A DAY AT THE BEACH (including 2 chairs and a parasol, 2 welcome punches and $50.00 credit towards food and drink)
Beau Beau's - $50 off a dinner for two
Panoramic Car Rental - $100 off a one week rental
12 meter challenge: America's Cup Racing - one ticket on the number one activity in the Caribbean
Grand Case - Grand Case Cookbook

Simpson Bay - 2 July to 13 August
Horny Toad Guesthouse - seven low season nights for the price of five
Turquoise Shell Inn - seven nights for the price of five (until 31 Dec)
Unity Car Rental - $100 off a one week rental
12 meter challenge: America's Cup Racing - one ticket on the number one activity in the Caribbean
La Guinguette Restaurant - $60 toward a meal for two
Grand Case - Grand Case Cookbook

Activities and more - 13 August to 15 October
Marci's Mega Gym 2000 - 4 yoga classes with Valerie and one week admission to the gym
12 meter challenge: America's Cup Racing - one ticket on the number one activity in the Caribbean
Prince Rental Car - a week's rental in low season for only $50
Tri Sport - two for 1 kayak exploration of the lagoon
Octaedre Gems - earrings
Grand Case - Grand Case Cookbook

15 October to 26 November
L'Esperance Car Rental - $100 off a weekly low season rental
12 meter challenge: America's Cup Racing - one ticket on the number one activity in the Caribbean
Blue Martini - $50 off a dinner for two
Hibiscus Restaurant - $50 off a dinner for two
Grand Case - Grand Case Cookbook

Grand Case - 26 November to 24 December
California Restaurant - $100 off a dinner for two
California Apartments - $100 off a week's stay
Rainbow Café - $100 off a dinner for two
Ti Coin Créole - $50 off a dinner for two
Atelier des Tropismes - signed print from Paul Elliott Thuleau
Grand Case - Grand Case Cookbook
12 meter challenge: America's Cup Racing - one ticket on the number one activity in the Caribbean

---
RESTAURANTS
---
On 16 April the euro was at 1.210 last week and today it is at 1.230. Not much, but more than usual of late. French side restaurants with many costs in dollars and many American (or Canadian) clients have been offering more favorable exchange rates. Some restaurants offer a 1 to 1 exchange. We got it at
Ti Bouchon
,
Ti Sucrier
,
Auberge Gourmande
,
Sunset Café
,
California Restaurant
,
Bistrot Caraïbes
,
Le Cottage Restaurant
,
Rainbow Café
,
Pirate Beach Bar
,
Pedro's Beach Bar
,
Bikini Beach
, and
Restaurant du Soleil
and noticed it at
La Marine Restaurant
, Layla's, Santal, Chez Martine, Marlin's Cafe, and all the lolos in Grand Case. Note that some only offer this rate for cash. As always, know what the euro is worth, what the restaurateur is offering for an exchange, and what the costs are on the menu. Finally, you are here to have fun and fine food, not to do complex financial calculations, so don't worry about it too much.
We have been on a major eating spree as Martha's brother, a chef, his wife, Joanna, and two children were here from 7 to 17 April.
On Saturday evening the adults had their final meal and the chef chose Dare to be Rare. The valet parking made life much easier. We had the same super Tuscan wine that we had on our previous visit, 1999 Roccato ($89), but with four people it was mostly gone before it opened up sufficiently. It's still a wonderful wine, but needs time to breathe, possibly decanting would help. We started with a tomato and mozzarella salad with basil oil, and balsamic drizzle ($15) that was breathtaking in its perfection, creamy mozzarella and spot-on ripeness in the tomatoes. I reprised the goat cheese and granny smith apple bits in a fried wrapper on a bed of greens ($14) that we had tested previously. It's now on the menu and we all found it most interesting. The tempura shrimp cocktail with wakame and coconut curry ($14) rounded out our aps. It's a variation on the mussel shooters, an old favorite at Dino's Temptation Restaurant next door. For dinner the chef and I split the de-constructed Porterhouse, a 16 oz dry aged bone in KC strip and 8 oz wet aged filet on the same platter. The chef and his sister (who was also a chef) say this is the best steak they have ever had. Our other main courses were a very tasty veal chop and an even more flavorful lamb shishkabob. We had side dishes of spinach, broccoli, onion rings with chipotle ketchup (!), and the Lyonnaise potatoes (!!). At some point a 2004 La Crema Pinot was called in. We ended with a few coffees and three armagnacs, bringing the bill to $418, to which we added a nice tip for very good service. It's a beautiful place with good service and absolutely spectacular food, at a price.
Earlier that evening, the children were taken to Opus Restaurant at Sapphire Beach Club for dinner. One of them had the shrimp in lobster sauce on pasta. Both chefs accompanied the children and raved about the real lobster sauce, which is to say, when Chef Eric doesn't have to limit himself to $25 three course meals, he can be very impressive. Earlier this season, I had a very nice bit of beef with morel mushrooms. It is much more than the usual timeshare restaurant.
The next day (Easter) we braved the crowds and went to Orient. Sunday produces crowds, Easter produces bigger crowds, and the George Washington was disgorging thousands of sailors. For some reason, they seemed to like Orient Beach. We did have to pay $3 to park for the first time this season, but given what we then spent on drinks and chairs at Pedro's Beach Bar, it was a minor detail. It was a lovely day, a bit breezy, and we stayed on the beach until about 5:30 and then went to Pedro's for another cocktail and listened to the music. There is a photo of the band in the online version. We drove off to Orient Village and had another cocktail at the Fish Bar (Stella Artois on tap!) as we watched several games of boules in the square. Eventually, Tai Chi Restaurant opened and we headed over for an early dinner. We tried the spring rolls and nems and my vote goes to the fried nem over the uncooked spring roll. I like the crunch (and probably the fat from the fryer). We then had five main courses: beef and chicken thai style, a shrimp noodle dish, caramel pork, and a Peking duck. The caramel pork was most interesting but all were good. We went through two bottles of LaForet Pinot Noir and three bottles of water to bring the bill up to about $180, not bad for feeding six! We sat at an outdoor table and enjoyed the lovely evening and good service.

On Monday, our visitors returned to South Carolina and we had a very small meal at home, partially because we had long planned to go to the wine tasting dinner the next night at Enjoy Restaurant with wines poured by Sylvain at Select Wine Cellar. The meal was very good, the setting was delightful. We had a great time and will do another one of these whenever they have them. At 55 euros (about $66), it was a bargain. There are photos and a complete menu on Select's Website.

There are photos of a similar dinner, available on two days notice, at Hibiscus Restaurant. I'll warn you that it was even more food. It was 65 euros with no wine, but we had four people and ordered a white and a red wine for the dinner and glasses of sweet wine for dessert, creating our own mini-tasting. Again, the menu and photos are on the website.
These are photos of Grand Case, taken as we wandered about before the dinner at Enjoy. The almond tree next to the church is laden with almonds. I'm not sure what the new shop between Il Nettuno Restaurant and Restaurant du Soleil is selling. La Noche is taking over the old space that was Bombay Brasserie. Below is Cedric from Soleil pouring us a glass of chardonnay as the sun set behind him.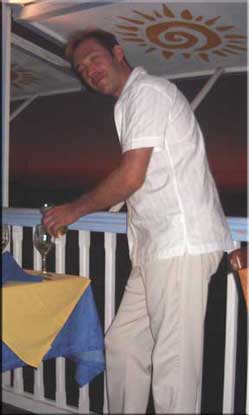 On Wednesday we had another small dinner at
Bali Bar
in Marina Royale: a bottle of rosé, a bottle of water, a tuna tartare ap, and a Spanish plate that turned out to be quite a bit of food. It contained eight small dishes about (four by four inches): potato salad, guacamole, red peppers, chunks from a Spanish omelet, deep fried chorizo (crispy, tasty, and hot), chile con carne, squid rings, and a couple large mussels with garlic butter. It was all pretty good in a sumptuous setting (see the
website
) with good service. We were given after dinner rum and only spent $71, although we did leave a bit more.
Thursday evening we headed over to Philipsburg, taking the shortcut to the waterfront off the top rotary (see our map) and drove down the recently opened (but not completed) Front Street. It now has paving stones, sidewalks, and cast iron streetlights from one end of town to the other. They are still working on the landscaping. We drove all the way to the head of town and turned right toward the cruise ships and parked in the new lot at Bobby's Marina. At night there is plenty of parking, although it can get full during the day (another 70 parking spots are planned and the new lot just opened on the Pond at the head of town). We had a very short walk to the 12 Metre Yacht Club and sat down at a waterfront table. They serve as the waiting room and coffee shop for the America's Cup 12 Metre Racing in the morning and lure many of the racers in for a lovely lunch. We were there for dinner and started with a bottle of water and La Crema Pinot Noir ($32). Our ap was a personal pizza featuring smoky bacon, goat cheese, and caramelized onions - wonderful. They had another interesting variety, but we could hardly do two and have dinner. They are on Bobby's Marina and get first crack at the fish coming off many charter boats (including Roy Deep Sea Fishing). We were told the mahi was about two hours out of the water. Martha ordered it with Cajun spices and a pineapple salsa ($18) while I went with the yellowfin tuna, lightly seared, with a soy-based glaze ($19). Both fish came with rice and a green salad. David, the GM, was correct: the mahi was fabulous, but the tuna was pretty good also. We finished with a port tasting. They have four kinds and we had a lighter and a 10 year old with our coffee as we chattered with David and looked out on the marina. The wine list is quite good and the higher priced wines are not tripled in price, but merely have a $25 or so markup. I thought our La Crema was very good, esp at the price. All in all, it was a lovely evening and the nearby parking lot (which they will comp) makes it a handy spot for some great fish on the waterfront.
Changes: Just a reminder that the Greenhouse Restaurant now has a parking lot just behind it. Conan has said that they will cover the first two hours of your parking with the purchase of a meal. However, the parking lot gates have arrived before his validator. It appears to be on a slow boat, so he cannot validate tickets at the moment. This is all because the lot at Bobby's requires the attendant to run your ticket through a validator which puts a code on it. You then put that into the gate and it opens to let you out. The 12 Metre Yacht Club has an easier (and cheaper for them) approach: they just take $2 off your lunch bill or $3 off your dinner bill (it's $1 per hour). Stay tuned.
Hanabi's fixtures were to be auctioned on Friday morning according to a notice in The Daily Herald.
---
BARGAINS
---
Caribbean View Condo: We are heading home soon, so our one-bedroom 1,000 square feet condo will be available for rent. The rate on the website is $1000 per week and you get a $50 gift certificate to Ama Bella, jewelers and more, a coupon good for the very best discount that Select Wine Cellar can offer plus a few tastes, a $50 coupon to the island's best new restaurant SkipJack's, a two for one ride on Celine's famous Lagoon Pub Crawl, a welcome champagne and an after-dinner drink from your choice one of the following: Auberge Gourmande, Sunset Café, or Montmartre, two free admissions to Golden Eyes, adult entertainment in Simpson Bay, and a 10% discount off the prices posted on Unity Car Rental's website. Moreover, I'll take $100 off for any newsletter subscriber. That brings the cost down to about $100 per night, tax and service charge included.
Coupons: Look on the SXM-Info website for a list of all restaurants and others that have coupons for some freebie or discount. There are several coupons there to make your vacation a bit cheaper. Here's a list of what you'll find:
Those who like Club Orient might be interested in Club Fantastico. Check it out.
L'Esperance Hotel has great rates and is conveniently located. It's quite handy if you just need a night or two at either end of your vacation because of the wretched flight schedules. They have a lovely pool and offer free wireless internet access.
Sandy Molloy at Molloy Travel says that she can generally beat any rates you can get from the hotels. Give her a shot.
Regards,
Erich S. Kranz
www.SXM-Info.com
Click here to subscribe or unsubscribe