Grand Case - 2 April to 14 May
L'Alabama Restaurant - $100 off a dinner for two
Tastevin Restaurant - $100 off a dinner for two
Bistrot Caraïbes - $100 off a dinner for two
Hibiscus Restaurant - $50 off a dinner for two
Atelier des Tropismes - signed print from Paul Elliott Thuleau
Grand Case - Grand Case Cookbook
12 meter challenge: America's Cup Racing - one ticket on the number one activity in the Caribbean

You'll note there are seven prizes and only five entry slots on the contest form. You must choose the five you want and allow someone else to share in these prizes. The rules make all other contests look like do-it-yourself brain surgery. Just go to the Grand Case feature, find the codes, enter them on the form, click send - one form per contest. Good Luck.
Let's go over the rules:
Rule #1 - Visit the website(s) and find the entry code. In this case, just: Grand Case feature
Rule #2 - Send in ONE entry using the form with all the contest codes for the contests you wish to enter.
Rule #3 - If the prize-awarding entity goes out of business before you claim your prize, you are unlikely to get your prize.
Rule #4 - Prizes are valid for one year from the award date.
Rule #5 - There is no rule number five.
Yes, we added 3 and 4. Still, it's a lot easier than other contests and there is no timeshare presentation. We choose an email randomly from all those received. If that person has entered multiple times, we throw them all out. If not, that person will win all the prizes for which the correct contest code has been entered. If all the contests have not been won by this person, another email will be chosen, etc until all prizes have been won.
Future Contests:
Orient - 15 May to 31 July
Bikini Beach - A DAY AT THE BEACH (including 2 chairs and a parasol, 2 welcome punches and $50.00 credit towards food and drink)
Beau Beau's - $50 off a dinner for two
Panoramic Car Rental - $100 off a one week rental
12 meter challenge: America's Cup Racing - one ticket on the number one activity in the Caribbean
Grand Case - Grand Case Cookbook

Simpson Bay - 2 July to 13 August
Horny Toad Guesthouse - seven low season nights for the price of five
Turquoise Shell Inn - seven nights for the price of five (until 31 Dec)
Unity Car Rental - $100 off a one week rental
12 meter challenge: America's Cup Racing - one ticket on the number one activity in the Caribbean
La Guinguette Restaurant - $60 toward a meal for two
Grand Case - Grand Case Cookbook

Activities and more - 13 August to 15 October
Marci's Mega Gym 2000 - 4 yoga classes with Valerie and one week admission to the gym
12 meter challenge: America's Cup Racing - one ticket on the number one activity in the Caribbean
Prince Rental Car - a week's rental in low season for only $50
Tri Sport - two for 1 kayak exploration of the lagoon
Octaedre Gems - earrings
Grand Case - Grand Case Cookbook

15 October to 26 November
L'Esperance Car Rental - $100 off a weekly low season rental
12 meter challenge: America's Cup Racing - one ticket on the number one activity in the Caribbean
Blue Martini - $50 off a dinner for two
Hibiscus Restaurant - $50 off a dinner for two
Grand Case - Grand Case Cookbook

Grand Case - 26 November to 24 December
California Restaurant - $100 off a dinner for two
California Apartments - $100 off a week's stay
Rainbow Café - $100 off a dinner for two
Ti Coin Créole - $50 off a dinner for two
Atelier des Tropismes - signed print from Paul Elliott Thuleau
Grand Case - Grand Case Cookbook
12 meter challenge: America's Cup Racing - one ticket on the number one activity in the Caribbean

---
RESTAURANTS
---
On 2 April The euro was at 1.211 last week and today it is at 1.211. I hope you took advantage of this major movement. French side restaurants with many costs in dollars and many American (or Canadian) clients have been offering more favorable exchange rates. Some restaurants offer a 1 to 1 exchange. We got it at
Ti Sucrier
,
Auberge Gourmande
,
Sunset Café
,
California Restaurant
,
Bistrot Caraïbes
,
Le Cottage Restaurant
,
Rainbow Café
,
Pedro's Beach Bar
,
Bikini Beach
, and
Restaurant du Soleil
and noticed it at
La Marine Restaurant
, Layla's, Santal, Chez Martine, Marlin's Cafe, and all the lolos in Grand Case. Note that some only offer this rate for cash. As always, know what the euro is worth, what the restaurateur is offering for an exchange, and what the costs are on the menu. Finally, you are here to have fun and fine food, not to do complex financial calculations, so don't worry about it too much.
On Tuesday 18 April, Select Wine Cellar and Enjoy Restaurant will be combining their talents to produce a tasting menu paired with Burgundies. The evening costs 55 euros per person and will start at about 8:30 at Enjoy's waterfront location. We'll be there and if you want to join, make a reservation early as it is a rather small restaurant.
| | |
| --- | --- |
| On Sunday we went to Grand Case for a leisurely lunch at Restaurant du Soleil. It's a bright blue and yellow place on the water just across from Grand Case Parking (which is free at lunchtime!). We started with a bottle of the Cote d'Une Nuit Rosé, which at $19 is a remarkable bargain. Cedric brought over fresh home-made potato chips as we gazed across the Bay to Anguilla, contemplating how difficult life was. Our guests arrived and we ordered a round of accras (salt-cod fritters) with a Créole sauce and tomatoes with fresh mozzarella. Our main courses were a fresh tuna salad (essentially Niçoise), a farmer salad (with hard boiled egg, potatoes, and chicken strips), chicken kebabs, and bit of Dover sole in lemon butter. For the main courses we stepped up to a 99 Chassagne-Montrachet from Bouchard, violating all rules about white wine with chicken and fish. A mango dessert, coffee, and an Armagnac finished a wonderful meal for a mere $155 for four people, aided by 1 to 1 on the euro. We really think that a long lunch in Grand Case is a wonderful low key way to spend an afternoon. It's quiet and the view can't be beat. Restaurant du Soleil, Sunset Café, L'Escapade Restaurant, Tastevin, and California Restaurant are open year round for lunch. Il Nettuno Restaurant does lunch only in high season. All have great views and turn out complete menus. Calmos Café offers feet in the sand dining on a smaller (and cheaper) menu plus beach chairs. That's the view of Grand Case Bay on the right. | |
On Monday night we stopped in at the TTOL party at The Wharf Restaurant. Kathy Segal organizes a good party and Bernard turned out some tasty pizzas for aps and who can resist half-price Stellas? Four of us ended up next door at SkipJack's where we had a rather small, but interesting, dinner. Our new friends, a couple from Iowa, had not eaten too much fish (for rather obvious reasons). I actually had the half the ribeye at SkipJack's for dinner one night and turned the doggie bag into several more Philly cheesesteaks at home. It's quite good, so I assured them that they could find something to eat. However, we convinced him to try the sesame-crusted tuna (medium) with a ponzu sauce ($20). She had the artichoke and crab dip appetizer. Martha had the tuna carpaccio ap and I had the sesame-crusted tuna (seared). The wrestling coach, steak and potatoes man was astounded by the tuna. It probably helped that he got a baked potato. SkipJack's was voted best new restaurant on the island for 2005. It's a pretty place with a great view and has top quality seafood, a great ribeye, and more - all at good prices.
On Tuesday night we were in Grand Case, but harmony night is history for the 2005/6 season. It's considerably quieter and we sought out the waterfront table at Auberge Gourmande. That's the one next to the fountain on the front porch offering a view of the street, which can be quite interesting. We started with the chicken livers in puff pastry with a mustard sauce on a bed of mixed greens. I rather like this dish and still do, especially with the Mercurey Premier Cru 2001 Cru Château de Mercey ($38). Dinners were the beef filet with a morel mushroom sauce ($30) and the roasted rack of lamb rubbed in a garlic herb paste, served with shallot sauce and olive mashed potatoes ($29). This is a fine restaurant in the center of town, not far from Grand Case Parking.
On Wednesday night we went to Terra Restaurant at Maho. It is the creation of American and CIA graduate Scott Clagget and his wife Edina Sipos, opening at the beginning of last season. We've heard many good things about it, so we gave it a try. They have tables inside and out on the terrace overlooking the Riviera. Unfortunately, this is the Riviera clothing store across the rather busy street. Nonetheless, it was a pleasant evening and I'll bet few people in the northeast US were dining al fresco. The wine list is rather long with about forty French, forty American, forty other wines, plus champagne. It is a bit light on Burgundy, only four. We ordered water and the 2002 Bouchard Gevrey-Chambertin (about $70) that turned out to be quite nice. The menu had eight aps ranging from $9 to $19. We settled on the crabcakes. A sourdough bread, made with their own two-year old starter and brushed with olive oil to keep the crust soft, arrived with a dipping sauce of sundried tomatoes, pesto, and parmesan. I forced myself to leave one piece as I continually tried to decide if the bread was better with or without the tasty dip. I still don't know. We asked for a glass of a Marsannay rosé to accompany the crabcakes ($11). It was rather dry and not overpowering, perfect for the delicate crab that arrived with crunchy corn, creamy avocado, and a tomato sauce with a hint of harissa(?). The crabcake was wonderfully heavy on crab and light on cake. There were eight main courses ranging from $24 to $36. Martha chose the braised short ribs with sweet potato polenta, tiny onions, carrots, green peppercorns, green beans, and celeriac and I had the bacon-wrapped venison with rainbow chard, mashed potatoes, and a bit of apple with a red wine glaze. The short rib is a signature dish and deservedly so. The meat was falling off the bone tender, there were a myriad of tastes, and the contrast between the tender meat and the crisp onions, carrots, and green beans was delightful. We have our own venison at home, raise our own rainbow chard and potatoes, and have an apple orchard, so we have come close to producing my dinner without leaving the property. Venison is very low in fat, so the bacon wrap is helpful and all game benefits from a sweet fruit, making this a wonderful combination of tastes and textures. We had an espresso and an Armagnac for dessert, bringing the tab to $203 after they added a 15% tip. My credit card slip came back at $203 with an empty spot to add an even bigger tip.
After dinner, we walked over to another of our clients: Platinum Room. This stop was only for business purposes so there is nothing further to report. On the way back we stopped at Night Off to see what it was. They opened at the beginning of this season and serve about 90 wines by the glass (including some rather pricey Grand Crus). You can also get some fantastic French cheeses in perfect condition along with some good French bread. We were so intrigued that we sat down and tasted a couple wines. Then we discussed cheese and when I saw some Pont L'Eveque, we started a serious wine and cheese tasting. Pont L'Eveque is a square shaped, washed rind cheese made from cow's milk in Normandy. Steven Jenkins says "Real Pont L'Eveque, Livarot, and Camembert are at once majestic and staple" in his Cheese Primer. As it is aged only one to two months, the unpasteurized version is rarely found in the US. We eventually tasted a Langres whose rind is washed with marc de Champagne and a Blue d'Auvergne (from raw milk) paired with Attitude. We ended with a fantastic Coulommiers paired with Alain Brumont's Pacherenc du Vic Bilh Octobre 2001. Our dessert was a Saumer Champigny made of Cabernet Franc and a bit of vintage Port. The proprietor's name is Vino Chahad. I am not making this up, however, he is returning to Europe in the next month and someone else will be here then.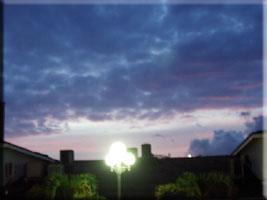 Thursday evening we returned to Night Off for a couple glasses of white wine before dinner at Gondola Restaurant. On the right is a shot of clouds turning pink at sunset after the storm that rolled through just before sunset. Some friends were returning to the US after several months and we were having one last blowout dinner. They choose Gondola, partly because they knew David when he was essentially across the street from them in Sandy Ground, partly because it is one of the best restaurants on the island. We arrived for the 7PM seating, but things are starting to slow down before the 15 April drop in hotel rates, so it was not very busy. David, the owner, and Marco, the chef, were in the dining room and I mentioned that the scallops on risotto with black truffles that I had two weeks earlier was fantastic. They said they could do it again. That solved my order questions. On the left is a photo of the scallop risotto.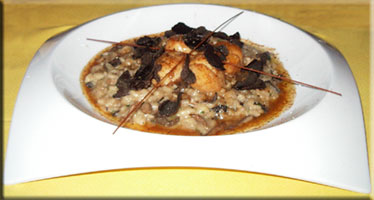 We ordered a caesar salad and fried calamari for aps and a Rafael Valpollicella ($43). The bruschetta with tomatoes, onions, and olive oil arrived, followed by another offering of focaccia with prosciutto and goat cheese baked and placed on a bed of arugula, and eventually by the aps. The calamari were amazingly tender and tasty on their bed of arugula. There were two orders of veal scaloppini with marsala sauce that was supposed to come with something, but our female friend said she liked the gnocchi. David asked if she wanted the tomato or gorgonzola sauce. When she hesitated, he said, "How about both?" Martha made it two and the other dinner was the seabass with sage. It was all good, especially the deep earthy aroma of the black truffles. They begged for an even sturdier wine and David offered up a Chianti Tenute ($69) from Antinori. He decanted it into some new-fangled invention that I would generally sneer at, but it does work and while the sediment problem is insignificant in young, filtered wines, the aeration does help. I can also attest that the veal marsala was good and the gnocchi were heavenly. A feather-light tiramisu, a few coffees, and a raft of grappa di chardonnays ended the very late evening that only cost $249 with no service charge. We added a generous one.
On Friday, Martha's brother, the executive chef at Frank's in Pawleys Island, arrived with his wife and two children, all good eaters. We drove over to the airport and parked at Lal's Indian Cuisine. It costs $2 for a Stella or $1 to park in the airport lot. You know my choice. Lal opens at 11 on Friday through Sunday, it's 3PM the rest of the week. Delta did not go on strike, our guests arrived on time, and we were back at Sapphire having wine and cheese for a late lunch by 2PM. The cheese was Morbier, Comté, a raw-milk Camembert, and Petit Billy, a great goat cheese, all from US Imports at the French bridge. The last time I was buying my favorite 2003 Savigny Les Beaune from Select Wine Cellar, Sylvain noted that his supplier was now selling the 2004, so I took home a bottle of that also. We tasted the two and I don't think I could tell them apart, which is good news, as I really liked the 2003.
Dinner that evening was at Thai Garden Restaurant in Sandy Ground. We found a parking spot in their small lot, but there generally is on street parking. They have a large menu with Chinese, Vietnamese, and Thai dishes, plus sushi. There is a wide selection of soups, salads, and hot and cold appetizers generally priced around 10€. Shrimp and duck entrees are generally under 20€ while fish, chicken, beef, and pork dishes are under 15€. We ordered beers, two baskets of steamed Chinese dumplings, and shrimp fritters. We've had the dumplings before and expected the shrimp fritters to be something like accras, but with shrimp rather than salt fish.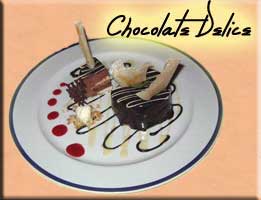 Not so, these were essentially fried shrimp with a tasty coating. Our dinners were the major sushi and sashimi platter, supposedly for two, but my guess is at least three, possibly four (45€). We then ordered duck with Thai basil, pork with masaman curry, and shrimp with red curry, all good, all different. This crowd likes to eat, but it was still more than we needed for six, despite ordering three aps and essentially five main courses. The total was about 150€ or about $180. Not bad for six people.
On Saturday evening the six of us went to Montmartre Restaurant next door at Atlantis Casino. We all started with a seafood platter: crabs, shrimp, oysters, and bulots (spiral-shelled clams) with light vinegar and chopped onion sauce and a creamy garlic sauce. Then it was on to sweetbreads, tournedos Rossini, kangaroo, chicken breast with forcemeat stuffing, herb-crusted lamb chops with a ratatouille, and a dozen snails for the eight-year old. She is an adventurous eater. Olivier says kangaroo has a texture like duck breast and a taste like beef tenderloin. The twelve-year old shared some with me and I agree. We started with a bottle of crisp Muscadet to go with the fish and moved on to the usual 1997 Champ Pimont Premier Cru Beaune for dinner (two, in fact). The children had a chocolate delice and the molten chocolate cake for dessert as we drank coffee and marveled at their ability to eat.
---
BARGAINS
---
Look on the SXM-Info website for a list of all restaurants and others that have coupons for some freebie or discount. There are several coupons there to make your vacation a bit cheaper. Here's a list of what you'll find:
Those who like Club Orient might be interested in Club Fantastico. Check it out.
L'Esperance Hotel has great rates and is conveniently located. It's quite handy if you just need a night or two at either end of your vacation because of the wretched flight schedules. They have a lovely pool and offer free wireless internet access.
Sandy Molloy at Molloy Travel says that she can generally beat any rates you can get from the hotels. Give her a shot.
Regards,
Erich S. Kranz
www.SXM-Info.com
Click here to subscribe or unsubscribe