Grand Case - 2 April to 14 May
L'Alabama Restaurant
- $100 off a dinner for two
Tastevin Restaurant
- $100 off a dinner for two
Bistrot Caraïbes
- $100 off a dinner for two
Hibiscus Restaurant
- $50 off a dinner for two
Atelier des Tropismes
- signed print from Paul Elliott Thuleau
Grand Case
- Grand Case Cookbook
12 meter challenge: America's Cup Racing
- one ticket on the number one activity in the Caribbean
You'll note there are seven prizes and only five entry slots on the contest form. You must choose the five you want and allow someone else to share in these prizes. The rules make all other contests look like do-it-yourself brain surgery. Just go to the Grand Case feature, find the codes, enter them on the form, click send - one form per contest. Good Luck.
Let's go over the rules:
Rule #1 - Visit the website(s) and find the entry code. In this case, just: Grand Case feature
Rule #2 - Send in ONE entry using the form with all the contest codes for the contests you wish to enter.
Rule #3 - If the prize-awarding entity goes out of business before you claim your prize, you are unlikely to get your prize.
Rule #4 - Prizes are valid for one year from the award date.
Rule #5 - There is no rule number five.
Yes, we added 3 and 4. Still, it's a lot easier than other contests and there is no timeshare presentation. We choose an email randomly from all those received. If that person has entered multiple times, we throw them all out. If not, that person will win all the prizes for which the correct contest code has been entered. If all the contests have not been won by this person, another email will be chosen, etc until all prizes have been won.
The winners of the contest that just ended are:
SXM Ultra Luxe
Dawn Beach Villas - $350 off a weeks rental - Gretchen Shaw
Dare to be Rare Steakhouse - $100 off a dinner for two - Jeanine Penta
Temptation Restaurant - $100 off a dinner for two - Jeanine Penta
La Samanna - $100 off a dinner for two - Jeanine Penta
La Vie en Rose - $100 off a dinner for two - Jeanine Penta
Antoine Restaurant - $100 off a dinner for two - Jerry & Joan Schulman
L'Escargot Restaurant - $100 off a dinner for two - Jeanine Penta
Future Contests:
Orient - 15 May to 31 July
Bikini Beach - A DAY AT THE BEACH (including 2 chairs and a parasol, 2 welcome punches and $50.00 credit towards food and drink)
Beau Beau's - $50 off a dinner for two
Panoramic Car Rental - $100 off a one week rental
12 meter challenge: America's Cup Racing - one ticket on the number one activity in the Caribbean
Grand Case - Grand Case Cookbook

Simpson Bay - 2 July to 13 August
Horny Toad Guesthouse - seven low season nights for the price of five
Turquoise Shell Inn - seven nights for the price of five (until 31 Dec)
Unity Car Rental - $100 off a one week rental
12 meter challenge: America's Cup Racing - one ticket on the number one activity in the Caribbean
La Guinguette Restaurant - $60 toward a meal for two
Grand Case - Grand Case Cookbook

Activities and more - 13 August to 15 October
Marci's Mega Gym 2000 - 4 yoga classes with Valerie and one week admission to the gym
12 meter challenge: America's Cup Racing - one ticket on the number one activity in the Caribbean
Tri Sport - two for 1 kayak exploration of the lagoon
Octaedre Gems - earrings
Grand Case - Grand Case Cookbook

15 October to 26 November
L'Esperance Car Rental - $100 off a weekly low season rental
12 meter challenge: America's Cup Racing - one ticket on the number one activity in the Caribbean
Blue Martini - $50 off a dinner for two
Hibiscus Restaurant - $50 off a dinner for two
Grand Case - Grand Case Cookbook

Grand Case - 26 November to 24 December
California Restaurant - $100 off a dinner for two
California Apartments - $100 off a week's stay
Rainbow Café - $100 off a dinner for two
Ti Coin Créole - $50 off a dinner for two
Atelier des Tropismes - signed print from Paul Elliott Thuleau
Grand Case - Grand Case Cookbook
12 meter challenge: America's Cup Racing - one ticket on the number one activity in the Caribbean

---
RESTAURANTS
---
On 19 March the euro was at 1.203 and today it is at 1.211. Nothing happening here. French side restaurants with many costs in dollars and many American (or Canadian) clients have been offering more favorable exchange rates. Some restaurants offer a 1 to 1 exchange. We got it at
Ti Sucrier
,
Auberge Gourmande
,
Sunset Café
,
California Restaurant
,
Bistrot Caraïbes
,
Le Cottage Restaurant
,
Rainbow Café
,
Pedro's Beach Bar
,
Bikini Beach
, and
Restaurant du Soleil
and noticed it at
La Marine Restaurant
, Layla's, Santal, Chez Martine, Marlin's Cafe, and all the lolos in Grand Case. Note that some only offer this rate for cash. As always, know what the euro is worth, what the restaurateur is offering for an exchange, and what the costs are on the menu. Finally, you are here to have fun and fine food, not to do complex financial calculations, so don't worry about it too much.
Halsey's Restaurant is having a Japanese Dinner and with Sake and Wine pairings on Sunday April 9. There are more details and the full menu on their website.
On Tuesday 18 April, Select Wine Cellar and Enjoy Restaurant will be combining their talents to produce a tasting menu paired with Burgundies. The evening costs 55 euros per person and will start at about 8:30 at Enjoy's waterfront location. We'll be there and if you want to join, make a reservation early as it is a rather small restaurant.
On Sunday we caught a lovely sunset at Horny Toad Guesthouse and stopped at Kahlil's Shawerma place. He has taken over Philly Joe's Pizza and given up on pizza rather quickly. The new sign now says Mr El-Taieb. We still had some fine leftovers in our fridge so one mixed chicken and lamb platter ($6) was more than enough to complete our dinner. For the uninitiated, shawerma starts with great slabs of meat on vertical skewers rotating past a grill on the back. As the meat cooks, it is sliced off and usually layered into pita bread with lettuce, tomatoes, and sauce. Hot sauce is available and at Kahlil's it is very good and very hot. For the platter, they just give you lots of fixings and some bread.
On Monday night we went to SkipJack's. In addition to fresh fish, it's close and they usually have some parking. We had a bottle of the Girardin Bourgogne ($26, and very good at that price) and the marinated calamari on a bed of lettuce, carrots, cucumbers, and tomatoes - very tender and tasty ($10). Our dinners were the sesame crusted yellowfin tuna with a ponzu dipping sauce, choice of potato or rice, and grilled carrots, peppers, and zucchini ($20). The tuna was wonderful, lightly seared, and the sauce was good, a bit sweet, but in a small bowl, so you got to use as much or as little as you liked. The total dinner was $75 or $90 with a nice tip for good, friendly service at a waterfront table. The night had cooled off a bit and we lingered as finished the wine and sampled some mescal. Neil arrived on Celine with some Pub Crawlers and they too were enjoying the cooler night air after a very warm and humid day.
On Tuesday night we walked from Sapphire over to Montmartre Restaurant for some interesting French cuisine on the Dutch side. We ordered our usual 97 Beaune Pimont and ordered the Tuna Tartare - fresh tuna loin flavored gently with Tahitian vanilla, served with soy sauce and ginger. Martha had the sliced duck breast, and duck leg confit on Provencal potato puree with garlic flavored duck jus and I had the rack of spring lamb roasted with a crust of fresh goat cheese and walnuts, accompanied by Provencal vegetables. Goat cheese is wonderful stuff! They are working a new menu into the rotation. It includes many of our old favorites, some with slight variations, and many new things. Service is still among the best on the island and the dining room looks better than ever. The outside tables are quite nice now that Karen's landscaping is filling out, although on Tuesday night we opted for the a/c. Great food, great service, great wine. We're glad they are so close!
On Wednesday night we headed out to French Cul de Sac to Ti Bouchon. It's a new restaurant that is in the old Piccolo location. The chef is the former second chef at Le Cottage Restaurant who has been given a chance to shine on his own, and he does. The menu is small, highly changeable depending on the market, and loaded with interesting dishes at reasonable prices. Dining is still on the wraparound porch and as the weather had started to break, it was quite pleasant. We started with a bottle of water and a bit of Campari as we chatted with Momo about the menu and the difficulties of running a restaurant with unreliable and late suppliers. We asked for a bottle of the 2002 Leo de Gaffliere ($37), a St Emilion, the second wine of Ch La Gaffliere. It came at cellar temperature and as it warmed up it became quite pleasant. Bordeaux in general has about 80% cabernet sauvignon grape with the balance being merlot and a bit of a few others, notably cabernet franc. St Emilion generally increases the merlot portion at the expense of the cabernet sauvignon and while we generally dislike straight merlot (see the movie Sideways for a full explanation), we do seem to like what it does to cabernet sauvignon. After we started on the wine, the Merchant's Market truck arrived with the day's delivery. Our appetizers were the escargot with garlic butter in hollowed out creamer potatoes with a hazelnut crust with a port wine reduction sauce and a bit of fleur de sel on the side ($10). This is a long way from the standard snails and better. It starts out standard, adds potatoes to corral the garlic butter, and provide a creamy textural counterpoint to the chewy snails, but then adds a crunch on the outside of the snails with two bonus flavor accents: salt and port wine. We thought it was fabulous and the wine really helped. My dinner was the sweetbreads with lots of girolles, peas, and beans ($21). Martha had ongle (hanger steak) which is a cut between the last rib and the loin, the thick end of the diaphragm. It's actually quite flavorful and the fettuccini with truffle oil and shaved parmesan helped it along. We had a splash of cognac with the molten chocolate cake for dessert ($10). It was a very fine dinner for about $120. We're sorry they are so far, but they would be quite convenient for anyone at Orient!
A slight diversion: Ti is short for petite (small) and is used in several restaurant names Ma Ti beach, Ti Coin Creole, etc. Bouchon means cork in French, but in this case, is a reference to restaurants in Lyon that serve plenty of good food cheap. Generally they are mom and pop (or family) establishments where the marketing is done in the morning and fabulous lunches and dinners are assembled from the freshest ingredients. Hence, the talk about deliveries here on the island. This also led to some kvetching about standardized food and wine which led to some complaints about super Tuscan winemaking wherein celebrity winemakers fly in, add cab to traditional grapes, and make a wine that sells much better even as it loses its traditions. This complaint is somewhat related to the slow food movement and as a couple that grows enough vegetables for ourselves and several neighbors, raises chickens for meat and eggs, and raises lamb, we sympathize. But, if you can't sell your wine and the addition of a bit of cab changes that, then what is one to do? I do have some super Tuscans in my wine cellar and they are great. Read this article for more info on super Tuscans. In a related story, the 31 March International Edition of the Miami Herald reports that the French can now put oak chips in stainless vats to give their wine the flavor that Americans have come to love.
We headed home by way of Simpson Bay, stopping at The Wharf Restaurant for some Stella Artois and a few songs from the band. There is a TTOL party here on Monday night (tomorrow) - half-price drinks, free aps, and a discount on dinner. As they closed we drove on toward home but stopped at Lal's across from the airport where we met Lal (of course) and Neil with another batch of Pub Crawlers. More Stellas and Hoegaardens ensued.
On Thursday night we headed over to Temptation Restaurant for a dinner on the patio with the falling water. It's quite pleasant. We had been at a friend's house for cocktails, so we drove over but now that Atlantis Casino has free valet parking it's not a problem. The valet stand is in front of Temptation, but can be used by anyone visiting any of the restaurants or the casino. Dino recommended a super Tuscan: 99 Roccato ($89). It was wonderful as the cab does smooth out the rougher edges in the sangiovese and, to my taste, the sangiovese (or in the case of St Emilion, the merlot) tempers the tobacco taste of the cab. I think they are all better for it, even as they all approach a similar taste. Our ap was Dino's tempura mussel shooters, crispy mussels is a slightly spicy sauce - lots of flavor and lots of textures. The wine handled the heat well. Our dinners were the Pan Seared Diver Scallops with nutmeg scented buckwheat noodles, crème fraiche, and tobiko caviar ($36) and Red Wine Braised Osso Bucco with shiitake mushrooms, baby carrots, and basil polenta ($33). Again, many flavors and textures and the wine worked well with the scallops but was fantastic with the osso bucco. We chatted with Dino after dinner and he remarked that one of his favorite sushi places was Nori's Mambo Sushi in Marigot.
Next morning over cafe au lait and croissants at Belle Epoque Restaurant, Georges asked us to put a site up for Bali Bar. As we walked out to Marigot for some shopping, we bumped into Nori at his restaurant. It's a small island.
That evening we went to Ti Coin Créole for dinner. Carl Philips serves some great Créole food in his Créole cottage on the road to Grand Case Beach Club. Many visitors to the Beach Club walk toward town, stop to read the menu, and don't make it any farther than one of Carl's open air tables. He also has been known to take food up the hill to L'Esplanade Hotel. Dinner started with water, a bottle of St Emilion ($30), and four hot-out-of-the-oven dinner rolls. The menu has several appetizers and we especially like the stuffed crab back and the conch cocktail. The crab back is stuffed with Carl's own version of crab, bread crumbs, onion, and Caribbean spices. It's not terribly hot, just tasty, but he brings a bottle of his own hot sauce to the table. Use it carefully. Martha ordered the stewed conch which brings tender conch in a spicy tomato sauce to your table with broccoli, breadfruit, papaya, and rice. My mahi came with a curry sauce and the same accompaniments. It is those accompaniments that set Carl's restaurant apart from the lolos. Ignore the broccoli - many people do. We happily tasted the breadfruit and wondered what it was, slightly sweet, but not banana, possibly plantain? Carl explained that it was breadfruit, quite ripe, sliced and sautéed with a hint of mint. The papaya looked like yellow squash, but taste revealed that it was not. It had been sautéed in a bit of ginger. The total dinner, with the most expensive wine on the list, came in at about $90. After dinner, Carl took us all around the property to show us what his plans are for the future. Mostly to straighten up some vegetation and make two lovely outdoor or open-air dining areas.
| | |
| --- | --- |
| | This bread fruit tree was growing on the beach at Enjoy restaurant in Grand Case. The ill-fated voyage of Captain Bligh on the Bounty in 1787 was a quest for breadfruit to feed slaves in the Caribbean. After a ten month voyage from England, they actually gathered 1000 breadfruit plants from Tahiti onto the ship and were sailing back to the Caribbean when most of the crew mutinied, setting the Captain and 18 loyal crewmembers adrift in an open boat. Bligh actually made it 3000 miles across the south Pacific to the East Indies and returned to Tahiti, picked up 2100 plants and landed them in Jamaica in 1793. Alas, the slaves didn't like it very much. |
We walked back to our car in the center of town at the Grand Case Parking lot, but were lured into Blue Martini's garden by a reggae version of Angel of the Morning (and the thought of Stella on draft). Simple Stand, a local band from Grand Case was playing. Many songs later we made it to the still well-lit parking lot and headed to Bali Bar in Marina Royale to hear Hanna Haïs sing house, soul, and bossa nova. The place was packed when we arrived at about 11PM and going strong as we faded out at midnight.
The next day after Martha's massage and my snorkel, we met at Sunset Café for lunch. I had the usual mussels in white wine, onions, garlic, cream, a bit of parsley, and ??? Martha ordered another special, the fresh anchovies, battered and fried with a bit of salad and tartare sauce. They are not at all like the anchovies that get used in Caesar salad or the ones that are used to foul perfectly good pizza. These were quite tasty! She then moved on to a bit of warm goat cheese salad. It was a wonderful day and we lingered over the Carte Noir rosé, enjoying all the action on the beach.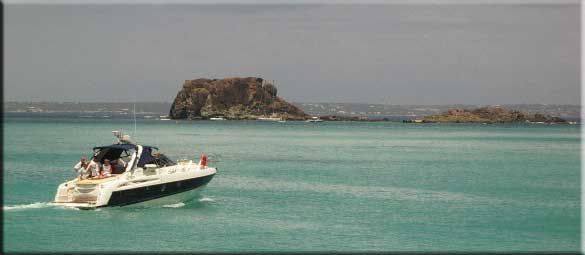 View from Sunset Café
Changes:
Grand Case
, Franco Burato, an Italian chef who recently worked on Tortola, has taken over Thierry Delaunay's
Hibiscus Restaurant
. Franco will continue many of Thierry's dishes and add a Mediterranean accent. We'll be visiting in the next week or so with Martha's brother (also a chef), so stay tuned. Bombay Brasserie is getting enlarged and will reopen as La Noche. Progress is proceeding at a Caribbean pace. In
Marina Royale
, Bonnardo's Pizzaria has become Topolino Pizzaria, serving pizza, pasta, and salads at lunch and dinner. Bonnardo still operates the bar next door. Bussola has closed.
---
BARGAINS
---
Look on the SXM-Info website for a list of all restaurants and others that have coupons for some freebie or discount. There are several coupons there to make your vacation a bit cheaper. Here's a list of what you'll find:
Those who like Club Orient might be interested in Club Fantastico. Check it out.
L'Esperance Hotel has great rates and is conveniently located. It's quite handy if you just need a night or two at either end of your vacation because of the wretched flight schedules. They have a lovely pool and offer free wireless internet access.
Sandy Molloy at Molloy Travel says that she can generally beat any rates you can get from the hotels. Give her a shot.
Regards,
Erich S. Kranz
www.SXM-Info.com
Click here to subscribe or unsubscribe