Weather:
Sunday continued a lovely week and ended with a
big green flash
. Monday was beautiful, warm, not much breeze, and ended in another, smaller green flash. Tuesday opened with the houses on Saba being visible and by the late afternoon, we could see, Saba, Statia, St Kitts, and Nevis from our balcony. Wouldn't you know that as we approached the Heineken Regatta weekend, the wind died to nothing. More bad news is that the breakers started hitting Cupecoy from the SW, taking away the beach at the NW end in front of the seawall. The wind came back, nothing great, but the sea stopped pounding our side of the island. The days have been spectacular. Sunny, hot, no rain. Saturday morning was a bit cloudy, but cleared out to bright sunshine. The sunset is about quarter after six. The moon is first quarter.
Beaches: Cupecoy from the parking lot up to the new seawall is looking great.
Construction: The Cliff is towering over Rainbow Beach and Sapphire.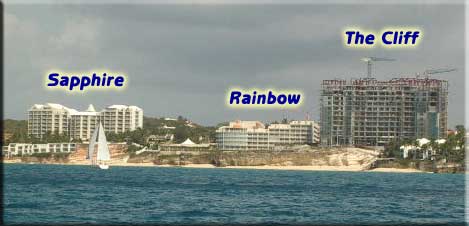 Sapphire Beach Club
: For those of you who wish to sell or rent their week or unit, we have opened up the
Sapphire Beach Club
website for that purpose. The first ten weekly listings are free. After that, we will charge $25 per year and have only received only four requests, so this offer is still out there.
Select Wine Cellar: The wine of the month for March is Champagne Deutz Cuvée William Deutz 1996 (wine spectator rating 93, wine spectator price: $158) Select wine price: $99 (normal price 115$). We also tasted a 2003 White Burgundy from Amiot-Servelle ($16) that was a very nice, very French chardonnay - no big oak, just a lovely round chardonnay taste.
Art at California Restaurant: Zouzou has a seashell art exhibition in the restaurant containing mirrors, mobiles, jewelry boxes, seashell boards, cards, and more. There are a couple examples on the boutique page of the California website. Zouzou reminds us that she is still offering $1 for 1 euro for cash and traveler's checks.
Art at Delfina Hotel: Boris and Michael at Delfina are hosting an art showing of the works of two German sisters, Corinna and Norma Trimborn, who live on the island. The artists provide red and white wine, some cheeses, etc. Beer and other beverages are also available from Delfina at a small charge. This will be happening on Fridays during the high season from 5:00-7:00 pm. The paintings are eclectic and interesting, although not inexpensive. For a preview, check out at their website.
Groceries: We stopped at US Imports and got more of the Petit Billy and Crottin de Chavignol goat cheeses that we liked so much. The Comte is like Emmenthal, only nuttier. I confess that a few pates, a few other cheeses, a rillette du canard, some regular ham, some Bayonne ham, and some water brought the bill up to almost $100. It should last a couple weeks.
Photo feature: This newsletter with many photos is posted on SXM-Info.com. Also, check out this photo spread featuring the first winner of the Casino/Dinner contest. Here's a shot of Martin Conway greeting the winners:
SPECIAL WEEKLY CONTEST
Win $100 in the weekly
Princess Casino
and
Baccara Restaurant
contest. Get $50 in casino action and $50 off a dinner for two at
Baccara Restaurant
, just above the casino floor. Make it a spectacular evening as you will be picked up and returned home in a chauffeured Bentley. You must enter this contest each week and you must use the entry form for this contest to be considered.
Martin Conway, GM at the casino, says that they offer free pick up service by Rolls Royce or Bentley and can send a bus for larger groups. Distance is no problem. With this service, there are no worries about security or drinking and driving. Our motto is Good Gaming, Great Entertainment, and Fine Dining.
Last week's winner: Mike Dunlow
CONTEST
---
Meli-Melo
- 19 February to 12 March 2006
L'Esperance Car Rental
- $100 off a week's rental
L'Esperance Hotel
- $100 off a week's rental
SkipJacks'
- $50 off a dinner for two
West of the Equator
- An autographed copy of this new book
Let's go over the rules:
Rule #1 - Visit the websites and find the entry code.
Rule #2 - Send in ONE entry using the form with all the contest codes for the contests you wish to enter.
Rule #3 - If the prize-awarding entity goes out of business before you claim your prize, you are unlikely to get your prize.
Rule #4 - Prizes are valid for one year from the award date.
Rule #5 - There is no rule number five.
Yes, we added 3 and 4. Still, it's a lot easier than other contests and there is no timeshare presentation. We choose an email randomly from all those received. If that person has entered multiple times, we throw them all out. If not, that person will win all the prizes for which the correct contest code has been entered. If all the contests have not been won by this person, another email will be chosen, etc until all prizes have been won.
The winners of the Round the Lagoon Contest are:
La Vi Bô Kaye - Seafood buffet for two - Nancy Dallas
La Vi Bô Kaye - Barbecue buffet for two - Nancy Dallas
Select Wine Cellar - $100 off on a case of wine - Margaret Robinson
Ch Couloumey - Four bottles of wine - Kelly Burns
Our condo - Half price low season week - Margaret Robinson
Future Contests:
SXM Ultra Luxe - 12 March to 2 April
Dawn Beach Villas - $350 off a weeks rental
Dare to be Rare Steakhouse - $100 off a dinner for two
Temptation Restaurant - $100 off a dinner for two
La Samanna - $100 off a dinner for two
La Vie en Rose - $100 off a dinner for two
Antoine Restaurant - $100 off a dinner for two
L'Escargot Restaurant - $100 off a dinner for two
Grand Case - 2 April to 14 May
L'Alabama Restaurant - $100 off a dinner for two
Tastevin Restaurant - $100 off a dinner for two

Orient - 15 May to 31 July
Beau Beau's - $50 off a dinner for two

---
ACTIVITIES
---
We went to the
Caribbean Cinemas
next to Paradise Plaza Casino across from Pineapple Pete's to see Brokeback Mountain on Sunday afternoon. Parking was a snap in the covered parking under the theaters, but this was the matinee, not the evening show. The other theater closer to the bridge is
Sunset Theatres
. They both have websites so you can see what is playing before you come down.
The real activity was a Saturday Heineken Regatta sail on Celine. You can see all the photos on the regatta feature, as it was a whole day on the water. We sailed out to the start on the 9:00 AM bridge opening, watched the start for about an hour and a half and then motored off with the fleet, anchoring at the finish line at about noon. Neil prepared seafood paella and put out a spread that included ribs, green salad, and potato salad. We swam, snorkeled, drank, and cheered as the fleet came in. We finally went in on the 5:30 French bridge opening. Plenty of good food, lots of beer (Heineken, Presidente, Miller Lite, and Bergen Brau????), and only about 15 people.
| | |
| --- | --- |
| | On the left is one of the America's Cup boats that is part of the 12 meter challenge. There are several boats that raced for America and Canada that have now retired to the warmer waters of St Maarten. You can join the crew and race them almost any day in Great bay off Philipsburg. Joining them for a race in the Heineken Regatta is even more special. |
| | This is also a special boat. It's Pat Turner's Tryst, the oldest boat in the race. The Captain is none too young either. Pat is the owner of Tropical Wave Restaurant and Watersports on Galion Beach. |
---
RESTAURANTS
---
On 19 Feb the euro was at 1.188 and today it is at1.203. Not much movement. French side restaurants with many costs in dollars and many American (or Canadian) clients have been offering more favorable exchange rates. Some restaurants offer a 1 to 1 exchange. We got it at
Auberge Gourmande
,
Sunset Café
,
California Restaurant
,
Bistrot Caraïbes
,
Le Cottage Restaurant
,
Rainbow Café
,
Pedro's Beach Bar
, and
Restaurant du Soleil
and noticed it at
La Marine Restaurant
, Layla's, Santal, Chez Martine, Marlin's Cafe, and all the lolos in Grand Case. Note that some only offer this rate for cash. As always, know what the euro is worth, what the restaurateur is offering for an exchange, and what the costs are on the menu. Finally, you are here to have fun and fine food, not to do complex financial calculations, so don't worry about it too much.
On 5 March (tonight!) Halsey's Restaurant is having an after-hours party. Local band Broken String will be playing right after Ozomatli wraps up on Kim Sha. The party is to raise money for Team Golden Dog which raises money for homeless animals on SXM and in the US.
On 11 March, Le Mambo Restaurant is doing another Créole Buffet to celebrate 11 years in operation. There are several photos on the website, but it would be tastier to show up at the buffet.
| | |
| --- | --- |
| On Sunday night after the cinema, we were driving into a parking spot at The Wharf Restaurant when we noticed the sun about to set. We grabbed couple Stellas and went to back to the parking lot in time to see the green flash. We then settled into the outdoor tables and chatted with Elvis, having some snacks as we finished our beers. Eventually, we moved into a waterfront table and had some steamed mussels in white wine with onions ($12). A bottle of 2002 Borgogne ($24), a grouper with saffron sauce, and a blackened mahi-mahi hit the spot. | |
Monday night at Montmartre Restaurant was fabulous. It is a beautiful place, newly refurbished with well-spaced tables and superb service. With about 50 seats, they had four servers, a bartender, and Karen acting as hostess, order taker, etc. That is a lot of staff and they know what to do. Moreover, just say "Pamper me" and you'll get a free welcome champagne cocktail. We had our usual Beaune Premier Cru Champs Pimont. A basket of bread arrived with the usual sliced baguette but also some darker wheat bread baked here in the kitchen. We started with an old favorite: goat cheese and sundried tomatoes baked in a brique on a bed of greens including several endive leaves which not only taste good, but add some visual panache. More sundried tomato bits and regular tomato bits were distributed through the salad. Many restaurants do a warm goat cheese, several add some pastry around the cheese for an additional texture, but very few add the sundried tomatoes and put it on a bed of such high quality greens and more. Our dinners were the sweetbreads on a shredded potato cake and the prime rib for one with a choice of sauce. I had the blue cheese sauce, but the meat was so flavorful that salt and pepper seemed pretty good. Both dinners came with several bits of veg: broccoli, two root vegetable purees, a very tasty grilled scallion, and more. We had the light-as-a-feather profiteroles for dessert with coffees and a balloon (or two) of Armagnac. A wonderful French dinner, with no worries on the exchange rate or the need to bring cash to get 1 to 1.
| | |
| --- | --- |
| Profiteroles | Lamb chops |
On Wednesday we went to
Le Baccara Restaurant
in the
Princess Casino
. We actually started at the Royal Islander in Maho where Bill and Jeanne Moorehead (and three friends) were picked up in the Bentley to be delivered to the restaurant where they would receive $50 off a dinner bill as they were the first winner's of the Baccara/Princess contest. I put a page up on the Princess site and it includes the pickup, the dropoff, the dinner, and the show, so as long as we were there, we had some fine food along with all the work. An amuse bouche consisting of a single tasty shrimp on a bed of wakame seaweed with a French cocktail sauce arrived promptly. The French sauce is a bit more delicate, consisting of mayonnaise with a bit of tomato, hold the horseradish. It was very nice and the contrast of the warm meaty shrimp with the cooler crunchy seaweed was quite interesting. I planned on having the lamb chops in a Bordelaise sauce, so we ordered a Bordeaux, Chateau D'Issan 1998 - smooth as can be and not overpowering. It was fine with the meaty snails in a puff pastry with some garlic and herb butter and a nice brown sauce with onions and a bit of greens. There were so many snails that they wouldn't fit in the puff pastry and crowded the lovely greens into a corner. The wine was spectacular with the lamb chops which were very good in their vegetable crust. Martha had the duck breast, also good with the wine. Both dishes came with layers of zucchini, eggplant, and tomato and mashed potatoes. We finished with coffee and rum punch, sampling often in an attempt to decide if the cocoa was better than the vanilla or the vanilla-banana. More research is needed. Enter the contest and you may get paid to do your own research.
The next night we headed over to Saint Séverin Restaurant in Bellevue, on the outskirts of Marigot heading toward Cole Bay. It's very south of France, and the lack of any view, means that it relies on good food at good prices. The specials board had some very interesting treats. Being a Thursday, the fish had started to arrive from France, so the plateau de fruit de mer was on offer (48 euros that would feed two). Also available was a blanquette de veau (white veal stew with rice), a veal chop in puff pastry, and moules frites - mussels in white wine, garlic, parsley, and a dash of cream with crispy French fries. There were four of us so we ordered the moules frites as an appetizer for the table and three blanquettes and a salt cod. A bottle of muscadet ($20) was fine with the mussels and a 2002 Cotes du Nuit Burgundy worked well with the veal. Martha drinks red wine with fish, so she seemed happy also.
On Friday we chased the Regatta boats around the island and had lunch at Beau Beau's Restaurant at Oyster Bay Beach Resort. We were on the outside deck so we could see the boats as we were dining. A Philly cheesesteak was pretty good as was then chef's salad. The Presidentes were plenty cold, which was good as the afternoon was plenty warm!
Changes: Coconut Joe's appears to be open (finally) in the old Ironhorse Saloon spot across from Cappuccino Diner, advertising wireless internet. Alert reader (and poor med student) Drennan Smith says "that the nice folks that ran Koka Shawerma from the immobile food truck between the Shell station and Paradise Car rental in Simpson Bay have moved into the old Philly Joe's location, and are maintaining their previous hours (6pm-6am). Additionally, they have also kept on the pizza cooks and are still making the same yummy thin-crust Tri-state-area type of pizza as before and are serving it until 2am. They are not taking down the Philly Joe's sign and when asked are saying something to the effect of "Same pizza as before... This is all very good news to me as a poor, constantly studying medical student, seeing that now two of our favorite spots have been combined."
Mimi Calhoun from NH says: "My husband and I go to St. Martin every year for 2 weeks, escaping the cold New Hampshire winter. We've been going for the past 8 years or so. We've stayed on the Dutch side and French side and are currently in love with La California in Grand Case. The beach side apartments are an affordable, no frills and comfortable option. Zuzu is your hostess and makes you feel right at home. She'll set you up with a rental car too, meeting you right at the airport.
We had so many fantastic meals there! Excellent pizza, fish specials and try the Salad Alyzee. Hearing nothing but the sounds of the waves at night, it lulls you right to sleep. Every morning the balcony over-looking the water is perfect for the local paper, fresh baked goods and coffee, picked up at the local shops. Then it's off for the day to zip around the island (except the traffic makes zipping a little slower these days). Don't miss a visit to Pinel Island, a beautiful day escape. It's accessible by ferry or kayak.
Our favorite special restaurant on the island is Restaurant du Soleil in Grand Case. (Cedric knows how to treat you). Every meal is fresh and delicious, with the lovely ocean as a perfect and romantic background. Also, for lunch or an informal dinner, try the little un-named-so-far bar/restaurant across from the supermarket in Grand Case. The owner is Sam, the cook: Sebastian. He knows how to make the best hamburger around. It's a must! Extremely reasonable prices, great fun and we thank Cedric for telling us about his friend's new establishment. (ed note: Sam is Sami, the bartender at Domaine de L'Amandier where Sebastian was the chef and Cedric was the manager. Their venture is called Sesame, although I haven't seen a sign.)
St. Martin is heaven and we can't wait to visit again next year."
Johan, Neil's son, was working on the Regatta sail on Saturday and when I asked how things were going at Aqua, he said he just left! He is now cooking at The Other Place which replaced Goodfellows. He just started and is making pizza, starting with his own dough. Sounds like it's worth a try.
---
BARGAINS
---
Look on the SXM-Info website for a list of all restaurants that have coupons for some freebie or discount. There are several coupons there to make your vacation a bit cheaper. Here's a partial list of what you'll find:
Those who like Club Orient might be interested in Club Fantastico. Check it out.
L'Esperance Hotel has great rates and is conveniently located. It's quite handy if you just need a night or two at either end of your vacation because of the wretched flight schedules. They have a lovely pool and offer free wireless internet access.
Sandy Molloy at Molloy Travel says that she can generally beat any rates you can get from the hotels. Give her a shot.
Regards,
Erich S. Kranz
www.SXM-Info.com
Click here to subscribe or unsubscribe