Weather:
Super Sunday was not so super down here, and Monday and Tuesday followed with several cloudbursts. I did get some great sunset shots with the clouds (see the web
version
of this newsletter). By Wednesday it was warm and sunny most of the day. Thursday was even better. Friday was quite warm and sunny, turning a bit cloudy and at the end of the day torrential downpours were covering Saba and much of the western skyline. Better them than us, but the wind has shifted, coming from Saba rather than the usual tradewinds from Africa. Sure enough, their downpour was ours within an hour or two. The air cleared, the evening was fine, and Saturday was spectacular. Sunday has dawned looking quite good, the wind has turned again and the whitecaps on the lagoon suggest that the windward side will be windy. The sunset is about ten minutes after six. The moon is full tomorrow.
| | | |
| --- | --- | --- |
| | | A view of the rough waves and St Barts on the far side of the reef at Orient and the sunset on 5 Feb. |
Beaches: Bay Rouge looks quite good. There are some new photos on the SXM-Beaches site.
Construction: I always wondered how one got to the new construction on the salt pond near Bay Rouge. Now we know. They filled in the eastern end and have started an access road. It looks quite nice on the construction feature.
Princess Casino had a pre-Valentines fashion show on Saturday February 11 plus a cash raffle of $1000. They do things like this frequently, so stay tuned. The fashions came from Nubian Fashion, René Derhy, and Les Petites Bombes.
Brazilian Dancers at Princess Casino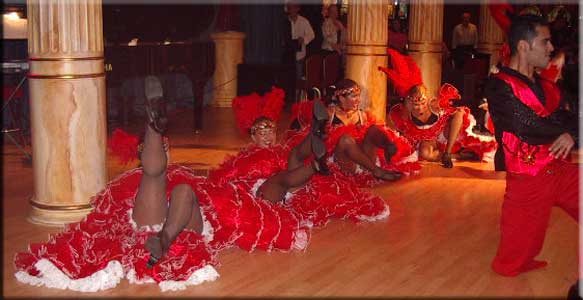 Fashion Show at Princess Casino
Here is the new license plate. Not as great looking as the photo of Mullet Bay.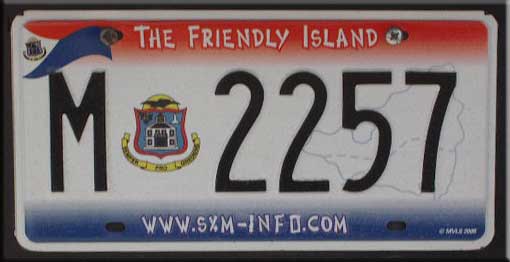 Sapphire Beach Club: For those of you who wish to sell or rent their week or unit, we have opened up the Sapphire Beach Club website for that purpose. The first ten weekly listings are free. After that, we will charge $25 per year and have only received only four requests, so this offer is still out there.
Select Wine Cellar: The wine of the month is CHATEAU GRAND CORBIN D'ESPAGNE 2001 (St Emilion grand cru) a great wine in a good year for only $25. Use the coupon from Select Wine's website and get a 10% discount on everything else in their store. On 11 Feb I stopped in for some Valentine's Day wine. My Valentine is scheduled to return that day and she was a chef who still loves to cook. I flogged wine for a bit and love to open bottles, so our VDay will be Deutz Champagne and smoked salmon from Bistrot Caraïbes, a Chambolle-Musigny Premier Cru Amiot Servelle with Black Angus tenderloin (see below), Rivesaltes Grenat sur Grains 2004 Domaine Boudau with a molten chocolate cake from Mario's Bistro, followed by the rest of the champagne in the hot tub on our balcony. On 4 Feb Select wine offered the following for tasting:
White Wine:
Pouilly Fume 2004 La Renardiere Domaine Bouchie Chatelier $18 (nice, fresh, mineral)
Bergerac Sec 2003 Tête de Cuvee Domaine Grande Maison $16 (oak, vanilla)

Red Wine:
Chambolle Musigny 2001 Domaine Amiot Servelle $38 - luscious
Montpeyroux 2003 Domaine D'Aupilhac Coteaux du Languedoc $15
Vetus 2001 Toro $18 (From Spain!!!) (full body!!!)

Red Sweet Wine:
Rivesaltes Grenat sur Grains 2004 Domaine Boudau $14
Art at California Restaurant: Zouzou has a seashell art exhibition in the restaurant containing mirrors, mobiles, jewelry boxes, seashell boards, cards, and more. There are a couple examples on the boutique page of the California website. Zouzou reminds us that she is still offering $1 for 1 euro for cash and traveler's checks.
Art at Delfina Hotel: Boris and Michael at Delfina are hosting an art showing of the works of two German sisters, Corinna and Norma Trimborn, who live on the island. The artists provide red and white wine, some cheeses, etc. Beer and other beverages are also available from Delfina at a small charge. This will be happening on Fridays during the high season from 5:00-7:00 pm. The paintings are eclectic and interesting, although not inexpensive. For a preview, check out at their website.
Gas: The Dutch side dropped prices to 1.75 NAFl per liter which is still about $3.70 per gallon. The Cadisco gas stations on the French side (in Marigot near the bridge and on the road between Orient and Grand Case) are still at 0.81 and they take dollars at par, making them a bit over $3 per gallon. Moreover, the Cadisco in Marigot filled in the potholes in their entrance!
Groceries: - I stopped at Merchant's Market, near Select Wine and picked up some Black Angus Tenderloin. This exercise is not for the faint of heart, as it costs $17 per pound and weighed in at about 7 pounds. But it's good. They are a wholesaler and if you are having a party, they are even cheaper than going over to Cost-U-Less. They do have regular tenderloins also. If you've never trimmed up a whole tenderloin, be forewarned that it took me an hour to get the silverskin and fat off it.
Photo feature: This newsletter with many photos is posted on SXM-Info.com.
SPECIAL WEEKLY CONTEST
Win $100 in the weekly
Princess Casino
and
Baccara Restaurant
contest. Get $50 in casino action and $50 off a dinner for two at
Baccara Restaurant
, just above the casino floor. Make it a spectacular evening as you will be picked up and returned home in a chauffeured Bentley.
Martin Conway, GM at the casino, says that they offer free pick up service by Rolls Royce or Bentley and can send a bus for larger groups. Distance is no problem. With this service, there are no worries about security or drinking and driving. Our motto is Good Gaming, Great Entertainment, and Fine Dining.
Last week's winner: Bill Moorehead
CONTEST
---
Round the Lagoon - 29 January to 19 February 2006
La Vi Bô Kaye
- Seafood or barbecue buffet for two - two prizes - four dinners total
Select Wine Cellar
- $100 off on a case of wine
Ch Couloumey
- Four bottles of wine
Our condo
- Half price low season week
Let's go over the rules:
Rule #1 - Visit the websites and find the entry code.
Rule #2 - Send in ONE entry using the form with all the contest codes for the contests you wish to enter.
Rule #3 - If the prize-awarding entity goes out of business before you claim your prize, you are unlikely to get your prize.
Rule #4 - Prizes are valid for one year from the award date.
Rule #5 - There is no rule number five.
Yes, we added 3 and 4. Still, it's a lot easier than other contests and there is no timeshare presentation. We choose an email randomly from all those received. If that person has entered multiple times, we throw them all out. If not, that person will win all the prizes for which the correct contest code has been entered. If all the contests have not been won by this person, another email will be chosen, etc until all prizes have been won.
Future Contests:
Meli-Melo - 19 February to 12 March 2006
L'Esperance Car Rental - $100 off a week's rental
L'Esperance Hotel - $100 off a week's rental
SkipJacks' - $50 off a dinner for two
West of the Equator - An autographed copy of this new book
SXM Ultra Luxe - 12 March to 2 April
Dawn Beach Villas - $350 off a weeks rental
Dare to be Rare Steakhouse - $100 off a dinner for two
Temptation Restaurant - $100 off a dinner for two
La Samanna - $100 off a dinner for two
La Vie en Rose - $100 off a dinner for two
Antoine Restaurant - $100 off a dinner for two
L'Escargot Restaurant - $100 off a dinner for two
Grand Case - 2 April to 14 May
L'Alabama Restaurant - $100 off a dinner for two
Tastevin Restaurant - $100 off a dinner for two

---
ACTIVITIES
---
I was asked and, yes, we exercise at
Marci's Mega Gym 2000
to combat the effects of doing little else but dining out. But I did go out on the
Lagoon Pub Crawl
this week and had a great time, even though I was by myself. There's plenty of people and it's easy to strike up conversations. It is an activity, just not terribly strenuous.
---
RESTAURANTS
---
On 5 Feb the euro was at 1.202 and today it is at 1.192. The sky is falling. French side restaurants with many costs in dollars and many American (or Canadian) clients have been offering more favorable exchange rates. Some restaurants offer a 1 to 1 exchange. We got it at
Auberge Gourmande
,
Sunset Café
,
California Restaurant
,
Bistrot Caraïbes
, and
Restaurant du Soleil
and noticed it at
Rainbow Café
, Santal, Chez Martine, Marlin's Cafe, and all the lolos in Grand Case. Note that some only offer this rate for cash. As always, know what the euro is worth, what the restaurateur is offering for an exchange, and what the costs are on the menu. Finally, you are here to have fun and fine food, not to do complex financial calculations, so don't worry about it too much.
Last week I forgot to mention that the road into Tropical Wave was being repaired. It's much improved, but they weren't finished yet.
I finally put up some photos from the Creole Buffet at Le Mambo Restaurant in Grand Case.
On Monday I put Martha on a plane back to the US to see her mother who is just recovering from surgery, so I'm a bachelor for a week. I stopped in at SkipJacks', noticed some lovely tuna in the fish case, but none on the menu. No problem, shortly thereafter, a lovely bit of lightly seared tuna crusted with sesame seeds arrived with enough wasabi to constitute an environmental hazard and a nice soy dipping sauce plus a baked potato and veg. I had another bottle of Aleth Le Royer-Girardin's Borgogne and some eager help finishing it as Captain Neil arrived with the Lagoon Pub Crawl. This season they stop at Peg Leg Pub for what was voted the best steak on the island, good swordfish, and if you can't find a beer that you like in this place, you don't like beer. Next stop is SkipJacks', and then off to Lal's for samosas, nan, more great beer, and rock and roll. They convinced me to join the crawl on Wednesday.
On Tuesday a couple groups came over to Sapphire to discuss buying a unit in whole ownership here. Studios are selling for $200,000 to $250,000 and one bedrooms are $250,000 to $350,000. The price depends somewhat on the building (which is essentially the unit's age, and greatly on the floor. One of the guests said he would bring some snacks along with the couple that was thinking of purchasing a unit. He was a chef in a previous lifetime, and proceeded to take over the kitchen and turn out a tremendous array of "snacks". It turns out that the prospective buyers were old friends, which led to several bottles of Burgundy, which explains why I only sampled some very nice dinners when I arrived a bit late at Mario's Bistro. We did split a molten chocolate cake and a half bottle of Muscat de Rivesaltes '00 from Chapoutier. Mario is still turning out fabulous food and the service is faultless and friendly. It's worth the effort to make reservations.
Wednesday was the aforementioned Lagoon Pub Crawl. I've already mentioned the route, the food, and the great beer. They also do the usual drinks and even some unusual ones. You get a free drink and snacks at every stop. There's free drinks on the boat whenever it's moving from bar to bar. My feeling is that it is more than enough to drink and I've never gone away hungry. Don't expect a sit down meal with tuxedoed waiters and it is a bit light on salad and dessert. It does amount to four hours of good fun for $65 a head.
Afterwards, I went to Princess Casino to see Marina from Select Wine who is part of the Copacabana Dancers. I had already fed $20 into the poker slot machine and ordered a draft beer when I found out that her show was scheduled for the next night. By the time I finished the beer, I had enough money to leave a nice tip for the bartender and get my $20 back. Not a bad mistake.
On Thursday evening I stopped in for sunset and free drinks at Bamboo Bernies. Mudslides, margaritas, and some beers are free from 5:00 to 5:30 and cheap until about 7PM every night of the week. We did this last Tuesday. Change is good. This sunset was significantly better.
Afterwards, without a reservation, I called on Montmartre Restaurant. They were so busy I had to sit outside. They are lovely tables and it was a lovely evening just a few days short of the full moon. I asked to be pampered and was presented with a glass of champagne before I ordered a bottle of the 1999 Champy Fixin. As it was the last bottle, I won't tell you how good it was. In an effort to keep my cholesterol up, I ordered the foie gras terrine ap and the sweetbreads. Two very nice slices of foie gras arrived with an onion confit, toast points, and a bit of greens. The main courses seem to have a bit less veg than earlier or was this just a consequence of being dwarfed by the largest sweetbread I have ever seen? It was all good and a bit of coffee (with caffeine) was savored in the lovely night air as I readied myself for another attempt on the Princess Casino and the Copacabana Dancers. Note that Montmartre Restaurant welcomes internet reservations, so with a bit of planning you will have a table when you arrive. Note that all three of Karen and Pascal's restaurants (the other two being Auberge Gourmande and Sunset Café in Grand Case) are doing a promotion whereby you just say "Pamper me" and you get a free welcome drink. After dinner rum is always on offer. Nice bookends on some great dining.
Later, Marina did dance, I made money on the slots at Princess Casino again, and there are new photos of Marina and company on her site. Legal disclaimer: Past performance is not a reliable indicator of future success at slots.
I stopped in again at SkipJacks' on Friday, but they were out of mussels by the time I got there, so I tried the 24 oz ribeye. Actually, I tried half of it as the other half is in the refrigerator, destined to be a Philly cheesesteak. It was tender and tasty and quite good with the caper sauce that Greg sent out. Neil arrived with his fourth pub crawl of the week. I recognized some of the people from Wednesday. It appears to be quite popular. If you haven't done one, check it out.
On Saturday morning I caught up with Ryan and Jessica Halsey (Halsey's Restaurant) at Select Wines. They are having a four course dinner for a mere $125 per couple on Valentine's Day. It could be surprisingly like what I have planned for Martha, but as there are options and an extra course, it could be different. Sylvain from Select Wines and Jason from the Lagoon Pub Crawl are acting as sommeliers and are serving the Deutz champagne to start, followed by the Petit Chablis from Trembley with smoked salmon or oysters on the half shell. A Chateau Riquewihr Pinot Gris accompanies a salad course and is followed by a basil sorbet intermission with red fruits. My favorite Savigny les Beaune accompanies a surf and turf or a quail saltimbocca with shrimp with saffron. The evening ends with the Rivesaltes and fudge covered profiteroles or a mocha mousse. The wine pairings sound delightful and at only $50 per couple, sound inexpensive also.
After that, I took some of the wines home and made a Philly cheesesteak from the previous night's ribeye at SkipJacks'. Caramelize onions - cook them at least a half hour over low heat until they turn brown and sweet. Add some chopped habaneros, although most people use regular pepper. Pour in a bit of the Vetus 2001 Toro and let it simmer for 15 minutes more. Slice the rare ribeye thin and toss it in for just a couple minutes. Spoon it onto the bottom half of a toasted baguette, sprinkle with your favorite shredded cheese. Nuke it for 30 seconds to melt the cheese. Savor with the rest of the Vetus.
| | |
| --- | --- |
| We had a chat with Deepti from DK Gems a hile ago and after concluding all business (about two minutes) we spent the following half hour discussing restaurants. She likes the Lebanese restaurant Aldywan in Simpson Bay and the new Tai Chi, a new Thai restaurant from Doume of Kakao Beach. It's in Orient Village. | |
Changes: It appears that Goodfellas has been replaced with The Other Place. Coconut Joe's is getting ready to open in the old Ironhorse location.
---
BARGAINS
---
Look on the SXM-Info website for a list of all restaurants that have coupons for some freebie or discount. There are several coupons there to make your vacation a bit cheaper. Here's a partial list of what you'll find:
Those who like Club Orient might be interested in Club Fantastico. Check it out.
L'Esperance Hotel has great rates and is conveniently located. It's quite handy if you just need a night or two at either end of your vacation because of the wretched flight schedules. They have a lovely pool and offer free wireless internet access.
Sandy Molloy at Molloy Travel says that she can generally beat any rates you can get from the hotels. Give her a shot.
Regards,
Erich S. Kranz
www.SXM-Info.com
Click here to subscribe or unsubscribe