| | |
| --- | --- |
| | France 2017 |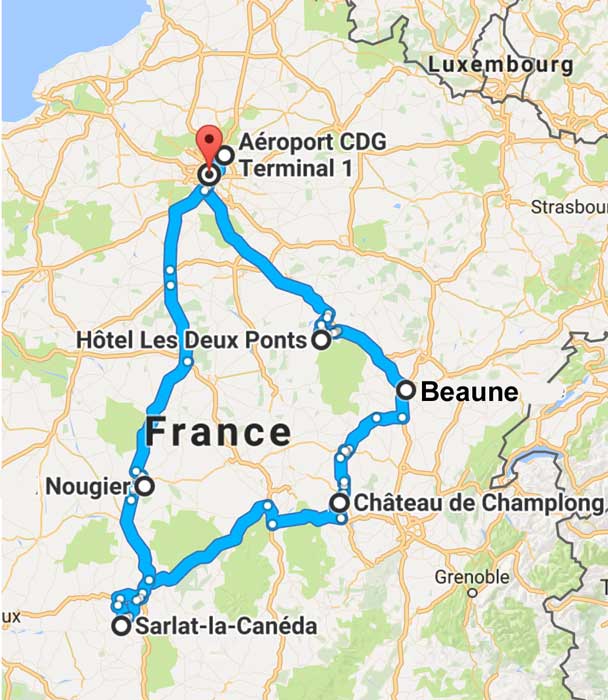 ---
Salem, NY to CDG airport Paris (Thursday and Friday), 7 into 8 Sep
---
Lilly, the lynx point Siamese, knew something was happening and hopped into the suitcase in an attempt to be part of it. Alas, she had to stay home, but we did get a house-sitter so she had company in our absence. This is the exact same sentence that started our trips to France in 2012 and 2014. And it's getting harder to do. In addition to being beautiful, she is also most dog-like in her devotion to her people.
We had not taken a vacation since 2014 and as the stock market had been moving up, we made plans (and reservations) in March while we were still in SXM. We made reservations on Compagnie, a French company that puts about 120 people in full flat recliners on a Boeing 757. They bill it as all business class and charge $1000 to $2000 per seat. The aircraft was bright and shiny as were the the flight attendants. They left on time and landed on time. We even got a bit of sleep. The meal was good, but I expected better and the wines in the club and on the plane were mediocre. Each seat came with a large tablet that could bring in 30-40 movies, mounds of sounds (curated by the rather young staff, apparently), and lots more. We could not get reasonable flight connections from Albany so we drove five hours and parked at Wally Park for $113 for 18 days. They are difficult to find even with a Garmin, but they were helpful and inexpensive. We rented a car from Sixt whose website was a bit difficult to use. We planned on meeting Sylvain from Select Wine Cellar during his wine buying trip to Burgundy, visit Sarlat Le Caneda, in the Dordogne, and return the car to Sixt near the apartment we had booked in Paris before our return to the US. The Sixt website didn't work well with the return location not being the same as the original rental location. I called and was informed that there was a 100€ charge for for this convenience. I said no thanks and accepted a return to CDG.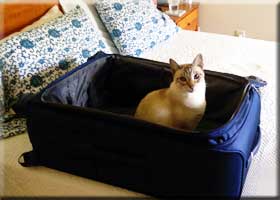 The desk at Sixt in CDG was crowded while the others were empty, indicating they were the low-priced agency. The didn't have the BMW we wanted because we drive one in the US. They offered a larger Audi which was our previous vehicle. However, the similarites of our 2002 All Road to a new C2 Audi are slim. It's a nice car with its own navigation system but learning how to use it while driving in 70 mph traffic is not for the faint of heart.
To Pierre-Perthuis 8 into 9 Sep
---
Our Garmin would not accept the address of our hotel/restaurant and we couldn't fathom the on-board system so Martha used her smart phone to get online directions. A quick check the next day showed that it cost $65 for the data download. It did get us to a perfectly good hotel/restaurant in the northern reaches of Burgundy: Hotel/Restaurants Les Deux Ponts. We checked in around 3PM and rested until 7:15PM when we went down for flutes of Cremant (local Champagne substitute, and quite good) as we ramped up for dinner. We ordered Badoit water and a local Borgogne from Domaine Wartel (right, 28€). It was good and the price was not bad for a Burgundy. We had an amuse bouche that featured a bit of turbot on a bed of diced veg, topped with a bit of nasturtium leaf (below left). Lots of flavors and textures here and it's only the start.

Martha had an ap of cauliflower soup with mushroom, cream, and roasted bacon. More textures, smooth soup, chewy mushrooms, and crunchy bacon (below center). It was wonderful.
My ap (above left) was a bit of salmon with some tasty beets and other veg. Martha's main course was a slow-cooked bit of lamb shoulder that melted in our mouths (above center). The claim is that much of the veg comes from the restaurant's garden. It sure seemed that way to my taste buds. My steak was a local charolais with wonderful veg (above right). We ended with a couple balloons of Marc de Bourgogne. Our hotel cost about $80 and the meal came in at $140, and breakfast was $21.
Looking around Vezelay - 9 Sep
| | | |
| --- | --- | --- |
| | We awoke the next morning feeling much better and were in tip-top shape after a five cups of coffee (each) and a few croissants and pain au chocolat. We were heading to Vezelay, an ancient town with a Romanesque cathedral dating back to twelfth century that is built upon a Carolingean burial site. It is said that the monks here retrieved Mary-Magdelen's bones and reinterred them here. Pope Urban II was going to announce the The first crusade from Vezelay, but changed his mind. King Richard the Lionheart met with the King of France here as they planned the second crusade. Bernard of Clairvaux called for a second crusade from Vezelay. Subsequently it became one of the four major assembly points for the important pilgrimage to San Juan de Compostelo. | |

On the left is the view as one approaches the cathedral and yes, that is a Calder mobile (left). The cathedral was supposed to have another tower on the left but funds and energy came up a bit short. The tympanum was refurbished by Violette Le Duc in the 19th century (center). The shot on the right shows the brilliant choir at the rear of the cathedral and the alternating bands of light and dark stones.

Terrasses of Corton - 9 Sep

We drove on toward Beaune pulling off the highway just north of Beaune at 1:30PM - time for a late lunch. The Michelin suggested the Terrasses of Corton in Ladoix-Serrigny, noted for its good and inexpensive lunch offerings. Unfortunately, not on weekends. As we were in Ladoix-Serrigny, we had a red Ladoix. Martha ordered a half pigeon and I had beef cheeks. Both did well with the Ladoix. With water and coffee we spent $96 for a nice lunch.
Gite Vers La Grand Pere, 9-14 Sep

We drove on and passed a Casino Supermarket. A quick U turn got us in for groceries, gasoline, and even some cash from a Credit Mutuel ATM. We got to the gite Vers Le Grand Pere in Levernois in about 15 minutes. The owner said she would leave the key in the door. Obviously crime is not a problem here. She came over later, but didn't bother to ask for the rent. We had not even put down a deposit. We had stayed here in 2012. It's convenient to Beaune and has a good restaurant within walking distance. The unit has three bedrooms with sinks and showers. One unit has a toilet and the other bedrooms share a toilet in the hall. It's fully equipped, even has a washer and dryer. At $170 per night for the three of us, it's pretty inexpensive.
La Garaudiere, 9 Sep

That evening we walked to La Garaudiere, essentially a steak house. A chef/butcher has a wood fired grill surrounded by a lot of meat. Choose your meat, choose a sauce, and choose a side. Martha had the butcher's piece of the day. It turned out to be faux-filet, pretty tasty, but a bit tough on the edges. It could have used a bit more trimming. I had the rognons de veau, veal kidneys, in a mustard sauce with small potatoes. These flavorful dinners needed a sturdy wine. The 2011 Beaune Premier Cru worked well. Service was stressed on a busy Saturday night but worked fine. We couldn't get a table until 9PM! The total cost was about $110.
---
Market Day in Chagny, 10 Sep
Sunday featured a drive to Chagny for the open air market. We got more cheese and veg putting together a nice dinner at home as we awaited Sylvain's arrival. He arrived an hour later then we expected, just as we were putting our dinner on the table.
Wine Tasting at Chantal-Lescure, 11 Sep
On Monday morning we slowly got out of bed and made it to Chantal Lescure's winery in Nuits-St-Georges, 40km north of Beaune, by 11AM. Francois, the general manager, said the 2017 vintage will be good and large. We watched a truck come in loaded with grapes. It backed up to the vibrator and the driver dumped the baskets onto the vibrator which spread them out and allowed small bits to fall out. The separated bunches were then inspected by two bunch policewomen who remove the bad bunches. The Japanese women comes over every year for the vendage. Although it looks as if she is waving to me, she has just thrown a large bunch of defective grapes into the bin next to me. The grapes are hoisted up to the stemmer dropping the grapes into a large tank and the stems into a basket to be returned to the vineyard.
We tasted some fresh juice and then went down into the cave to taste some 2016. Despite the frost in the spring of 2016, the wine was quite good at this point. That's the good news, the bad news is that there isn't much. Last year's loss was this year's gain. If you need Burgundy now, it would be better to buy 2015 to wait out the scarce, and undoubtedly costly, 2016 vintage and then buy the 2017 when it comes out. On the left are the barrels holding the 2016 and on the right we have a special room for magnums.
Lunch at Café de Paris, 11 Sep

After our late start and extended discussions, we found that we were the last people allowed in for lunch at Café de Paris. Moreover, they were out of the plat of the day, a blanquette de veau, that Sylvain and I wanted. He switched to the tartare of bouef (below left, 13€), Martha had the ham with parsley (below center, 10€), and I had a a bouef bourguignon (below right, 15€). We ordered a bottle of Borgogne from Lescure (right, 25€). All good.
Coming home from our late lunch we stopped at a Le Clerc just north of Beaune and got a Cote du Boeuf (prime rib) and some veg. The first course contained Portuguese ham sausage with a bit of very good bread and fine butter. On the left is the prime rib and its black chanterelle sauce. We added some beans to is for the second course. Our third course was a selection of cheese with some fine chocolates for dessert. The wines all came from Chantal Lescure.
| | | |
| --- | --- | --- |
| | On Tuesday we got ourselves together at the crack of noon for an afternoon meeting at Amiot-Servelle in Chambolle-Musigny. We arrived at Le Millesime in Chambolle-Musigny at 1:30PM and found that the only thing we could order was the menu of the day. Choice is nice but the Michelin named this a Bib restaurant. That has nothing to do with a bib as we know it. Bib is the rather rotund spokes-icon for Michelin tires. He looks like the type who would appreciate lots of good food at good prices. The exterior seemed a bit above the average Bib and the refrigerated wine wall confirmed it. However, the menu was only 20€ and had three courses (squid, cod, caramel dessert) preceded by an amuse-bouche and followed by a house specialty. All good. | |
| | | |
| | |
| --- | --- |
| Amiot-Servelle is on the outskirts of Chambolle Musigny, near some of the finest vineyards on the planet. They use these grapes to make some of the finest wine. Here we heard quite a bit about the low volume, high-quality 2016 vintage and the general joy caused by the lack of frost/hail damage (at least in Burgundy) and the high yields. We did taste several 2016 wines from the barrel and felt that they were quite drinkable at this time. Admittedly, after the tenth taste even the low (tannic) acid started to pucker my lips, despite spitting religiously. On the right are some of the very ripe grapes after they have been carefully hand picked. They will be inspected again before they move into fermentation tanks. | |
Lunch at Auberge du Vieux Vigneron, 13 Sep

After another grueling session in the cellars, we headed for the Auberge du Vieux Vigneron, recommended by our host who even made the reservations using his considerable influence. We had the plat du jour (only 15€. Below from left to right, it started with a lovely salad with some great pork, a pork chop with mushrooms, and a dessert that looked so good that everyone started eating before the cameraman. We were quite ascetic ordering only two glasses of wine and a bottle of water with coffee chasers. The total was a mere 64.50€. All good.
While waiting for our next appointment, we did a bit of sight seeing with Sylvain as our guide. He is from Burgundy and owns a wine shop featuring these wines, so he found some tiny road on a hill leading to the virgin Mary (left). Below is the view from the hill. These are some of the the most expensive vineyards in the world. The photo to the right is the iconic church in Aloxe-Corton.

On 14 September we headed southeast toward Sarlat in the Dordogne. As we drove the countryside changed from 100% viniculture to vineyards sharing the landscape with pastures for Charolais breeding. On these low hills above Burgundy we stopped for lunch at the Auberge du Prieure in Anzy-le-Duc.
Lunch at Prieure, 14 Sep

We found this lovely restaurant across the street from a Romanesque church dating back to 876! It certainly appeared to be closed, but the door was unlocked so we entered. A man came over and told us to sit anywhere we wanted. We took a seat at one of the windows looking out to the church. We started with a local wine and a bottle of Badoit. As dinner would be an extravaganza, we each had a simple plat. Martha chose a tasty local pork chop and I had steak from one of of the local Charolais. The plats were about 13€ and the wine was about 30€ leading to a total of about 61€ with the water. It appears that the waiter and his wife (the chef) owned the restaurant.
| | | |
| --- | --- | --- |
| | After our wonderful lunch On 14 September we headed southwest toward Sarlat in the Dordogne. The countryside changed from 100% viniculture to vineyards sharing the landscape with pastures for Charolais cattle. On these low hills above Burgundy we stopped for lunch at the Auberge du Prieure in Anzy-le-Duc. | |
This region is noted for limestone caves with early human artwork, the Dordogne River which carved up the landscape leaving the caves behind, and it's agricultural products. We were heading for the Chateau de Champlong in Villerest, a lovely spa with a fabulous restaurant.