Spinnaker run at Cupecoy on the first day, taken from the Caribbean-side balcony at our condo at Sapphire.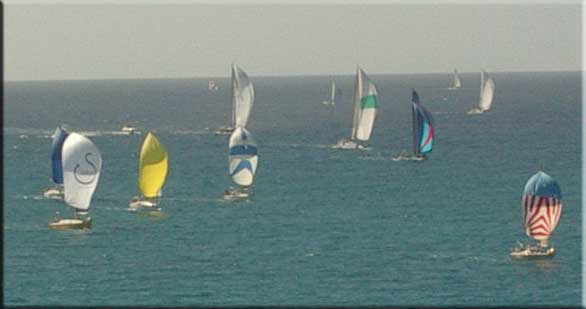 Later that day we followed the boats around the island and took these photos at Oyster Pond on the way to drinks at Vacation Suites at Oyster Pond. We were visiting the Dysarts and took the photo below left from their balcony. After a drink (or two) we headed over to Beau Beau's Restaurant at the Oyster Bay Beach Resort and got another race photo.
| | |
| --- | --- |
| | |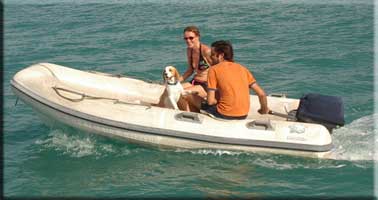 On Saturday we arrived at Turtle Pier at 8:30 and boarded Celine for a day out on the water with the racers. We exited the lagoon on the 9 AM bridge opening. This placed us in Simpson Bay as the race was starting from two locations in the area. There were about 20 boats in each of a dozen classes, so they started over a period of about two hours. Spinnakers were flying at this time as they were heading downwind to round Beacon Hill and run up the west side of the island. The first photos show how overcast the start was, but it turned into a beautiful day by the fourth photo. The dog and dinghy was taken as we exited the lagoon - couldn't resist.
We sailed with the fleet, around Beacon Hill, up the west coast, and along the north shore to Marigot and anchored near the finish line, an imaginary line between an orange buoy and the committee boat. Most people went for a swim and Captain Neil prepared a seafood paella with a green salad, plus ribs and potato salad.
| | |
| --- | --- |
| | On the left is one of the America's Cup boats that is part of the 12 meter challenge. There are several boats that raced for America and Canada that have now retired to the warmer waters of St Maarten. You can join the crew and race them almost any day in Great bay off Philipsburg. Joining them for a race in the Heineken Regatta is even more special. |
| | This is also a special boat. It's Pat Turner's Tryst, the oldest boat in the race. The Captain is none too young either. Pat is the owner of Tropical Wave Restaurant and Watersports on Galion Beach. |
And this is how it ended.
Not with a bang, but a whimper.
No wind on Sunday and the return race to Simpson Bay was canceled.
The boats motored over forlornly, but the party started early!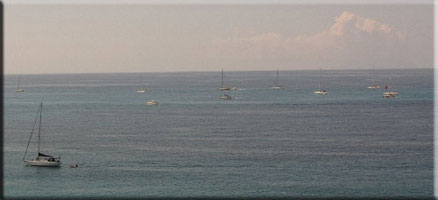 ---